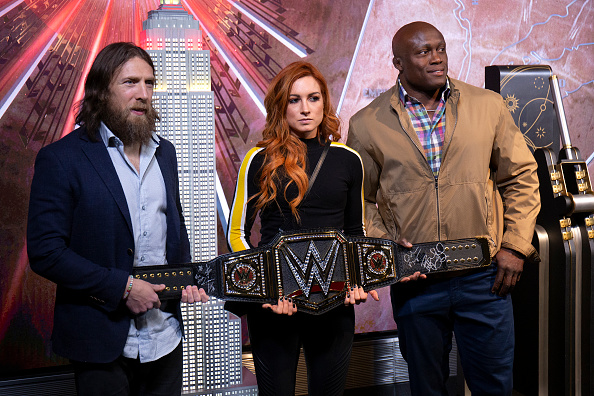 Between Wrestlemania and SummerSlam there is another huge PPV and its Money in the Bank. With guaranteed excitement and daredevil actions. Money in the Bank is always a great bet for a lot of yells and gasps and high flying action. Let's take a look at some of the bigger matches of the night.
WWE Money in the Bank 2019 Preview
Not One but Two Ladder Matches
You can't have a Money in the Bank PPV without a match for the Money in the Bank suitcase. And of course, now, there are two matches, one for the men one for the women. The women's match will pit Nikki Cross (who is a replacement for Alexa Bliss) Dana Brooke, Natalya, Naomi, Ember Moon, Bayley, Mandy Rose, and Carmella. (Who won the first women's MITB match.) All of these women have one goal in mind, to climb the ladder to victory and cash in on the Women's champion.
In the men's Money in the Bank match, the eight competitors are. Sami Zayn, (who won his spot away from Braun Strowman in a falls count anywhere match.) Drew McIntyre, Baron Corbin, Ricochet, Ali and Andrade as well as Finn Balor and Randy Orton. Out of these men, Randy won the Money in the Bank case before and knows what it takes to get it done. Besides the obvious talent and skill, it will take to win this match. The fact that Braun Strowman basically got rooked out of his chance to be in the match. He will be a very dangerous wild card that may show up at any time.
Not One but Two Women's Championship Defenses
Becky Lynch is making her way in the WWE, and she isn't taking the easy road. The self-proclaimed 'The Man' is now 'Becky two-belts' and as much as that name is better than the first. How long will she be able to keep it? Only the strongest competitors can even compete in multiple matches in one night, let alone, defend two championships. But that is exactly what she is going to do, against Charlotte Flair and Lacey Evans.
WWE fans know how strong and tough Charlotte is and have seen several matches between her and Becky. So they know that it will be about to the finish with neither wrestler backing down. Although WWE fans have seen very little of Lacey besides her strut and wave. However, for those who don't know, she was in the military before she signed on with NXT for approx. three years and then moved up to the WWE. This will be her first main segment match where she will be able to show those who don't know, just how much she can do.
The Miz and Shane McMahon in a Steel Cage Match
They were enemies, they were friends, they were tag team champions, they lost, and now they are back to being enemies. Lines have been crossed, Shane Mcmahon going as far as to put his hands on The Miz's father at the last PPV. Now with many strikes back and forth and much trash talking. It will all come to a head in a steel cage match at Money in the Bank. Shane is well known for being a high-risk taker in these type of matches. Literally putting his body on the line to win his match.
The Miz is fighting with the rage of betrayal and defending his father. However, this is another match that you can't discount the chance of one of Shane's hired thugs coming to help him win this match as well. Can The Miz overcome those type of odds and control his anger enough to stay focused on the match? This match will be one of great excitement.
Last Word
This will be a high flying event, filled with several championship matches, as well as many grudge matches. Everyone should also be ready for many surprises, there are a lot of wild cards who don't have a match but will still want to make an impression. I will actually be at the live event and have a post-game analysis afterward.
Main Photo:
Embed from Getty Images