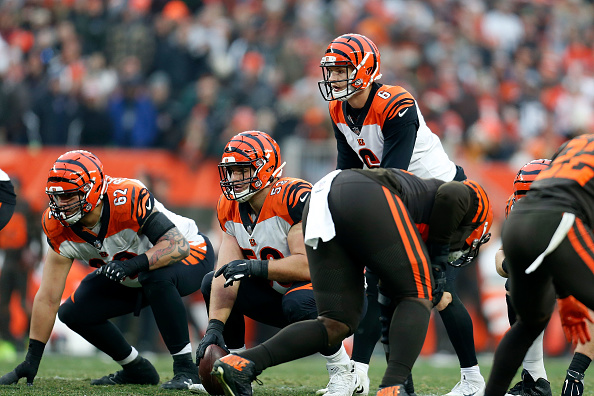 The first Cincinnati Bengals roster projection is here! With the 2019 NFL Draft wrapping up, who is going to be on the Bengals' 53-man roster in the fall? Projecting the roster for an NFL team is just as difficult as writing up mock drafts. Relying on the Bengals tendencies of the past may be fruitless this year. With a new coach taking over with a new mentality, Zac Taylor may elect to go a different direction than Bengals fans would be used to.
Post-Draft Bengals Roster Projection
Quarterbacks: Andy Dalton, Ryan Finley
The Bengals surprised very few by taking a quarterback in this year's draft. The surprising aspect was the fact that they passed over Dwayne Haskins and decided to trade up for Ryan Finley in the fourth round. What's to be decided is whether or not Andy Dalton is the quarterback of the future. If not, is it Finley? Or are they deciding to #TankForTua or #FailForFromm and get a franchise quarterback in the 2020 draft. A player to watch out for would be Jeff Driskel. The Bengals may choose to go with three quarterbacks for depth considering Dalton's recent injury record.
Did you know that Joe Mixon led the AFC in rushing yards last year? Probably not because he missed two games. Plus, all of the focus was in the NFC with Todd Gurley, Ezekiel Elliott, and Saquon Barkley. Bengals fans have not forgotten about Giovani Bernard's play-making abilities. He provides an explosive compliment to Mixon with his pass-catching out of the backfield. In addition to these two established backs, the Bengals drafted two more in Trayveon Williams and Rodney Anderson. Williams rushed for the third-most yards in the nation in 2018 (1760 yards) and fifth-most touchdowns with 18. Anderson was also great for Oklahoma in 2017, but his final season was ended by injury.
Not much will change in the wide receiver corps for the Bengals. A.J. Green will continue to contend to be one of the best receivers in the league. That is, of course, if he can stay healthy. Tyler Boyd has proven to be a formidable WR2 who brings back memories of Marvin Jones. Bengals fans will hope that the organization does not let Boyd walk like they did with Jones and Mohamed Sanu. John Ross has been the topic of many trade rumors of late. The former first-round draft choice has failed to live up to his hype. Ross will look to explode onto the scene in his third season in Cincinnati (and Bengals fans would love him).
Alex Erickson will remain on the roster as well. Erickson has proven to be a solid kick returner. If the Bengals were to let him walk, he might as well go ahead and win a Super Bowl with the New England Patriots much like Rex Burkhead. Josh Malone will also provide depth, but he could be switched out for Cody Core. The surprise on the roster will be Stanley Morgan, Jr. from Nebraska. Morgan was a four-year starter and got better every year. Morgan was the bright spot in an otherwise dreary offense.
The tight end room will be interesting. Tyler Eifert has proven, when healthy, he can be top five in the league. Unfortunately, he's never appeared in sixteen games in a season. That's problematic. C.J. Uzomah will enter the season as the starter and is a solid tight end all around. The Bengals also drafted a tight end in Drew Sample. At Washington, he was more of a blocking tight end and will most likely resume that role. Hopefully, Taylor can develop his receiving skills in case anything happens to any other. Last is Mason Schreck. Schreck earned his way onto the roster by performing admirably at the end of last year.
I successfully mocked Jonah Williams to the Bengals in the first round of the 2019 draft. It was the only correct guess, but that's not the point. Williams and Cordy Glenn will be the two starting tackles. If they can stay healthy and manage to keep Bobby Hart off the field, Andy Dalton will be a very, very happy man. Hart was recently signed to a three-year deal that raised eyebrows all around the league. The tackle position was arguably the worst position on the team last year. Williams and Glenn will be a welcome change.
Clint Boling and Christian Westerman have been on the roster and have established roles within the Bengals organization. While I do not have him projected here, Alex Redmond could very well have a roster spot. Despite this, the Bengals drafted Michael Jordan out of Ohio State and signed free agent John Miller. This was also a weaker position for the 2018 Bengals, so let us hope that better tackle play will beget better guard play.
Billy Price in 2018 was…not great. Needless to say that he did not play up to his first-round expectations. To be fair, he was dealing with injuries, so in 2019 he should be healthy and ready to go. Trey Hopkins was a solid back up in 2018 after starting at guard in 2017. He is a versatile lineman who can play either guard position as well as center. That flexibility will play in his favor when deciding who to cut in the fall.
Last Word
25 of the 53 roster spots have been assigned. This was only part one to a two-part series. The Cincinnati Bengals offense, on paper, can be the best in the NFL. If Dalton can perform anywhere close to his 2015 self, the Bengals would surprise the AFC North. The offensive power with Mixon, Bernard, Green, Boyd, Ross, and Eifert can compete with anyone in the league. The question will be can the defense keep their opponents under control? Or will this offense need to score 35 points a game in order for the Cincinnati Bengals to go 8-8?
Check back soon for part two where I look at the defensive side of the ball. The defense needs revamping. It literally embodies the phrase "nowhere to go but up!"
Main Photo:
Embed from Getty Images