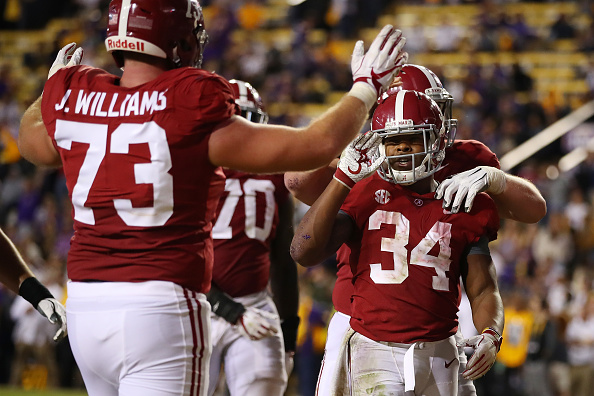 It's finally time! The 2019 NFL Draft is here. The Cincinnati Bengals have 11 picks and even more question marks. Here is the final 2019 Cincinnati Bengals mock draft. I'm sure that you have seen dozens upon dozens of mocks scattered throughout the internet. For this, I utilized fanspeak.com's mock draft feature. According to FanSpeak, the Bengals' needs are at EDGE, quarterback, defensive line, linebacker, cornerback, offensive tackle, safety, guard, and running back. So, without further ado, the last mock draft that you will need this draft season!
Final 2019 Cincinnati Bengals Mock Draft
Round 1, Pick 11: Jonah Williams, Offensive Tackle, Alabama
In order to build a successful franchise, you have to invest in the offensive line. With their first pick, the Bengals decide to go with Jonah Williams. During his time at Alabama, Williams was an anchor on the offensive line that was crucial to their National Championship teams. In his final season for the Tide, Williams did not allow a single sack. Andy Dalton or not, the Bengals quarterback needs to remain upright. In a division with the always physical Pittsburgh Steelers and Baltimore Ravens, the offensive line needs to be stout. Not to mention the fact that the Browns don't look like pushovers anymore.
Round 2, Pick 42: Mack Wilson, Linebacker, Alabama
Double-dipping the Alabama pool, the Bengals grab linebacker Mack Wilson. The three-year starter amassed 113 tackles, a sack, and six interceptions. While he may not be polished as a coverage back, Wilson could provide an immediate upgrade at an ailing core. He is great in spying the quarterback but tends to be aggressive when covering running backs. With his physicality and drive, he could be the new Vontaze Burfict, but without the baggage.
Round 3, Pick 72: Josh Oliver, Tight End, San Jose State
After an injury-riddled season, who were the two tight ends for the Bengals in week 17? Mason Schreck and C.J. Uzomah. The Bengals need help. Oliver would provide the much needed assistance. While he is more of a receiving tight end, he was highly regarded by teammates and was often trusted with passes at every level. He would open the season as the third tight end on the depth chart, but if Tyler Eifert were to go down with another injury, Oliver would prove to be a formidable back up tight end or extra receiver in spread sets.
Round 4, Pick 110: Terry McLaurin, Wide Receiver, Ohio State
Okay, as an Ohio State alumnus and life-long fan, I have to hope that the Bengals pick at least one Buckeye every year. As amazing as it would be for Dwayne Haskins or Nick Bosa to fall to 11 for the first round pick, it may not happen.
The Bengals receiving corps could be one of the best in the NFL if everyone lived up to their potential. As of now, it's A.J. Green and everyone else. Tyler Boyd is a great WR2, but John Ross has not shown to be the first round talent everyone expected. The Bengals could use another slot receiver with speed and sure hands. That's where McLaurin comes in. McLaurin was an every-down receiver as well as spectacular special teams player. Cincinnati could afford to spend their fourth round selection on a guy that will make their roster and be able to contribute on day one.
Round 5, Pick 149: Will Grier, Quarterback, West Virginia
New coach usually means new quarterback. If the Bengals do not go for Haskins in round one, do not be surprised when they select Grier later. Grier was a record-setting quarterback at West Virginia and has tremendous upside. His accuracy could use some work, but if he were to spend time behind Dalton and learn Zac Taylor's system, we could have an Aaron Rodgers situation in the Queen City. Grier's strong arm and explosive abilities would translate to the next level and would provide Bengals fans with the excitement that they've been craving.
Round 6, Pick 183: Beau Benzschawel, Guard, Wisconsin
Wisconsin has churned out plenty of offensive line talent, so the Bengals would be smart to get themselves another stud. Benzschawel (pronounced BEN-shawl) is a big guard who can also play tackle. It would be rare to find a sixth-round pick that could become a day one starter, but Benzschawel has the ability to supplant just about anyone already on the Bengals' offensive line. He is a pass protector, but the all-american helped out a Wisconsin rushing offense that averaged over six yards per carry.
Round 6, Pick 210: Shareef Miller, EDGE, Penn State
A highly regarded recruit, Miller was a force to be reckoned with on the Penn State defensive line. One major area of concern for the Bengals was their lack of pressure on opposing quarterbacks. Miller, along with the Geno Atkins, Sam Hubbard, and the rest of the talented defensive line, would require opposing offenses to game plan. He is quick for his size and is considered more of a run stopper, but could be utilized on key third downs.
Round 6, Pick 211: Dakota Allen, Linebacker, Texas Tech
Anyone who has seen Last Chance U knows about Dakota Allen. If then Bengals want a linebacker who puts the team first and will work his hardest, Allen would be their guy. Not currently projected to be a starter in the NFL, Allen would be great for depth as well as special teams. Despite being kicked out of Texas Tech, transferring to a Community College, and transferring back, he was voted as captain for his two years back in Lubbock. With a high motor and motivational drive to rival an ox, Allen would play with a chip on his shoulder and be a fan favorite.
Round 6, Pick 213: Tony Pollard, Running Back, Memphis
These late round picks are all about depth and special teams. With Mark Walton getting cut, the Bengals need a third running back. They could use a guy like Quinton Flowers, who they really like, they will probably look to add a late-round back. Pollard was a compliment to Darrell Henderson at Memphis. He is a quick pass-catcher out of the backfield. He could also challenge to be a kick/punt returner.
Round 7, Pick 223: Blace Brown, Cornerback, Troy
Finally, you cannot have too many corners, so the Bengals will use their final pick for Blace Brown. His fluid play style and good ball skills will make him a priority free agent/seventh round addition for most NFL teams. Brown did suffer a torn ACL and has been inconsistent, but he will be on a mission to prove himself for a team with plenty of secondary talent already on the roster.
The Last Word
The Cincinnati Bengals have eleven (11!) picks in the 2019 NFL draft. If they hold onto all of these picks, I would be surprised. Another option would be to trade a couple of their late round picks to the New York Jets for Darron Lee. Don't be surprised if the Bengals make a draft day trade or two. But, as it stands, they need help all over the field. By upgrading their offensive line, they provide the foundation for success for whomever is taking snaps. The 2019 edition of the Cincinnati Bengals have plenty of potential. Let's just hope that they nail this year's extremely deep draft.
Main Photo:
Embed from Getty Images