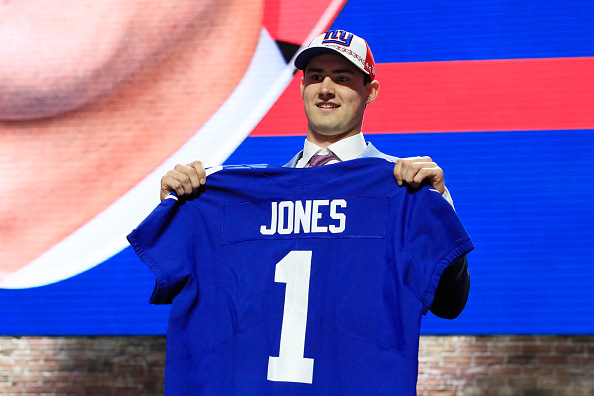 Now that the NFL Draft has passed, and we've all had some time to reflect on how our team did, it seems like the right time to give an updated opinion on Daniel Jones. After the New York Giants shocked the NFL world by drafting him with the sixth pick, the expectations for him are higher than any quarterback in the past few years. While I still disagree with the selection, here are my thoughts now that some time has passed.
Thoughts on Daniel Jones Post-Draft
It's Not As Bad of a Pick as It Seems
One of the arguments for taking Jones was that he was the player New York believed was their next franchise quarterback. If he's your guy, it doesn't matter where you take him. This idea doesn't make much sense, while quarterbacks are the most important players the value still matters. If a player like Jones was projected as a top 20 player instead of a top 10 player, you are losing value by taking him early. Even though someone like Josh Allen is the better value at six overall, if Jones becomes the franchise quarterback the Giants expect it won't matter. This is a big if however since scouting quarterbacks is by far the most difficult position.
Jones isn't a horrible player, he has talent and potential which could pay off in the long run. His stats aren't amazing like Dwayne Haskins or Kyler Murray, and it isn't his fault. His receivers were considered below average at Duke, dropping 38 passes last year which brought down his completion percentage to 59.9%. He could be an example of a better professional player than collegiate and having receivers who can catch the ball will help him.
The Blue Devils defense wasn't much help last season either, finishing 77th in total defense while allowing an average of 408 yards per game. This is a similar situation to what he gets in New York, so at least he has experience of having to win the game himself rather than rely on others. There's a reason the Giants took him at six overall, and learning from Eli Manning can only help his development into the next franchise signal caller.
Great Locker Room Player; Teammates love him
In an interview with The New York Post, a few of his teammates at Duke discussed what Jones offers as a teammate and they were all positive responses. Linebacker Ben Humphreys who was Jones's roommate said "[WR] T.J. Rahming was in the slot. He ran a little post. He's wide open down the seam and Daniel knows he's gonna take a beating. And he takes one right in the chin and drops a perfect ball over T.J.'s shoulder for a touchdown. He'll take any hit to get his guys the ball." with the inconsistency the Giants offensive line has shown, this is a great sign that he can take a hit and deliver an accurate pass.
Jones is similar to Eli Manning in their quiet way of leadership, and Humphreys said "I think people mistake his quietness as a weakness. But I think the people that know him best know that it's a quiet confidence, No. 1, and his even-keeled demeanor is a strength of his. And to be honest, on the field, he's a silent killer. And I think he is the epitome of what we say around Duke is 'Never too high, never too low." Center Clark Bulliet said that "Whenever he takes a sack or gets hit really hard, he doesn't blame his offensive linemen, he just gets up, he doesn't say a word, and he just continues to play the game."
Not every quarterback could do this, and it's yet another good sign of what's to come. He also has the ideal personality for the New York limelight, Bulliet said that "The fame I don't think will ever get to Daniel's head. He refuses to wear Duke football stuff around campus because he doesn't want anybody to recognize him or treat him any differently. He was at the same party with Zion Williamson, and all these girls were taking pictures of Zion, and we were trying to get girls to take pictures with Daniel before the draft, and none of them knew who he was. He is not gonna get obsessed with the limelight. He wants to stay to himself and get to work, and he'll be the hardest worker that the Giants have ever seen." This is a great sign for someone entering one of the biggest markets on the planet, and if remains this humble he could be a great representative of the Giants organization.
Last Word
Jones has the potential to be a franchise quarterback, and the character and personality to thrive in New York. The hate surrounding this pick is a bit unfair, especially to Jones. He's conducted himself like a professional and gives me hope for the future. I hope he becomes a star because the first step in contending is getting a reliable quarterback. This draft class will rely on Jones to determine how it's viewed in a decade, however, I have hope that he will be a great pick and will be loved by Giants fans for many years to come.
Main Photo:
Embed from Getty Images