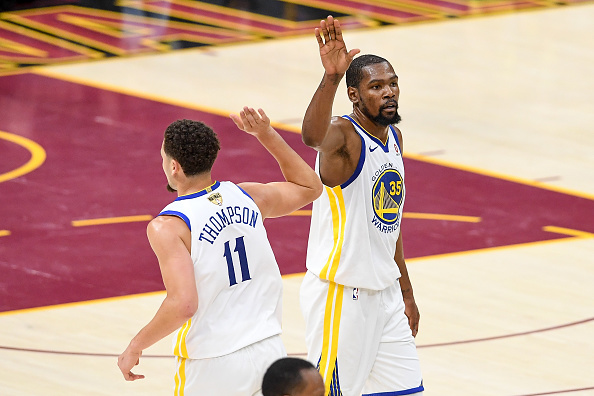 We are now into the second round the NBA playoffs. With no regular-season games left, fans of the New York Knicks, Phoenix Suns, Cleveland Cavaliers and Chicago Bulls can hopefully wake up from their nightmare of a season now (for the Knicks and Suns, these wake-ups are false awakenings usually, as they go right back to the bottom of the standings once the next season starts). I can't predict the draft until after the lottery, and mock drafts are very time consuming so I'll hold off until after the draft lottery on May 14th. This means we'll focus on the 2019 NBA free agency, and will predict where star players such as Kevin Durant, Kawhi Leonard, Kyrie Irving and many more are heading off to.
2019 NBA Free Agency Predictions
Deandre Jordan
(
New
York
Knicks
)
Deandre Jordan finally signed with the Dallas Mavericks after what felt like an eternity of a match waiting to happen (of which was really three years). He teamed up with Dennis Smith Jr. and Luka Doncic but ended up being traded to the New York Knicks, along with Smith, Wes Matthews, and two first round picks, for Kristaps Porzingis, which gave the Knicks cap relief.
Jordan has expressed interest in going back to the Los Angeles Clippers or Los Angeles Lakers. But he has also said he's happy in New York. It all depends on this free agency, if the Knicks get some players to be mentioned later, he'll probably stick around for the mid-level exception.
Prediction: Jordan Stays with New York on a one-year, $5.76 million deal.
Paul Millsap
(
Denver
Nuggets
) (
Team
Option
)
There is a zero percent chance the Nuggets exercise that team option they gave Paul Millsap. He is a competent veteran for the young and shining Nuggets team, but no way do the Nuggets want to provide him with 30 million for the role he plays. This does not mean the two don't have a mutual interest in returning. Millsap is a good defender for the team, and that is important, considering that defense is Nikola Jokic's weakest point. He fits the team well, and for a guy who's never had a whole lot of playoff success, the Nuggets can give him that while he plays a great role for them. If he leaves, he'll probably pursue a similar situation.
Prediction: Paul Millsap re-signs on a two-year, $14 million deal with Denver.
Julius Randle
(
New
Orleans
Pelicans
) (
Player
option
)
Julius Randle has been a pleasant surprise in a year of darkness for the New Orleans Pelicans. He's going up to 20 points and seven rebounds per game while playing great defense. Randle has been a great pairing with the Pelicans, who will probably look to throw a lot of money at him, especially with there being a 95% chance Anthony Davis never plays a game for the Pelicans in the 2019-20 season.
The Pelicans will probably offer the most money his way. He's still only 24-years-old, and he could be a primary building block to any players and picks the Pelicans to get in return for a trade for Anthony Davis. He could also decide he's never played for a winning team and wants to go to a more promising franchise, like the Atlanta Hawks, where he could slide in at the four and move John Collins to the five. He could also go to a contending team that prides itself on defense, like the Utah Jazz.
Prediction: Randle re-signs on a four-year, $88 Million deal with the Pelicans.
D'Angelo Russell
(
Brooklyn
Nets
) (
Restricted
)
D'Angelo Russell might win Most Improved Player this season, after earning his first all-star appearance. Putting up 20 points and seven assists per game, he's leading the Brooklyn Nets to a shocking fringe playoff spot. Brooklyn is shocking everyone, but in reality, a lot of their players are in their primes right now. Without Russell, this team is not great, but they can survive with Spencer Dinwiddie.
Brooklyn gets the last say in what Russell will do as he is a restricted free agent. He does seem interested in staying in Brooklyn though. If another team does offer him around 27 million per year, the Nets might let him walk. The only teams that would do that would be either the Chicago Bulls or Phoenix Suns, probably the team that doesn't land Demetrius "Ja" Morant in the draft. I still don't doubt that Brooklyn will let him go, as the very few Nets fans out there in the world all love Russell.  
Prediction: Anything Russell signs, Brooklyn will match, but he'll want to go back to Brooklyn, on a four-year deal around $20 million. It's harder to predict restricted free agents as they hold no cards except that qualifying offer.
Khris Middleton
(
Milwaukee
Bucks
)
Speaking of shocking teams, the Bucks have the best record in the NBA. Despite this excellent record, it is all due to one man, Giannis Antetokounmpo. Khris Middleton, Brook Lopez, Eric Bledsoe, and Malcolm Brogdon are all talented players who could probably get to a five-seed, but this season is thanks to the "Greek Freak". If the Bucks prove that they are a regular season star team and nothing else, then we could realistically see Middleton walking.
Middleton is Giannis' right-hand man leaving could signal the Greek Freak leaving his small market team for the bright lights of Not Milwaukee. I see the Bucks as a second-round exit, maybe they'll go to the Conference Finals, but I don't see them passing Toronto or Philadelphia. That being said, Middleton fits the Bucks well, and has had two career years in a row, and has been the perfect pairing to Antetokounmpo.
Prediction: Middleton stays on a two-year, $50 Million deal in Milwaukee to match his next free agency with Antetokounmpo's.
Nikola Vucevic
(
Orlando
Magic
)
Nikola Vucevic is the best player the Orlando Magic have had since Dwight Howard. The Magic have been a disaster since trading Dwight. That being said, we cannot count out what Vucevic has done for them this year. He's a first-time all-star, putting up a season stat line of 21 points, 12 rebounds, and four assists per game. The problem is, the Magic were sure that they would land Trae Young in the draft. Young has been a star for Atlanta, and the Magic could use him.
Instead of being smart and picking Collin Sexton or Shai Gilgeous-Alexander, they took Mohamed Bamba. So their franchise player is a center, their rookie is a center, and their second best player is Aaron Gordon, a power forward. This team is notoriously bad at not overloading on centers. I think Vucevic should leave this franchise, and the Magic might let him walk and hope Bamba develops.
Prediction: Vucevic signs with the Sacramento Kings on a four-year, $134 million deal.
Kristaps Porzingis
(
Dallas
Mavericks
) (
Restricted
)
The Mavericks pulled the trigger with the New York Knicks to acquire the 7'3" Latvian forward on January 31st. Kristaps Porzingis reportedly requested a trade on January 31st, but the Knicks had been shopping him before then. Zach Lowe reported that the Knicks wanted to trade Porzingis for De'Aaron Fox, another asset, and cap space before, but the Mavericks swept in. However, the Mavericks were not one of the teams Porzingis requested a trade to. The teams he was interested in were the Brooklyn Nets, Los Angeles Clippers, Miami Heat, and Toronto Raptors. None of those teams had what New York was asking for unless the Knicks had got Pascal Siakam and picks for Porzingis, but Toronto may not have been interested.  
There's a good chance Porzingis takes the $7 million qualifying offer this summer and then gets to be an unrestricted free agent in 2020, where he will hold all the cards. Maybe Dallas will let him walk if he gets a big enough deal that they fear matching if Porzingis' left knee does not look in good shape, but I doubt they gave Deandre Jordan, Dennis Smith, Wes Matthews and two first round pick for Tim Hardaway Jr, Courtney Lee, and Trey Burke. Dallas better hopes he doesn't take that Q-Offer, but…
Prediction: Porzingis accepts his Qualifying Offer with Dallas, and becomes an Unrestricted Free Agent in 2020.
Demarcus Cousins
(
Golden
State
Warriors
)
Last time I did a free agency prediction article, I said I had no clue what Demarcus Cousins is doing this summer because I didn't believe Cousins knew what he was doing. That was in November, and now that it's April, I still don't understand what Cousins is doing. I'm guessing he wants to get paid, which means he's leaving the Warriors. An ESPN free agency panel had him going to the Lakers, which is what I said also. Usually, the Lakers are the go-to team when you don't know where a random star free agent is hitting the market. The ESPN free agent prediction panel says it will be a Los Angeles team, as both the Lakers and Clippers have a max slot open for the big man. However, the Lakers maxing out Cousins is a risk, as the team is already in shambles, so they're out. Leaving the L.A. Team with two max slots which are signing him to a high pay deal will face medium risk, high reward, especially if they can land another superstar.
Prediction: Cousins signs a three-year, $68 Million deal with the Clippers (Team option third-year).
Jimmy Butler
(
Philadelphia
76ers
)
Jimmy Butler has proved this season to be a world-class hothead who has no problem putting his teammates in the line of fire. This play, plus the fact that he is a 29-year-old with an athletically based game show that by no means should he get a max four-year deal. However, some teams might want to add star power and put their faith in the shooting guard.
It was recently reported that Jimmy Butler could be leaving for one of the two teams in New York City. The Knicks are swinging for the fences this summer, and nobody is sure what the Nets are up to as they attempt to sneak into the playoffs. Both teams have looked surprisingly good from a managerial standpoint, and neither of them will probably offer Butler four years, but three is not out of the question. He could also team up with LeBron or end up on the clippers. The Indiana Pacers could look to get a better small forward and pick up Butler also to make an even scarier defensive team. However, Butler will probably stay or join the (lesser) bright lights of New York City.
Prediction: Jimmy Butler Signs a three-year/, $104 million deal with the Brooklyn Nets.
Kemba Walker
(
Charlotte
Hornets
)
Time after time, the Charlotte Hornets have failed Kemba Walker. They stole him at ninth overall, and since then, he has been great for them, but his best teammate ever was a washed up Dwight Howard. Draft picks six to eight in that draft (Jan Vesely, Bismack Biyombo, and Brandon Knight) and pick 10 (Jimmer Fredette) have all been draft busts. Charlotte gets a gift from God then wastes eight years of his career to be stuck on a team that Michael Jordan is failing to help succeed.
Kemba is having a career year putting up 25 points, 4.4 rebounds, and almost six assists per game. I do not know how he's at six assists, and he should be at two because the Hornets are a disaster. Kemba is dragging them to what will finish as another season missing playoffs. I know he's loyal, and to be loyal there is fantastic, and he deserves eternal respect and a statue outside of the Spectrum Center for this, but he has to go.  
I honestly do not care where he goes as long as he can get to a contender Kemba. The Hornets are better off losing you and going 10-72 the next year while you play in the playoffs instead of going 40-42 and maybe hitting an eight seed, but who knows because the Knicks hold a lot of chips in free agency and the Hawks are getting good rapidly so the east will only get harder. Kemba, please, for the love of God, run screaming from that nightmare that Michael Jordan calls the team he owns. Teams to go to that you can contend in: Jazz, Mavericks, Lakers, not the Suns.
Prediction: Kemba sings a four-year, $139 million deal with the Mavericks.
Klay Thompson
(
Golden
State
Warriors
)
Klay Thompson is most likely going to stay a Warrior staying with the Warriors.  I do not see any situation that he leaves. He wants to stay, and he wants the whole gang to stay and keep running the NBA. When Stephen Curry hit free agency, he almost instantly signed a five-year deal worth $200 Million. I expect Klay to do the same five-year deal, except a little less money.
Prediction: Klay re-signs a five-year, $189 million deal with the Warriors.
Kyrie Irving
(
Boston
Celtics
)
If you buy into Kyrie Irving staying in Boston, you've officially lost your mind. He did not leave LeBron's shadow to hop right back in it.
Now, the critical stuff: Kyrie Irving promised Boston back in October that he was staying. He told Boston, "If you guys will have me back, I'd love to stay here." Since then, when he was asked about free agency, on the day he was in Madison Square Garden, he would say "Ask me July 1, I don't own anyone [expletive]." Since then, he has taken shots at Celtics coach Brad Stevens, and it was reported that his friendships on the team both began and ended with Jayson Tatum. Sure, Boston is a pretty good team, but chemistry issues have forced an underperformance for the group everyone picked to lose to the Warriors in the finals.
Boston is excellent without Irving, and Irving has done a ton of questionable moves, such as give his father his jersey in Madison Square Gordon and then laugh with him. Irving and his dad grew up in East Orange, New Jersey, and his dad is a huge Knicks fan. He could also go to Brooklyn, but they seem to like D'Angelo Russell, so, the first Knicks domino to fall has fallen.
Prediction: Kyrie Irving joins the Knicks on a four-year, $146 million deal.
Kawhi Leonard (Toronto Raptors)
Kawhi Leonard is having a career year. He's putting up 27 points with seven rebounds and three assists with a PER (Player Efficiency Rating) of 26.0. Leonard is having an incredible year and is not getting recognition for this. Leonard wants to be in a big market and get the money he thinks he deserves. Kawhi does deserve this money, and the fact that playing in Toronto has not given him the spotlight.
On the other hand, the Raptors might make the finals for the first time, and if he can lead them there, he can probably be looked at as a lot more critical. Also, why leave a team that might make the finals again. Everyone knows he can play, but he has played in two small markets. Kawhi needs this for himself, and it is not happening in Canada. Who knows, maybe he will opt not to leave but do not bet on it.
Kawhi has been pretty clear he wants to go home. He is from Southern California, so that means the Lakers or Clippers. Kevin Durant has said that you get a lot of spotlight playing with LeBron James, so maybe Leonard will see that and go there, but does he want to be the second man again, he looks ready to play for an L.A. team that made the playoffs.  
Prediction: Kawhi opts to become a Los Angeles Clipper on a four-year (player option fourth year), $140 million deal.
Kevin Durant
(
Golden
State
Warriors
)
Finally, the biggest name of all, Kevin Durant. KD has not averaged under 25ppg since his rookie season and putting up 26 points, 6.5 rebounds, and five assists per game, Durant shows no signs of slowing down at age 30. He is an unrestricted free agent this summer and could be on the brink of ending this "Super Warriors" era as the Warriors leave Oracle Arena.
Many think Durant is indeed leaving, and the Knicks are the team almost everyone in the NBA inner circle is saying. We'll talk about this later, and we're just going to run through other teams first. The Warriors offer him the most accessible path to constant titles, appealing, but he does seem uninterested, and he and Draymond Green do not get along. The Clippers make an inner-city rivalry with LeBron James. It is possible he joins Brooklyn, but it is hard to believe D'Angelo Russell will be able to be the second best player on a championship team, but still, they cannot be ruled out as they are better than the Knicks at this current point in time.  
In November, I predicted Durant going to the New York Knicks after a series of events with Draymond Green. It seemed like the time to take up a new challenge, and if he wanted to be the best player in the NBA, playing for the Knicks can make that happen. I thought Porzingis would play an effect on that decision, and in a way, it has. The Knicks traded their Unicorn to cut cap space, and well, avoid a sexual assault situation. It was reported that a week before the Porzingis trade that Kevin Durant had a secret meeting with the Knicks. This meant he may have done some general manager "KD" stuff and got the Knicks to pull the trigger so he could play with Kyrie Irving.
The Knicks have enough room to sign two max deals, and with Kevin Durant having connections with Deandre Jordan, Allonzo Trier, general manager Scott Perry, and is fantastic friends with Knicks assistant coach Royal Ivey. Durant has moved his business Thirty-Five Ventures to New York City. He also will be filming his show, The Boardroom on ESPN+, in NYC. There are reports constantly linking Durant and the Knicks, and it just seems right. Sometimes, the most obvious answer is the correct one.
Prediction: Durant takes his talents to the Knicks on a four-year, $164 Million deal.
Main Photo:
Embed from Getty Images