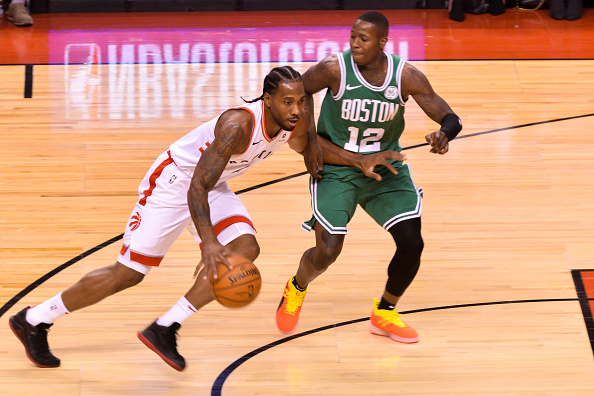 The 2019 NBA free agency class is absolutely loaded! With talents like Kevin Durant, Kawhi Leonard, Kyrie Irving, Klay Thompson and other great players hitting the open market, we're in for a wild ride this summer.  Here are some potential landing spots for the best of the upcoming free agency.
Predicting the Top 15 Free Agent Destinations
Tobias Harris broke out last year. Once he was traded to the Clippers as part of the Blake Griffin trade, he broke out into a 20 point per game scorer. Harris averaged 21.3 PPG, 8.5 RPG, and 2 APG. He turned down a four-year, 80 million dollar extension with the Clippers, giving the 26-year-old a chance to run screaming from the Clippers team that is very unappealing.  
Harris is entering his prime. He could make a lot of money this offseason if he signs with a team that has a lot of money (like the Clippers). The Clippers should have a good pick this year, and with Jerome Robinson and Shai Gilgeous-Alexander, maybe this young team will be able to convince him if they throw him a 25 million dollar deal.  The Clippers would probably wait in case Kawhi Leonard gets any ideas.
Prediction: Harris Signs a 3 year/70 million dollar deal with the Los Angeles Clippers
14: Marc Gasol (Memphis Grizzlies)
Marc Gasol has been the franchise player of the Memphis Grizzlies since the Grit and Grind era. He has spent his whole career in Memphis after being drafted by the Lakers and then being traded as part of the Gasol brother for brother trade. That brought the Lakers Pau Gasol. Gasol, Zach Randolph, and Mike Conley were the big 3 of Grit and Grind, but after the firing of Dave Joerger, everything went poorly. This is no knock on David Fizdale, he just had to coach an older and established team that refused to use his system. Now with a young Knicks team, he looks like a great coach.  
Now, as Memphis attempts to get back to the playoffs, as a staggering 4th seed, Gasol could be torn. The Grizzlies drafted Jarren Jackson Jr. to be his replacement, so the departure of Marc Gasol is imminent.  The question remains though. Does Gasol leave the team he has been with his whole career? If the Grizzlies make the playoffs, he'll most likely stay, but if not…
Prediction: Marc Gasol signs a 1 year/5.4 million deal with the Milwaukee Bucks
13: Deandre Jordan (Dallas Mavericks)
Deandre Jordan (finally) signed with the Dallas Mavericks this offseason.  It was a long time coming, but now Jordan gets to saddle up and protect rims in Dallas. Jordan signed a one-year, 20 Million deal with the Mavs, so he will once again be a free agent. Dallas is somewhat a suitor for Kevin Durant, so I guess that gives more appeal for Jordan to stick around. Jordan is 30 years old now, he's in the prime of his career, and will probably spend that prime in Texas.
Prediction: Jordan Signs a 3 year/49 million deal (Player option 3rd year) with the Dallas Mavericks
Millsap left the Atlanta Hawks in the 2017 offseason to go to the mountains. Millsap has spent a lot of time in Denver dealing with injuries keeping him off the court. He is a great defender who fits perfectly to Nikola Jokic. Now, he gets a fresh start in his second year with the team, but it will probably have no effect on whether his team option will be accepted. Not too many 34-year-olds are making 30 million every year. There is still a good chance he would like to stay in Denver. There really is not anyone who should take minutes from him, so he'll probably end up in Denver regardless.
Prediction: Millsap's team option is denied, he then re-signs to a 2 year/35 million with the Denver Nuggets
Goran Dragic signed a max deal in Miami almost instantly after he hit free agency the first time. This is not the same Heat team though. They're less hopeful, not succeeding at the same rate, and worst of all, without a franchise player. Dragic will be 33, and he will not have a bunch of suitors lined up to sign him. There are some teams that could use him, such as the Utah Jazz, Phoenix Suns, and maybe Miami could also convince him to stay.  We'll go with the feel-good "I'm coming home story" as Phoenix tries to get back to playoff basketball.
Prediction: Dragic signs a 4 year/60 Million (Player option the 4th year) with the Phoenix Suns.  
Eric Bledsoe on Twitter: "I Dont wanna be here".  This is what happens when Bledsoe is on a bad Phoenix Suns team.  Luckily for Bledsoe, he is on a Milwaukee Bucks team that has been outstanding and has nobody challenging his role as the starting point guard of the team.  Though there are upgrades at the point guard position, the Bucks have a number of bad contracts meaning they don't have the money to throw at these stars. The Bucks have his bird rights and can throw him a crazy amount of money. Bledsoe is the starting point guard of a winning team, why leave?
Prediction: Bledsoe signs a 3 year/95 Million deal with the Milwaukee Bucks.
9: Demarcus Cousins (Golden State Warriors)
I did not put Boogie any higher on the talent level because of the Achilles injury. I didn't want to put him last as he might come back as the same player, but I also don't want to make that gamble and say he'll return just fine. It's likely I speak for most when I say that I have zero clues what his plans are next year. So, by process of elimination here we go:
All we know, because Steve Kerr said it, Cousins will not be playing for the Warriors next season. That leaves 29 teams. Some teams are set at center (Houston, Minnesota, Philadelphia, Dallas, Detroit, Denver, Utah, maybe even Orlando with all their bigs.)  Cousins is an Alabama native, and there's no team there. Cousins will want a good deal of money, so that takes out a lot more teams. All of us NBA writers have an old reliable for a team where a big name free agent is heading. It really only came true once where they got a free agent they were predicted to get, but it was last year and LeBron James so if they don't get anyone else I guess…
Prediction: Let's take a guess and say Boogie will sign a 2 year/68 Million deal (team option second year) with the Los Angeles Lakers.
I'm putting Porzingis here because he's restricted. If he were an unrestricted free agent he would be higher. I mean there's not much to say about a restricted free agent who's already an all-star and would be a two-time all-star if he didn't have to deal with that knee injury. Even if he signs an offer sheet, which I doubt will happen because he will wait and see if an all-star can be added to the Knicks roster and have the Knicks use his bird rights, it'll probably end in a re-signing.
Prediction: Porzingis signs a 5 year/150 Million deal (with an injury clause so if he keeps getting hurt he'll lose money) to stay the King of New York
Big Al signed with Boston in 2016 free agency.  He was the leader after Irving and Hayward went down in playoffs. Boston doesn't have too many better options at center, and it really is the perfect situation for Horford to stick around in Boston.
Prediction: Horford signs a 3 year/50 Million dollar deal with the Boston Celtics
Khris Middleton is the perfect player to pair with Giannis Antetokounmpo. Middleton is a 3 and D wing who can score 20 points on any given night. Middleton is a superb talent to have, and has been the 2nd scoring option for a while, and will probably look to stay one.  There's a feeling of possible disconnect between Middleton and the Bucks, so leaving is definitely not out of the question. Middleton will look for a sizeable contract, and we could see the former 2nd round pick go to the highest bidder.  
Prediction: Khris Middleton signs a 4 year/130 Million deal with the New Orleans Pelicans
Kemba loves the Hornets. The Hornets love Kemba. The Hornets are still in the belief that Walker can be the best player on a championship team. Also, Charlotte has no money at all to improve their team. A long as they have Kemba, they'll be in NBA purgatory, not going anywhere, good or bad, which in reality, is unfortunate.  They won't be bad enough with him to get a good pick, but they also won't be good enough to even make the Eastern Conference finals.
Basically, Kemba's loyalty will be tested to the max this offseason, and nobody should give him hate if he packs his bags and leaves.  Nonetheless, Michael Jordan, the owner of the Hornets, is ready to do everything to keep Kemba around.
Prediction: Kemba Walker signs a 4 year/140 Million deal with the Indiana Pacers
4: Klay Thompson (Golden State Warriors)
Klay Thompson recently broke the NBA record in 3 pointers made in one game with 14.  This beat his teammate, and best shooter ever, Steph Curry. Steph and Klay, the two best three-point shooters in the league, arguably ever, are in a great position. The Splash Bros have won 3 championships together and are almost certainly going to have 4 together after this season. There was some drama about another Warrior who will be a free agent, but we'll talk about that later.  Klay said he's happy to take a pay cut this summer to keep the gang together. There is no possibility Klay leaves. He'll re-sign almost instantly into free agency.
Prediction: Thompson signs a 5 year/162 Million deal with the Golden State Warriors
3: Kyrie Irving (Boston Celtics)
Before the season started, I had no problem saying Kyrie Irving was destined to play for the New York Knicks. Now, I'm much less sure. No doubt I think it's very possible he will start point guard for the Knicks in the 2019-2020 season, but he seems fine in Boston. It depends because the Knicks may have bigger fish to fry this summer. Kyrie got injured before lasts season's playoffs. Jayson Tatum and Al Horford then led Boston to the Eastern Conference Finals where they went up 3-2 against LeBron James' Cleveland Cavaliers.  They were very close to closing James out, but he's LeBron. There's a good chance Boston would have won.
Kyrie has a chance to be on a team that might be running the NBA for a while, it is tough to turn that down. Kyrie has a strong ego though and has said he wants to play with Porzingis. Let's see what wins out, logic or his ego.
Prediction: Irving signs a 5 year/180 Million deal with the Boston Celtics OR Irving signs a 4 year/140 Million deal with the New York Knicks
2: Kawhi Leonard (Toronto Raptors)
Over the summer, Kawhi Leonard and DeMar DeRozan were traded for each other.  Leonard got the fresh start he needed, but not in his hometown of Los Angeles.  They sent Kawhi over the border to Canada. At first, there were reports that Kawhi had "no intentions" of playing for Toronto, but he came around.  The Raptors have so far been the best team in the Eastern Conference as Leonard and Kyle Lowry have set the north on fire.
Leonard has wanted to go to LA for a while now, but not necessarily to the Lakers. Additionally, he wanted a trade to the Lakers, but after LeBron signed there, he was turned off to the idea. The NBA actually is still competitive without a certain somebody to be named next in the list. Leonard will have to decide whether loyalty to his team or going home is the way to go. It depends a lot on if Toronto can be more than just a monster in the regular season, and make the NBA Finals for the 1st time. The Raptors run the NBA right now, as of Monday, November 26th, they have a league-best 17-4 record.
Prediction: Leonard Signs a 2 year (player option second year)/65 Million deal with the Toronto Raptors and opts out after the 1st year
1: Kevin Durant (Golden State Warriors)
The last time there was an actual threat for Kevin Durant to leave his team was the summer of 2016. The Oklahoma City Thunder were a game out of the NBA Finals as they had the upper hand on the Golden State Warriors. They were up 3 games to 1. We all know the story, the Warriors came back, then proceeded to blow a 3-1 lead in the Finals.
Durant figured "If you can't beat them, join them."
The 30-year-old has now won 2 championships in a row and took home the finals MVP in both of them. The Warriors are on track for their third, it does not matter that they're going through their biggest struggle since Durant joined the team. Once Steph Curry comes back, everything will be just fine and they'll likely 3-Peat. Is that how the KD-Warriors story ends though?
Durant has shown the distance from the team. It is what caused the fight between him and Draymond Green. KD's impending free agency has apparently led to reports of a disconnect between KD and the rest of the team. So many signs point to him leaving. We all know it is Curry's team, it will never be KD's. KD has the chance to take control of his own team in free agency.  He could go to the Lakers and continue to be viewed as a follower, not a leader. Or, he could do what LeBron did. He can join a team in a huge market where he can have his brand skyrocket, and be the face of one of the most famous sports teams in the world.  See where I'm going here? KD might want to bring a big city rivalry between him and James, with a possible NBA Finals battle as soon as 2020. Enough said I'll finally spell it out for those have not caught my drift.
Prediction: Kevin Durant Signs a 4 Year (player option the 4th year)/157 Contract with the New York Knicks
Main Photo:
Embed from Getty Images