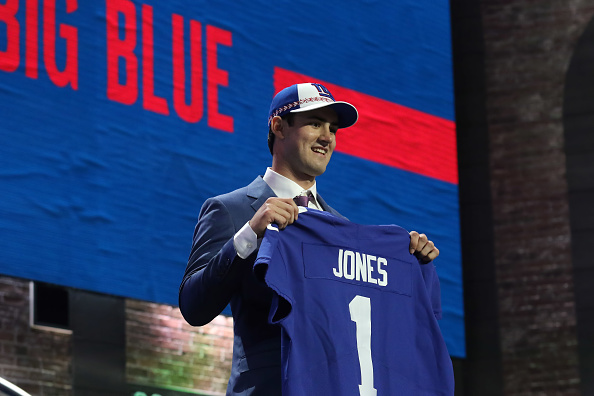 The New York Giants drafted Duke quarterback Daniel Jones, Clemson defensive tackle Dexter Lawrence, and Georgia cornerback Deandre Baker in the first round of the NFL Draft. General manager Dave Gettleman has a lot riding on this draft, and as a Giants fan here are my initial thoughts.
2019 NFL Draft: Initial New York Giants First Round Reaction
Daniel Jones
Gettleman said last week in a press conference that "I'm just telling you: I'm not going to force a pick, You can't draft for need. You'll get screwed every time. You'll make a mistake."
Exactly a week later he forced a pick in Jones. Very few saw him going in the top ten, and he would have been available at pick 17. His head coach at Duke, David Cutcliffe, coached both Peyton Manning and Eli Manning in college, and it's obvious this connection played a role in the Giants picking Jones. New York has been famous for being so loyal and dedicated to Eli, and this is another example to prove it. just because Jones has a connection with Manning does not mean he will become the next one. With someone like Dwayne Haskins available who was considered the better prospect right now, it doesn't make sense to reach as much as the Giants did. Now that Haskins is with the Redskins, if he performs well against us and Jones fails it will make this pick look even worse. Lance Zierlein of NFL.com said that Jones "has good football IQ and is relatively mobile, but he appears to be more of a game manager than "franchise" talent. He's more of a Day 2 draft pick than Day 1."
Based on the fact that only one other quarterback went in the first round, it's safe to say he would've been available at 17 if we wanted him. After Tampa Bay passed on Kentucky's Josh Allen, I was certain he would be the pick and was shocked he was passed on. By selecting Jones, Gettleman and the Giants are telling us that they would be willing to pass on all of the quarterbacks in next year's draft to reach for a project who was considered to be a mid-late first round player at best. This is going to determine Gettleman's legacy as a general manager. After trading superstar wide receiver Odell Beckham Jr. and letting safety Landon Collins go to a division rival, this pick singlehandedly is going to say a lot about the future of the team.
Dexter Lawrence
This is a solid pick by the Giants. Lawrence is coming off a selection to the All-ACC First Team and had 44 tackles with 7.5 for loss. He performed well in the most important games, in his sophomore season he had two sacks against Virginia Tech in the ACC Championship game and four tackles in the Championship vs Alabama. While he didn't play in last year's College Football Playoffs because of PED use, however, he has denied knowing he used it and has no previous issues with using them. Zierlein said that Lawrence is a "massive defensive tackle with the size, length, power and relative athleticism to play a variety of positions in either a 3-4 or 4-3 front."  Lawrence was a key contributor to Clemson's two championships in the past three years, and I believe he can help bring some wins to the big apple.
Deandre Baker
The Giants weren't done in the first round, trading back into round one and taking Baker. It's the first time they have had three first rounds picks, and it's a good one. Zierlein said that "Baker's game progressed each season for the Bulldogs, culminating with a senior season that saw him earn first-team Associated Press All-American honors and win the Jim Thorpe Award as the nation's best defensive back."
I like seeing a player improve each year, especially when they have the talent Baker has. A three-time All-SEC selection, performing well in arguably the best conference in college football says a lot about the type of player you are. Even though this doesn't guarantee NFL success, it's a positive sign for a Giants secondary which was 23rd in both passing yards allowed and average passing yards per game allowed in 2018. Giving up three picks to move up seven spots is costly, however with 12 picks this is the year to take a chance.
The Last Word
The group overall is a solid one, Lawrence and Baker look like day one contributors. However, the Jones selection makes no sense.  NFL Network's Kimberly Jones reported that Gettleman said the Giants had the same grade on Jones and Allen. If this is true, the bond this management has with Eli is on another level. No one had Jones even close to the same grade as Allen, who is considered to be one of the top five prospects in the draft by many scouts. How Jones does is going to determine the next ten years for the team. Gettleman's legacy as a competent general manager is on the line, and he better not blow it. This organization has more questions than answers around it, and this season is going to be an interesting one.
Main Photo:
Embed from Getty Images