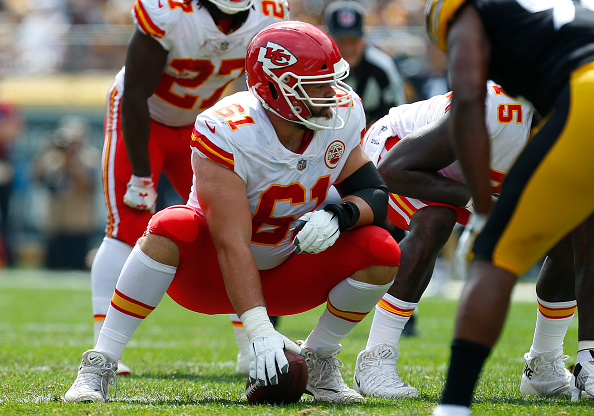 The Buffalo Bills struggled with their offensive line last season. After losing Cordy Glenn, Richie Incognito, and Eric Wood in a single offseason, the Bills needed to rebuild their offensive front. Their additions included Jordan Mills, Vlad Ducasse, and Russell Bodine to name a few. These players all started for Buffalo and all had less than stellar performances. Now, Buffalo has added multiple offensive linemen in the free agency and appear to have a solid foundation for their new offensive line.
Here's a look at the new and improved Buffalo Bills offensive line moving into 2019.
The New and Improved Buffalo Bills Offensive Line
Morse played outstanding football with the Kansas City Chiefs before heading to Buffalo this offseason. The man who snapped footballs to 2018 MVP Patrick Mahomes will now snap them to Josh Allen. Opposing defenses sacked Allen far too often last season. Now, with better protection, Allen will have a better chance to show off his incredible arm talent. Morse excels in pass blocking, which is exactly what Buffalo needs.
Long is a veteran of the NFL and will help Buffalo as a result. Buffalo needed veteran leadership in their offensive line group. Long struggled a bit with the New York Jets, but with a lesser role in Buffalo as a rotational center or guard, Long has a chance to succeed in Buffalo. Long has been an excellent player at points in his career and can help Buffalo's young lineman with their game.
Spain is a big guard who has found success in his NFL career. Spain, formerly of the Tennessee Titans, showed exceptional pass blocking skills with the Titans and had a great overall season in 2016. Spain only allowed one sack last season. It would be a major help for Buffalo's offense if they could keep Allen on his feet most of the time.
Feliciano is another depth signing who can help the line stay consistent. Feliciano is another guy who is a good pass-blocker. Feliciano comes to Buffalo from the Oakland Raiders where he never had a chance to show all of his skills. Feliciano is an example of a guy Buffalo has brought in to give a chance to show them what they got.
Waddle is an interesting player for Buffalo. Waddle spent his time with the New England Patriots last season where he played a rotational role. Waddle has played in multiple cities in his career so far and hasn't been able to stick to one for very long. His one year deal in Buffalo gives signs that this trend may continue, but hopefully, Waddle can perform well in Buffalo and give himself an opportunity to stick with a team for a long time.
The trend continues with Buffalo's signing of Nsekhe. He is an above average pass-blocker. In limited starts with the Washington Redskins, Nsekhe showed his talent in his limited action and earned himself a spot with Buffalo. He will compete to start opposite of Dion Dawkins on Buffalo's offensive line.
Image Credit:
Embed from Getty Images