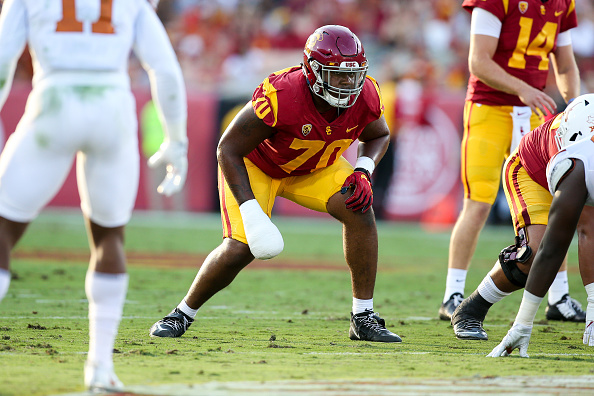 The top of the 2019 NFL Draft has an abundance of very talented offensive linemen. Jonah Williams and Jawaan Taylor are two of the best tackles in the draft the past couple years. No interior linemen compare to Quenton Nelson, but that wouldn't be an easy task. Texas A&M's Erik McCoy and North Carolina State's Garrett Bradbury are two very good interior linemen regardless. Not every team will spend a day one, or even day two pick on an offensive lineman though. Here are some of the offensive linemen that could turn into good starters as day three selections.
Potential Day Three Offensive Line Starters
Edoga was a senior in 2018 at the University of Southern California. He was a two-year starter, meaning he on the right side for New York Jets' quarterback Sam Darnold. Edoga's hands need work in pass protection but he does a good job of mirroring the defensive linemen. His ability to keep pressure off of the quarterback is above average, and he is a solid run blocker as well. Edoga is far from a finished product, but the raw talent is absolutely there to make him a starter at right tackle in the NFL.
Edoga was widely considered a day two pick, but questions from the Senior Bowl regarding his work ethic will push him down the board. His footwork and raw ability to pass protect and run block should make him a steal at the value.
Roemer is one of my tackles in the draft. He was dismissed from San Diego State midway through the season but was a force on their offensive line until that point. Roemer is declaring after only his redshirt sophomore campaign, which leaves tons of room for upside. He rarely gets beat in pass protection, and he did a good job of opening up holes on the line for Rashaad Penny, as well as Juwan Washington, their running back this season. His footwork is rather good and his hands are exceptional.
Left tackles are hard to come by in the NFL. Even though Roemer was dismissed, and there is undoubtedly character concerns, he has the ability on the field to make the selection very worth it.
Prince started every game over the past three years at right tackle. He is entering the draft after his senior season at Ohio State, where he has protected two NFL quarterbacks in J.T. Barrett and now Dwayne Haskins. Prince's hands are a little suspect at tackle, and he may be better suited to kick inside as a guard. At guard though, I truly believe he will be able to carve himself a nice role as a good starter. His footwork and base are very strong, and he leverages himself rather well. His hands will be less important as a tackle. He can also focus on using his size and strength to protect the passer and open holes between the tackles.
There are no red flags that come along with Prince. He is most definitely worthy of a day three selection and his upside is good enough to see him become a solid starter at the next level.
Fred Johnson, RG, Florida
Johnson has been one of the most understated offensive linemen in the draft, but I see him becoming a very good player at the next level. He manned the guard spot as a senior for Florida beside Jawaan Taylor. His anchor is pretty good but could use some development. He constantly keeps pass rushers in front of him and he uses his hands very well to knock pass rushers off their path. He is a solid run blocker as well and should be able to carve out a role.
Johnson also has no red flags, and he may be the best of the linemen on this list. He is being massively overlooked throughout the draft process.
Gaillard is also being very overlooked, but it seems like the NFL is starting to catch up on his abilities. As a senior center, he struggled a little bit against the pass but was very good against the run. He has the pieces to make him a very solid interior lineman. From good footwork to good run blocking and physical hands, Gaillard should carve out a role.
Gaillard has no red flags, and he should be drafted relatively high on day three of the draft.
Casey Tucker, LT/LG, Arizona State
Tucker may be the biggest hit or miss player of this list, but he's a former five-star grad transfer from Stanford. He played both tackle and guard, depending on teammate injuries, but he looked very good as an interior guard. Tucker could improve upon his run blocking, but as a tackle who kicked inside, his run blocking should improve as he gets more comfortable as a guard. He has good footwork and heavy hands on the interior. His upside is very good, and he is very high on my draft board compared to others.
Tucker has no red flags, but he is from the same recruiting class as players like Myles Garrett and Cam Robinson.
Last Word
These players may not be the big name guys, but they have the upside to be solid players at the next level. Edoga and Roemer are red flagged players who could've been day two picks otherwise. The other guys could just be very pleasant surprises on day three for any team. The high-end crop of tackles are better, but the late round interior guys could be very good at the next level.
Main Photo:
Embed from Getty Images