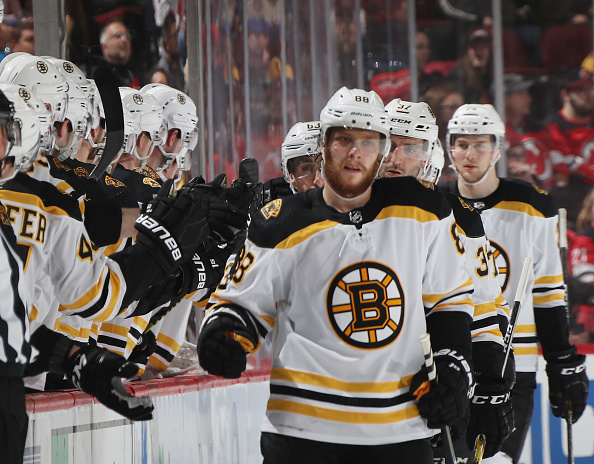 After going on a historic 19-game point streak, the Boston Bruins have continued to impress in the month of March. After their point streak came to a screeching halt losing three games in a row, the Bruins have bounced back and have now won three in a row. They are 7-3 in their last ten and are inching closer and closer to locking up home ice advantage for the first round. All signs point to this team being a legit contender for the cup. But, that's not exactly an uncommon phrase here in Boston.
Last year the Bruins had an outstanding 50-win season. However, they were stonewalled in the second round by the talented Tampa Bay Lightning. In 2013-14 the Bruins came within two wins of bringing home the cup. Yes, a trip to the finals is still very impressive, but many Boston fans saw their presidents trophy winning team losing in the finals as a huge disappointment. My point is it isn't new for the Bruins to be thought of as a threat in the playoffs. But it also isn't new for the Bruins to disappoint in the playoffs. Do they have the talent? Certainly. Do they have the drive? I believe they do. But they overcome some obstacles that have plagued them in the past? Let's take a look at what the Boston Bruins need to do to bring Lord Stanley back to Beantown.
Is It Finally Time?
Finish the Season Strong
In 2014-15 the Bruins lost their last three games to fall out of the playoffs for the first time since 2006. In 2015-16 they lost nine out of their last twelve to eliminate themselves from playoff contention. Last season, they lost four out of their last five to hand the Lightning the first seed in the East. Concluding that the Bruins have trouble finishing the season out strong is an understatement.
This is a huge reason many lack confidence in this talented  Boston Bruins team. With less than a month to go in the season, this is where the Bruins can show they are for real this year. It is completely feasible that if they had the 1st seed last year, they may have been able to give Tampa a run for its money.
This final stretch of games is so important it's scary. four out of their last eight games are against solid playoff contending teams. Not to mention two of those are against the best team in the NHL, the Tampa Bay Lightning. At the very least, the Bruins must win at least 5 of these games. With Toronto still competing with them for that second seed in the Atlantic, they don't have much wiggle room.
Cursed by the Playoff System
Many NHL fans agree that this new playoff system is very flawed. Take last year for example. After knocking off the Toronto Maple Leafs who were 4th in the East standings, the Bruins had to travel to Tampa to play the Lightning who put up 113 points that season. Nearly every sport in the world has a better playoff formatthan the NHL, and the Bruins could very well fall victim to it again.
As it stands on March 22nd, The Bruins would play the Leafs in the first round yet again. To give a little more background, if the NHL had a traditional 1-8 seeding format, the Bruins would be second and the Leafs would be 4th (at the moment). It makes zero sense for a top-seeded team like the Bruins to play a cup-contending team in the Toronto Maple Leafs in the first round. And to make it even worse (assuming all the highest seeds advance), they would end up playing, you guessed it, the Tampa Bay Lightning in the second round for the second straight season.
This isn't anything the Bruins can control, but it's most certainly something that will have a profound impact on their chances with winning the cup. Something has got to change with this format but for now, the Boston Bruins will simply have to work with the cards they are dealt.
Can Tuukka Rask Continue His Magic?
Tuukka Rask gets a lot of hate from Boston Bruins fans. Some of it is warranted, but Rask has been greater than anything Bruins fans could have asked for when they traded for him back in 2006. Rask has a Vezina Trophy under his belt, along with an outstanding playoff track record. He ranks fifth in all-time save percentage in the playoffs among active goalies (.924). Tuukka ranks seventh in goals-against average (GAA) with 2.25. There really isn't an argument to be made that Rask doesn't perform in the playoffs. But he is going to be ever so important in this year's playoffs.
This year, the Bruins currently rank 13th in goals per game with 3.03. Now that is in no way a bad placement, but when nearly all of the other Eastern Conference playoff teams are in the top 10, it's cause for concern. Granted the Bruins lost their top scorer in David Pastrnak for an extended period of time, but I digress. Either way, Tuukka Rask will have to come up big throughout these playoffs.
The Bruins are slated to face both the Leafs, and if they can get past them, the Lightning in the first two rounds of the playoffs. They currently rank 4th and 1st respectively in goals per game. They are two high-scoring offenses who don't sit back and wait for you to make the first move. Both of these teams will fire pucks at the net all game, and Tuukka Rask will be relied upon a ton. He may be the biggest key in their playoff run.
Last Word
A lot of buzz surrounds this Bruins team. I for one have never seen this team play this good since their cup run in 2013. However, the Boston Bruins have disappointed in years past. They have talent. They have the heart. But they most certainly don't have history on their side. An outstanding February/March doesn't necessarily get them out of the dark just yet. In 2014-15 they ended February and began March winning 7 of their first 8. But then proceeded to lose 6 in a row, which ended up costing them a playoff spot.
I personally see something different in this Bruins team, however. Leadership that hasn't been there in the past. They have depth scoring that has been absent for some time. The Boston Bruins look as good as I've seen in a long time, and they control what they do with this talent. Will the big bad Bruins stay in hibernation? Or will they complete their mission to capture Lord Stanley's cup once again?
Main Photo:
Embed from Getty Images