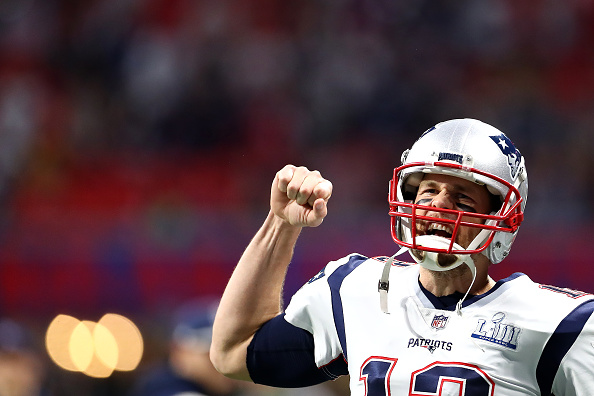 Tom Brady is a living legend, and whether you like it or not, he's going to keep on breaking records the longer he plays. But how long will that be? The man himself has said he wouldn't hang up his boots until he's 45, and if he keeps fit and continues to play so well, it's hard to imagine him not reaching that goal.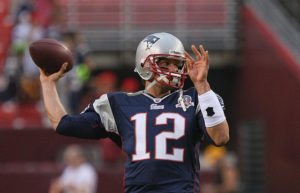 How Long Can Tom Brady Go On?
The Ridiculous Stats
He's the oldest player to ever play in the Super Bowl at 41 years of age; he holds the record for the most Super Bowl MVPs, the most Super Bowl passing yards, and the most Super Bowl appearances. The prediction for the Super Bowl was that Brady would win his sixth Super Bowl ring, and while it was a low-scoring affair, the inevitable did happen. So, he has that record of six rings under his belt now, too.
There's literally no contest when it comes to NFL records—Brady is the man. Even those who hate the Patriots (and there are many) will agree, there's nothing stopping the most successful No. 12 in the history of the sport. Even when he's not playing, he's still setting records. Recently, his autographed rookie card broke a record when it went under the hammer for $410,000.
Can He Play On 'Til 45?
Only seven players have made it to their 45th birthday as part of an NFL roster. And only one of those made it past 45. George Blanda played until the ripe old age of 48 as third choice quarterback for the Raiders. But we doubt that Brady has Blanda's record in his sights.
Brady once famously told his former teammate Willie McGinest that he will stop playing when his abilities start to wane. Now, some might feel that he may lose his edge in coming seasons, but you have to remember that we'll likely judge him by his own extremely high standards. Brady has yet to lose his football skills, and although he didn't even make an end zone pass in the last Super Bowl, his form has shown no signs of dipping.
If anything, the man is getting better with age, and his stats back this up. Prior to his 40th birthday, Brady's career average passing rating was 97.6. Since he hit the big 4-0, that has risen to 100.2. It seems that some things really do get better with age.
With Brady looking good to play week in, week out, and the Patriots determined to allow him to play until whenever he wants, it's increasingly likely that his wish to hit 45 in the NFL will actually come true. We can only hope that he can stay fit and healthy enough to do so.
The Patriots Conundrum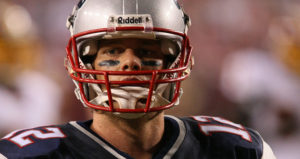 The only problem is, what do the Patriots do in the long-term? Quarterbacks don't fare well in the shadows, and who could blame a player with potential not wanting to sit on the bench watching Brady break records (the 49ers' Jimmy Garoppolo being the perfect example)?
Bill Belichick will want his star man to break as many records as he can, and the chances are that he'll still be at the helm when Brady reaches his 45th birthday target. Patriots owner Robert Kraft has himself stated that Belichick can stay in the job for as long as he wants, and that poses a problem for QB recruitment.
While Belichick has the scouting team to find the best possible options, not many QBs will want to sign for a man who has stood behind Brady every step of the way—a man who is likely to push for Brady to stay on the team as long as possible. The Patriots will be loath to put their record-breaking QB out to pasture, but until they do, they'll never find another QB like him.
So, this is the conundrum they face—keep Brady on the team indefinitely and allow him to break as many records as possible or start to blood a new QB before Brady inevitably loses his prodigious throwing skills and ability to read a game. Will Tom play until he's 45? Probably, but at that point, Patriots fans will hope that he is playing as the second choice behind a new star player.
Main Photo:
Embed from Getty Images