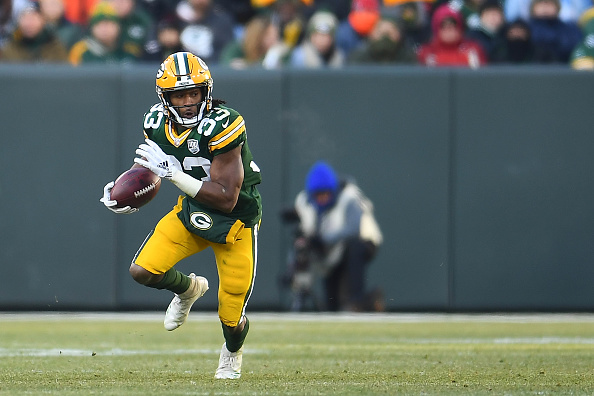 Year after year people think that the Green Bay Packers need a big name running back to put them over the top and that's true but not this year. Currently, the Packers have Aaron Jones as the starter and Jamaal Williams as the backup. For the past couple years they have shown why the Packers need to invest in them both. Both of their stats will prove that they are way more than capable to handle their respective roles.
The Running Back Position
Aaron Jones
Aaron Jones got his real opportunity last season and had a breakout year. He was suspended for the first two games of the season but when he came back he was more than ready. In a season where the Packers had a bad year, Jones was one of the few bright spots. Aaron Jones played 12 games last season and had 133 Carries for 728 yards. He easily could've had over 1,000 yard rushing season if he played all his games. Jones had 35 catches for 228 yards giving him a total of 934 yards. He also averaged 5.5 yards per carry which was the best of any running back in the NFL and had eight rushing touchdowns with one receiving to give him a total of nine on the season. He had an 81.3 rating which was ranked 12 among all running backs. Again, if he played all of the games then these numbers would go up drastically. It also didn't help that he didn't get a lot of touches when he was in games but that is sure to change under first-year head coach Matt LaFleur. He is exactly what they need in that backfield. Who knows, Aaron Jones might become a big name in the NFL.
Jamaal Williams
Jamaal Williams is the Packers backup running back going forward and is a pretty good option to have. He might not be the biggest name or a flashy guy but when he steps on that field, he means business. Williams played in all 16 games last season and earned a few starts. He didn't have the best games when it came to stats but he is able to come through in the moments. The second-year back had his best game by far was in week 15. He had 15 touches for 95 yards and a touchdown. He is a really good third down and short yardage back. If they need a couple of yards or need to move the ball, Jamaal Williams is more than qualified. Williams also had a good year in 2017 and proved he could be one of the running backs. Williams is also only 23 years old so the Packers will have a young and affordable back for years to come.
Last Word
The combination of Aaron Jones, who is producing starting running back numbers, and Jamaal Williams, who can play a big role in short yard situations, can be something special under a new staff who like to use the run game a lot. These two are way more than capable to be the starting and backup running backs in Green Bay.
Main Photo:
Embed from Getty Images