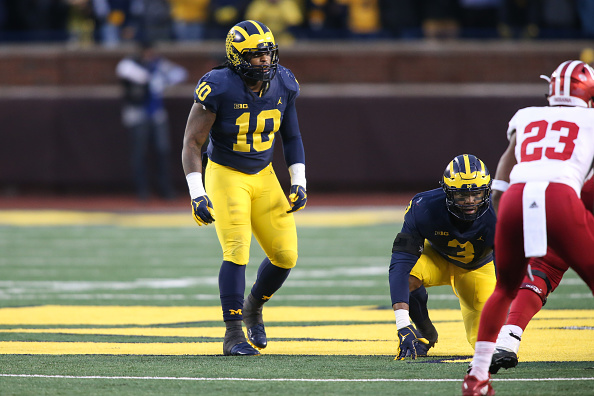 Throughout the draft process, it has been a huge debate about who is the better linebacker between LSU's Devin White and Michigan's Devin Bush. The conversation does not simply look at who is better, but who takes the reins as the top linebacker in the draft. They are more or less a consensus top two linebackers for the upcoming 2019 NFL Draft. The reality of the situation is that neither of them deserves that title.
Why Neither Devin is the Draft's Top Linebacker
Scouting Reports
Here is the crazy thing. Devin White's tape really doesn't scream top linebacker. He is undoubtedly a very raw prospect who has a lot of areas to improve, but one of those areas is mental. My biggest area of critique is that he has trouble reading plays and flowing towards tackle opportunities. Especially in the run game, you find him misread a play design and now he is too far out of position to impact the play.
My other two issues with White are two huge points of emphasis for linebackers. One of them is his ability to shed blocks. He has been used on the interior, and a little bit on the outside to pressure the quarterback and play on the line of scrimmage. When he does work around the line of scrimmage, he gets pushed around too often. He struggles to get off blocks to make tackles, and too often he ends up on the ground. This explains my other issue with him, which is his gap abilities. He is incredibly raw and needs work around the line of scrimmage if he wants to make splash plays.
Devin White, block shed pic.twitter.com/D4tr0GWxzo

— Thank you Foles (Thomas) (@thomasrp93) March 13, 2019
The Devin Bush hype makes a lot more sense to me. He is very NFL ready, and will likely make an instant impact. Bush also does not have any huge issues. He can work a little bit on his underneath game in coverage. We saw Ohio State take advantage of the middle of the field to the tune of 62 points, but that doesn't squarely fall on Bush's shoulders of course.
He can also work on his ability to get off blocks. If he can improve on that, he would be incredibly well-rounded. He already reads plays well and flows towards tackle opportunities. He is crazy athletic as we saw from his combine scores, where he posted a 4.43 40-Yard Dash. Bush is definitely NFL ready and will make an instant impact for a team at inside linebacker.
Can we just talk about the absurdity of the ground covered by Devin Bush on this play? pic.twitter.com/lp5ZMFFxil

— Ross Uglem (@RossUglem) March 7, 2019
The Other Options
The Blake Cashman hype got very real very quickly. After a very good combine, scouts started to take notice of Minnesota's Cashman. He is an exceptional tackler and reads plays really well. He is also signifcantly better at shedding blocks around the line of scrimmage. Where he lacks in the athleticism department compared to White and Bush, he makes up for with quicker and more precise reads.
Minnesota LB Blake Cashman was one the top prospects to watch following the NFL Combine. He's solid at keeping his shoulders square to the line before attacking the first level. pic.twitter.com/PXh0cWrZCW

— Jordan Reid (@JReidNFL) March 9, 2019
This may be a more unpopular opinion, but Florida's Vosean Joseph was an absolute pleasant surprise. I've always known Joseph to be a big hitter and an important part of a defense's swag, but what I saw on tape was much more than that. Joseph undoubtedly has his problems with missed tackles, which is a problem for a linebacker. The tackles he's missing though are tackles that only he has the ability to put himself in position to make. He reads plays really well and is exceptional within gaps on the line of scrimmage. He doesn't fall back into coverage as much as the other linebackers, but he is not necessarily bad in coverage. With some refinement on his tackling technique, Joseph can be a top-tier linebacker at the next level.
Vosean Joseph is a guy I really like. Play speed is tremendous. pic.twitter.com/fyGoQCsgxB

— Connor Livesay (@ConnorNFLDraft) January 31, 2019
Last Word
Devin White and Devin Bush will both still be drafted very high. They also both look like they have the ability to be successful at the next level. It doesn't look to me from their tape that they should be the consensus top two linebackers, though. Whoever ends up with either Cashman or Joseph, my top two inside linebackers, on presumably day two, will likely have a very valuable linebacker on their hands.
Main Photo:
Embed from Getty Images