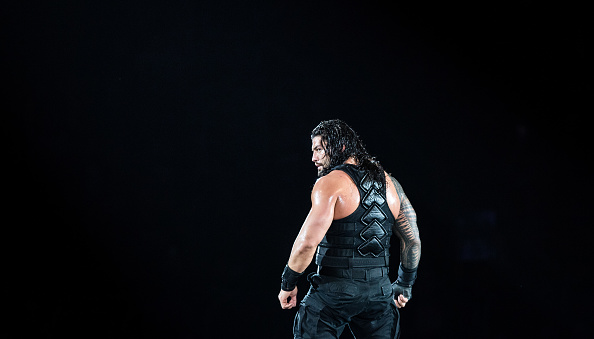 What is it about certain teams in the WWE that we just don't want to let go of? The Shield is one of those teams where the chemistry behind the three members, and how they deal with fights in and out of the ring, is simply something the crowd wants and loves. This week, heading in the PPV Fastlane, The Shield much to the cheering crowd's approval, joined forces again for as Roman Reigns stated, one last ride. Let's look at this reunion and what makes this such a looked forward to event.
Can They Learn To Get Along Again?
Breaking Up On Horrible Terms
The last time the Shield broke up was right after Roman Reigns announced that he had to take a leave of absence for his health. Much to the dismay of fans who had waited with bated breath while Dean Ambrose was out on injury and finally had them back together. Of course with Roman being gone for an in a determinant amount of time. Something had to be done with the storyline.
Thankfully now, he is in remission and has returned to the ring. So it would appear, the WWE powers that be are trying to make up for their mistake of not giving the members of the Shield a decent story-line. Something that almost cost them the talent of Dean Ambrose. As the news broke that he was unhappy and would not be renewing his contract when it ran out. However, now it would seem they are on the same page with the lunatic fringe and he has reportedly signed and will be staying with the WWE. Something that fans were hoping for and are grateful for.
Why Is This So Exciting?
What it is about some of these factions that we can taste the excitement of them returning? Few things make a crowd react as wild and loudly as when even the hint of a reunion of a great team returns. Years ago when Triple H was having more and more problems being outnumbered by the Spirit Squad. All he had to do to have the complete backing of an exuberant crowd was to say. "Maybe I just need to make….one phone call." Knowing who he meant was enough for the crowd to go wild and count the seconds until they would hopefully see another DX reunion. And weeks later when Shaun Michaels came back, after much prompting and humour by both in the weeks between. One couldn't hear their own thoughts due to the yelling at seeing these two favourites reunited again.
Sometimes The Fans Get A Surprise
There are other times when the rumour mill runs wild and fans are told that a certain favourite may have been negotiating for a new contract that would bring them back to the ring. During Wrestlemania 33 that the New Day was acting as the hosts of. They came to the stage to announce a surprise entrant in the three-way tag team championship, making it a fatal four-way. Many people jeered wondering if they were using their position to inject themselves into a title shot. But then an old, familiar and loved theme started to play, and screams went up as the newly reconnected Hardy Boyz entered the stage area and ultimately won the tag team championship.
Give The Fans What They Want
Let's be realistic, sometimes the fans do not get the outcome they want to the point of getting angry. This has to happen because if it always went the way you wanted, in all honesty, it could get boring. There have to be some heartaches or anger to make you want an outcome even more.
On this past week's Monday night RAW Roman and Seth Rollins started the show with the olive branch out to their old brethren. Through thick and thick, they have fought and won, fought and lost and ultimately fought each other. But they keep pulling back to the inner circle. Last week, after Roman's great return, the show ended with Seth and Roman coming out to help Dean. After he lost his match and was being overwhelmed by the forces that want to destroy him. They said nothing then, but as they left the ring and walked up the ramp. However, the look they gave Dean and he gave them planted the seed. They could reunite, they could do it again.
When Dean lost his match, Seth and Roman came down again to plead their case as they had done multiple times throughout the night. Knowing how he is, knowing how stubborn and headstrong he could be, they pushed just enough. Enough to get their point across but not enough to make him lash out at his brothers. Yet still, even seemingly filled with conflicting emotion, he walked out of the ring. However, instead of walking up the ramp, he walked through the crowd taking the way out that they used to enter the ring as a group. Almost as a mental sign of, I want to but I don't know if I can.
That is when Baron Corbin, Drew McIntyre and Bobby Lashley appeared. Then they started their spew of how it was them who had broken up The Shield and how it was never going to return and they needed to stop living in the past. Even going so far to say that they 'were' going to offer them a match at this weekend's PPV Fastlane. But instead, they were going to end any possibility right now.
Blood is Thicker Than Water, and Not All Blood Is Related
As they surround the two men, who stood tall even being outnumbered. They calculated their attack, but Roman and Seth attacked first. Trying valiantly to overcome the numbers. Though soon it became obvious that the tide was going against the outnumbered men. As Dean watched from the stairs, shouting his encouragement like the surrounding fans. He finally had enough and ran back down to the ring. With the equalled odds they threw Baron and his ilk out of the ring.
Standing tall now, Seth and Roman looked at each other, stood in the centre of the ring with their hands in their positions of the Shield. They didn't look back at Dean who was pacing like a caged animal. They didn't speak directly to him, but you could see and hear Seth. Quietly at first, encouraging by saying 'Come on,'. The fans could feel the excitement and yelled louder and louder as did Seth. Then finally to everyone's joy, Dean entered his hand into the triforce.
That was it, they were together again, much to the chagrin of their foes who looked on. Dazed and confused from their beating as they backed further up the ramp, it was on now.
It All Comes To A Head
Now at Fastlane, Baron Corbin, Drew McIntyre and Bobby Lashley who were proud of themselves. While crediting themselves with breaking up the Shield the last time. Will take on The Shield in a six-man tag team match. One can only wonder if the egos of these three can be kept in check so that they can compete against a reformed Shield. A team that while has had their ups and downs. As Seth Rollins said, "Brothers fight, but in the ring, I know you have my back." The key to victory for the Shield can simply be, divide and concur. The team that has each other's back more, can easily win this battle.
Last Word
There are some wrestlers that touch the crowd and win them over more than others. When it is a team that can accomplish this, it is something extra special because it is harder to find and make successful. When these teams break up, it is sometimes heart wrenching to the fans. Though sometimes it is due to injury or illness or just a storyline running dry. But when they can make a successful return, it brings out the little kid in all of us. Let us hope this isn't one last ride, but a beginning of a whole new chapter.
Image Credit:
Embed from Getty Images