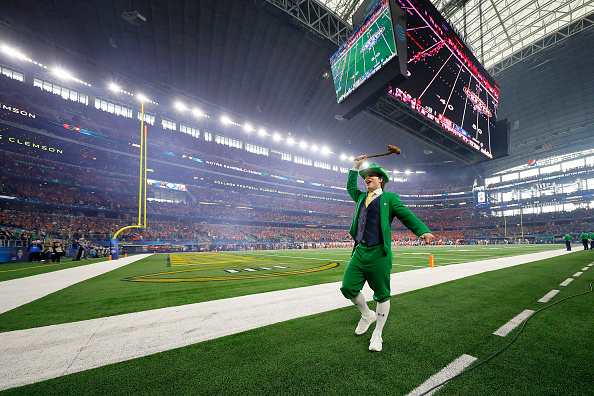 The Fighting Irish of Notre Dame have enjoyed independence since inception and will not be joining a college football conference anytime soon. Notre Dame is a very proud university in Northern Indiana and sits just south of the Michigan border. While a majority of the school's athletic programs live in the ACC, the hockey program sits in the Big Ten, and the football program is -for lack of a better phrase- a little confused.
'No football program should play in the playoff without a 13th game', shouted all the coaches who were left out of contention in favor of the Fighting Irish. Some Notre Dame fans argue joining a conference would allow the football team to make up for a regular season loss. I am going to argue why Notre Dame football are fine just the way they are, here's why:
Why Notre Dame Football Will Not Join a Conference
Money, Money, Money
If you think Notre Dame needs money you are dead wrong. Aside from having one of the largest endowments of any university – 13.1 BILLION – they enjoy a very lucrative deal television deal. NBC and Notre Dame signed an extension in 2013 to their 1991 television contract, giving NBC exclusive coverage of every Notre Dame home game.
What does Notre Dame get? A reported 15 million dollars annually. So no, they don't need power five money.
Just Go All in With the ACC
It's true, Notre Dame does have a half in half out quasi-agreement with the Atlantic Coast Conference (ACC). And yes, since they are not full members they do not enjoy the full payout of the ACC. Slapthesign reported Notre Dame received 5.8 million with the average ACC college earning 26.6 million. We covered this, they don't need your money and if they did, they would probably join the Southeastern Conference who pays out an average of 40 million.
Speaking of money, last September, Forbes gathered annual financial filings for the top schools ranked them based on annual revenue and profit. Notre Dame was the only independent school on the list – obviously – and they came in at seventh. The football program accounted for 112 million dollars of annual revenue with 72 million dollars profit.
Another downside to joining the ACC would be restricted travel. Currently, Notre Dame keeps a heavy rotation of Big Ten schools, Pac 12, a MAC game, and an annual rivalry game against Navy. If the Irish were to go all in with the ACC, they would have to wrangle in their historic nomadic approach to college football.
How Will They Ever Make the CFP Without a Conference Title?
This one is ridiculous for two glaring reasons:
1. They did it this year.
2. Two other schools have done it without conference titles.
Ohio State failed to make their conference championship game in 2016 and still made the playoff with Alabama doing the same in 2017. Neither of the teams above played 13 games their respective years and this year, Notre Dame was the only playoff team to have 12 regular season wins against Division 1 competition. Alabama played the Citadel, Clemson battled it out against Furman, and Oklahoma had a loss.
Just Try It
They have even before the ACC deal. Notre Dame had a similar quasi-contract with the Big East before its football arm was disbanded. Before that, there was the incident. Had it not been for this incident, Notre Dame might have joined what is now known as the big ten, way back in 1909. Michigan's head coach Fielding Yost and his point-a-minute Michigan football team lost at home to the little-known Fighting Irish, striking an instant rivalry and what some called a blackballing. Others described the fallout as anti-Catholic.
In the following season, Yost canceled a game against the Irish citing concerns over ineligible players and others followed suit. Many programs began heaving accusations of cheating against the university and its legendary head coach Knute Rockne. In the end, Notre Dame survived through independence and they don't appear to be changing their methods.
The Last Word
Two years ago, Notre Dame's senior associate athletics director John Heisler was asked about rumors the team may opt out of the current ACC deal for a more permanent position within the conference.
"No one here really wants to address this, because it's a non-story," Heisler responded, "Absolutely not true. We love the ACC, but we love our relationship the way it is, and there hasn't been any discussion."
Main Photo:
Embed from Getty Images