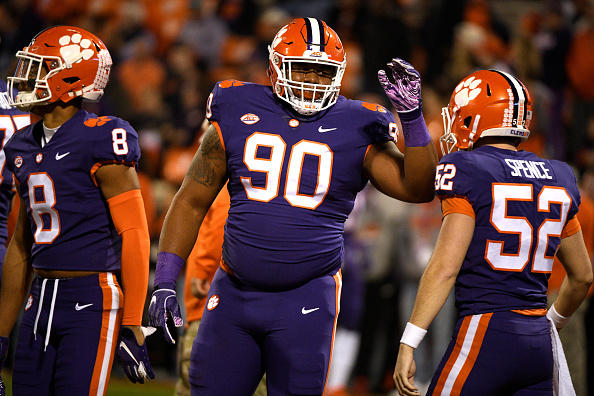 Entering the 2018 college football season, there were talks about the possibility of Clemson having four defensive linemen drafted in the first round. Since then, talks have died down about the possibility of four. Austin Bryant is out as a first-round prospect. With that though, it is still mentioned far too often that three of them can be selected in the first round.
The Underwhelming Clemson Defensive Line
NFL Draft 2019
With the NFL having free agency prior to the draft, team needs are subject to change at this point. It's not the lack of teams that can use a defensive lineman though. It's the high-end talent combined with the depth at the position. Interior defensive linemen Quinnen Williams and Ed Oliver are expected to be off the board in the top five. Edge rushers Nick Bosa and Josh Allen seem likely to be selected in the top five as well. There have also been rumors swirling that versatile defensive lineman Rashan Gary could be selected in the top ten due to his raw upside.
That's five defensive linemen who can be drafted in the top ten. Along with those five defensive linemen, it is entirely possible that three quarterbacks get selected by the Jaguars, Giants, and Broncos. The Bills will likely be looking for a receiver or offensive linemen in the top ten.
The further down the draft we get, the more teams look to fill specific team needs. Simply because it means that they finished with a better record, and filling a specific team need can propel them to new heights. So here's the reality; Clemson may not end up with any first-round picks.
Other Players
Once we get out of the top ten with the players I mentioned prior, there are still star players like Brian Burns and Jachai Polite. Jeffery Simmons was also a projected top ten pick before tearing his ACL. Charles Omenihu is another first-round option. This is not to say that Clelin Ferrell, Christian Wilkins, and Dexter Lawrence will not get looks from teams in the first round. There is undoubtedly an abundance of talent on the line though, and it will depend on who team scouts prefer.
Scouting Reports
I am yet to scout Austin Bryant and Clelin Ferrell. I've done primarily offense and interior defensive linemen. From what I have seen though, both Wilkins and Lawrence were underwhelming though.
Dexter Lawrence
Lawrence could weigh-in at 350 at the combine, and as a potential nose tackle in the NFL, that is pretty standard. My biggest issue with Lawrence though is that his strength along the line is lacking. For such a big body, it seems worrying that he gets pushed around as often as he does. Quite often he finds himself getting blown back a few yards off the line of scrimmage. His pass rush repertoire is pretty limited, and his frame only allows him to plug the A-gap, rather than being able to chase down any running backs.
Again, for a nose tackle to be an A-gap run stuffer is pretty standard. As a prospect though, I see Lawrence struggling in the short-term at the next level. If he gets drafted to the right team and trainers work on strengthening his lower body, he could develop into a solid run stuffer in the NFL.
Dexter Lawrence will be a top ten interior defensive linemen at the end of the day, but he will be closer to the back-end and he is undoubtedly a day two target.
Christian Wilkins
Wilkins has less upside than Lawrence. The appeal for drafting Wilkins is that he is a well-refined all-around defensive tackle. He can use some work with his hands while rushing the passer, but he has a good burst off the line and good lower body strength. He is also quite athletic and should project as a good run defender. It is very visible on tape that his football IQ is quite good.
With Lawrence and Wilkins down the middle, teams rarely challenged them by running between the tackles. Even though he didn't get to show it off, his football IQ will allow him to excel in run defense. There's no one area that Wilkins needs work, but he would benefit greatly from a veteran star. Give Wilkins the chance to refine his well-rounded style with a Pro-Bowler and the team may have their successor.
Christian Wilkins is also a top ten interior defensive linemen. He will likely at sixth or seventh. I would look for Wilkins in day two also, but with the right fit, I would understand a first-round selection.
Last Word
It's not that I do not like the Clemson defensive tackles as prospects. Both of them look like they can be starters at the next level. With the depth at the position though, it seems highly unlikely that they both selected in the first round. All the hype surrounding them throughout the draft process has me expecting to see more. With regards to expectations, I do expect them to pan out. I just do not see the mix of well-roundedness and upside to justify a first-round selection in such a deep class.
Main Photo:
Embed from Getty Images