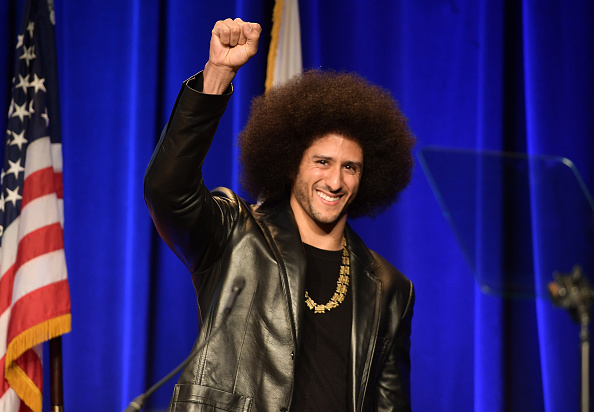 Colin Kaepernick has been out of the NFL for two seasons, largely because of his controversial decision to kneel during the national anthem. This article will not discuss whether this is right, but rather why he should get another chance. I wrote an article arguing that players should be able to kneel a few months ago to discuss the issues surrounding it. After the lawsuit accusing the NFL owners of collusion was settled earlier this month, we are now back at square one- does Kaepernick deserve to be in the NFL? While he hasn't played an NFL down in two years, he has shown flashes of superstardom and is better than many of the backup quarterbacks currently in the NFL.
An NFL Team Should Give Colin Kaepernick a Chance
He Was Considered the Future of the NFL
From the time he took over for an injured Alex Smith in 2012 to 2014, he looked like the next superstar quarterback. Throwing for 1,814 yards and 10 touchdowns with only three interceptions in seven starts in 2012 is an impressive stat line. He also was effective on the ground with 415 yards and five scores. Coming in and playing this well while leading the 49ers to an 11-4-1 record with an NFC Championship is one of the best Cinderella stories in recent memory. He nearly won San Francisco their sixth championship before failing to score inside the five.
The two full seasons he started were both solid seasons, throwing for over 3,100 yards both seasons with 40 combined touchdowns. The 49ers were considered one of the best teams in the NFC during this period making the NFC Championship two consecutive seasons. Before young signal callers such as Patrick Mahomes, Jared Goff, and Deshaun Watson appeared to be the next great NFL quarterback, there was Kaepernick. We have seen players thrive with a second chance such as Kurt Warner and Nick Foles, so the probability that Kaepernick would be able to seem higher then most people would believe.
Some Backups Are Backups for a Reason
Some of the backup quarterbacks currently on NFL rosters are nowhere near as talented as Kaepernick and certainly do not have the potential Kaepernick has. The Redskins are a great example, Colt McCoy and Mark Sanchez both have been inconsistent throughout their careers and have had more bad moments than good. When the Redskins lost Smith and McCoy, they brought in Josh Johnson who had not thrown an NFL pass since 2011. He has started eight games and his best season was in 2009 with the Buccaneers, throwing 685 yards and four touchdowns with eight picks in four games.
According to Pro Football Reference, Kaepernick's passer rating of 88.9 is 15.7% better than Sanchez and 27.2% better than Johnson. He has a significantly better touchdown to interception ratio, 12:5 compared to 172:178 and 4:7 from Sanchez and Johnson respectively. The likelihood that Kaepernick is worse then Johnson who has started fewer games then Kaepernick did filling in in 2012 seems relatively low.
Another example is Nathan Peterman, the current Raiders and former Bills quarterback who is in the top 25 the last two seasons in interception percentage. In four starts he has three touchdowns and 12 interceptions including a horrible five-interception performance versus the Chargers in 2017. Kaepernick's passer rating is an astonishing 56.4% better than Peterman's. I find it hard to believe that Peterman is a better player than Kaepernick, any backup quarterback with a five-interception game should have been out of the NFL immediately after that performance. To say that Peterman is more deserving of an NFL roster spot than Kaepernick based off on the field performance alone is absurd.
End the Debate Once and for All
Someone should end the debate on whether Kaepernick can still play by bringing him in for a tryout. If he does not perform well then, we move on since clearly, he isn't the player he used to be, and this debate ends once and for all. If he does perform well and is signed perhaps, he can return to his old form and help a team such as the Jaguars or Broncos who need a reliable quarterback. The best way we can end this debate is to see how good he is right now, and if he isn't then all the controversy can perhaps finally be put to rest.
Main Photo:
Embed from Getty Images