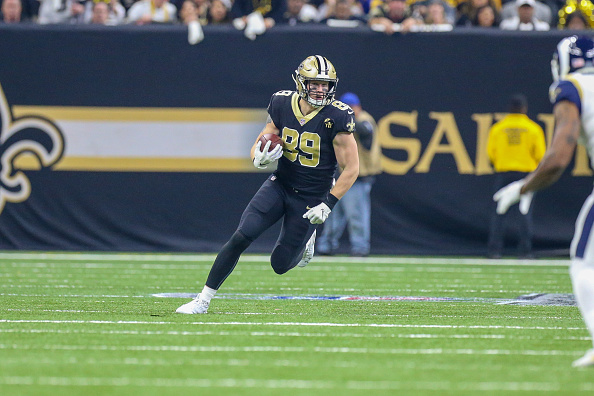 Once again, the New Orleans Saints fall short of achieving a great season after a controversial no-call from the referees in the NFC Championship game 26-23 overtime loss to the Los Angeles Rams. The Saints will no doubt be in the hunt for next season's attempt for Super Bowl LIV. There are not many question marks that will cause the Saints' downfall next season but there are some positions needs and areas they'll need to address in this offseason. These positions can either be address when free agency officially starts again or in the 2019 NFL Draft.
New Orleans Saints Position Needs to Address
Third Cornerback
The Saints' defense has been more reliable in terms of stopping explosive offenses. New Orleans made huge contributions of their defense by adding cornerback Eli Apple through trade from the New York Giants. The combination of both former 2017 Defensive Rookie of the Year recipient Marshon Lattimore and Apple helped the pass defense in terms of consistency. The defense was still ranked 29th in the league in passing yards allowed per game (269 yards). This is due to some slips in easier coverages, especially with some from cornerback P.J. Williams. He has shown to be more unreliable in big-time game moments. Another consistent cornerback might need to come in the form of another veteran or a draft pick within the 2nd round. This will be a corner who will be more geared to stopping slot receivers, either in deep or inside routes.
Potential Starting Tight End
This season was another highly successful season for quarterback Drew Brees and the Saints' high-power offense. While wide receiver Michael Thomas continues to show that he is an elite NFL receiver, he was the go-to player far too much. The deep ball was to Thomas and the quick/short passes were to his slot receiver in Ted Ginn Jr. or running back Alvin Kamara. Tight end Benjamin Watson was reliable when called upon but accounted for less than the average tight end in the league. Watson was fourth on the team in total receiving yards with 460 yards through 35 receptions on 46 targets and two touchdowns. This past season, he was 38-years old and he is now retired. If New Orleans still wants to develop their other tight end in Josh Hill, they still might want to get another short-range contributor near the offensive line.
Second Deep Wide Receiver
Michael Thomas basically carried the receiver unit of the Saints' elite passing offense. Thomas accounted for 1,405 yards and nine touchdowns on 125 receptions out of 197 targets. He accounted for 33.7% of the Saints' receiving yards and 33% of the team's receptions this past season. The next highest reception leader was running back Alvin Kamara with 81 receptions for 709 yards and four touchdowns. While Tre'Quan Smith did go through his rookie season this past year with the Saints, he was considered underwhelming. He only accounted for 28 receptions and 427 yards. He had a catchability rate of 63.6% from his receptions to targets. This the second-lowest catchability rate of the Saints' top providers this past season behind slot receiver Ted Ginn Jr. New Orleans will need a more reliable deep threat receiver to take the pressure off Thomas. Smith could be more reliable as an inside receiver along with Ginn.
Linebacker Depth/Coverage Linebacker
This season was a huge outbreak for the Saints' defense as they gave up only 1,283 yards total rushing yards. This was the second-lowest number of rushing yards allowed this past season only behind the Chicago Bears. The Saints' star defensive line and linebackers were highly responsible for this achievement. Demario Davis, A.J. Klein, and Alex Anzalone were fantastic late in the season and into the playoffs. Outside of them, there isn't much depth in terms of health and consistency. Manti Te'o has not been the most reliable or consistent defensive playmaker for the Saints despite his name recognition. The Saints' linebacker corp. is primarily young and very talented, so the main area to address is depth. New Orleans might want to consider a linebacker that can get in press coverage more swiftly as well.
Veteran or Rookie Quarterback
Sooner or later, New Orleans will need to find the future beyond their future Hall of Fame quarterback in Drew Brees. This is a tough area to measure because of the multiple obstacles that are currently facing the Saints. They have no first round pick in the upcoming 2019 NFL Draft. They currently only have special teamer and wildcat quarterback Taysom Hill on their roster. Teddy Bridgewater is a free agent and did not play much for New Orleans this past season. Finally, Brees is entering into the last year of his two-year contract with New Orleans. The Saints will have three tough choices involving the quarterback position this offseason. They either develop Hill more, they resign Bridgewater or another potential starting veteran quarterback, or they use a second or later pick in the 2019 NFL Draft.
There is a high-risk, high-reward involving the 2020 NFL Draft for the New Orleans Saints. Regardless of what happens in 2019 (if Brees does retire), they can use the assets they have to trade up high for an elite quarterback in the 2020 NFL Draft. Those quarterbacks could be either Alabama's Tua Tagovailoa, Georgia's Jake Fromm, or Oregon's Justin Herbert. This is a possibility that the Saints could take but it may be unlikely. If New Orleans is considering it, they'll need some insurance this offseason still if Brees gets hurt.
Main Photo:
Embed from Getty Images