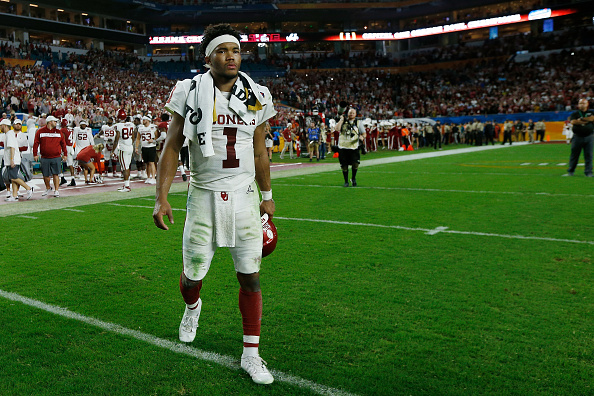 Oklahoma quarterback and Oakland Athletics' centerfielder Kyler Murray lead the Sooners to the playoffs this past season. He did so with some solid weapons in Trey Sermon, Marquise Brown, and CeeDee Lamb, but a large part of their success came from his talent. In the defensively lacking Big 12, Murray carved defenses game in and game out; resulting in a Big 12 championship. Since the day their season ended against Alabama, he has not done himself justice.
Why Kyler Murray is Hurting His Draft Stock
The Baseball Situation
Kyler Murray signed his rookie contract with the Oakland Athletics after being a top-10 pick. They signed him to a large contract with the hopes that the money would keep him away from playing football long-term. There was the understanding though that he was going to play for quarterback for Oklahoma in 2018. He will have to forego the money involved in his contract though if he does end up playing football.
The Football Situation
After playing for the Sooners, and winning the Heisman Trophy, it was obvious that Kyler Murray had a love for the game of football. Even though football is harder on the body, and may have less money involved, there was a growing belief that Murray was going to choose to enter the draft.
He was rather discreet throughout the whole process, not saying very much about his love for baseball or football. He refused to announce whether or not he was going to enter the draft, and it came down to the deadline.
The Monetary Situation
While the money may be considered better in baseball, it is paid out differently. Murray signed a massive bonus, adding several million dollars to his payout. The money may not be neccessarily better in baseball.
According to Bleacher Report, in 2012, about 66 percent of first round picks played in the MLB. That is only playing in the MLB, and not necessarily becoming stars. The money is there upfront in baseball, but it is difficult to be sure of superstardom. This would impact the possibility of receiving a second contract.
In football, for first and second round quarterbacks, which is where most scouts would have Murray graded as, second contracts are a regularity. The upfront money would be dependent on his draft slot, which is why his draft interviews are so important. The point is though, even if Murray struggles in his first contract, as a talented, high pick, he would almost be guaranteed to receive a second contract. The money may be upfront in baseball, but it is not necessarily better pay.
The Draft Process
Murray eventually announced that he would enter the draft. It was well known though throughout the league that it was just a safe decision. If he hadn't declared, baseball was his future. If he did declare, he would gain a few more months to make up his mind about playing football or baseball. At the end of the day, Murray can be drafted by the NFL and go back to Oakland to play baseball long-term.
The fact of the matter though is Murray needs to show that he can be decisive. Even if he hasn't made up his mind yet, he needs to be able to show scouts and team management that he will be sure of his decision when it is made. Even if on the inside Murray has no clue what he may end up doing, it was so essential to show everyone else that he is confident in himself to make the right decision.
The Interview
You may have seen the interview on the Dan Patrick Show. Generally, there have been mixed opinions on the interview. Some scouts have seen it as having a massive impact on his draft stock. Others have seen it as obscene to alter a talented quarterback's draft stock based off one interview. Personally, I see the interview as a big red flag, and I see it ultimately impacting his draft stock quite significantly.
Murray is supposedly being paid by Gatorade to partake in these interviews. This would explain why he does so even though he is so uncomfortable with the questions. It is, and would be completely understandable if Murray had to refrain from answering certain questions. This interview was far past that stage though. It wasn't that Murray couldn't answer direction; he wouldn't answer at all. Having the confidence to say that he loves both sports and that he is still mulling the decision would make an astronomical difference.
Awkward interview by Kyler Murray on the Dan Patrick Show. I get he is being paid by sponsors to do them, but how was he not better prepared for the obvious baseball/football questions? pic.twitter.com/RfNXaaeT0h

— Dane Brugler (@dpbrugler) February 1, 2019
The Draft Stock
Murray grades out as a second-rounder for me. With a poor quarterback class, and three teams in desperate need of quarterbacks, he would likely sneak into the first-round, The New York Giants, Jacksonville Jaguars, and Washington Redskins would all be serious options. If he were to be selected first round, the contract would be worth several million, maybe making the NFL more enticing.
Murray is scaring teams away though. His indecisiveness, and inability to handle himself with the media is worrisome. A team drafting a quarterback in the early rounds wants to know that he wants to succeed as a long-term signal caller. Any team that drafts him would have to consider the possibility of Murray leaving to play baseball. At the end of the day, would risking a pick for him this year be a better option that signing a formidable quarterback to a one-year deal in free agency before drafting one in 2020.
Aside from that, there are now questions about whether Murray can handle himself in the media as the face of the franchise. Especially for a team like the Giants, they could be hesitant bringing him into such a big market.
Last Word
Murray has proved himself on the football field. He is worthy of an early draft pick, but he needs to be more professional. Having the confidence to talk about the unusual situation would be significantly better than the excruciating, uncomfortable interview that we saw.
For Murray, it is so important that he grows up quickly. It seems as though he loves football. It would be a significantly easier decision if he didn't. With massive amounts of money already binded to his name by contract in baseball, it becomes clear that Murray loves football. If Murray wants to consider the monetary aspects of the two sports, the more he plays with the hearts of NFL teams, the more money will slip through the cracks of his draft slot allocation.
Main Photo:
Embed from Getty Images