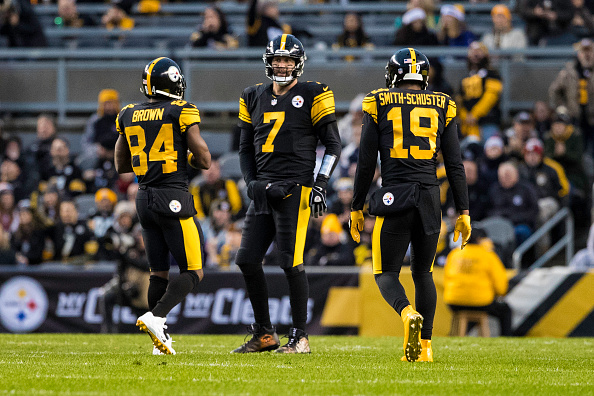 Well, the steel town fans as well as fans around the country are no longer cheering for their team for the season. However, steel is not made or used quietly and the team shall not go quietly into that good offseason. Let's talk about what is going on and what will be done about it.
Turbulence in Steel Town
Passion or childish?
The Pittsburgh Steelers are great at drafting or acquiring some of the best talent in the NFL. With this comes, passion, temper and of course, egos. This is a side effect and one judged on a case by case basis of how much a team is willing to deal with. The last game of the Steelers season, which was a must win and get help scenario, was certainly an important one. When just before game-time, fans heard that Antonio Brown would not be playing due to an injury. A collective groan went across the Steelers Nation and fantasy football players quickly tried to change their lineups.
Afterwards, with the game won and their playoffs dreams still lost. The men of steel had another story to distract their fans. The real reason Brown wasn't in the game was that he got benched. Supposedly for arguments, or fights with another player during practice. Reports say that player was Ben Roethlisberger, but every few hours more details seem to emerge. No one except those in the camp that day actually knows what exactly happened and/or what was exactly said. The story will change, improvise and stretch the more repeated it is. Bottom line is, something significant had to happen to keep one of the best wide receivers in the NFL on the bench during such an important game.
Nothing New in the Steel City
For most fans or even non-fans, this scenario can be very old by now. The preseason in the steel city started in a similar fashion with Leveon Bell not showing up to camp. That temper tantrum ultimately cost Bell his entire year of play and most will land him on another team when the Steelers finally release him. When this story got scarier than annoying for Steeler fans, and fans of other teams became hopeful. Is when the story came out that Brown requested a trade off of the Steelers.
This wasn't funny anymore, after losing such a high power running back. The last thing the Steelers needs is to lose the best wide receiver. Although hours later, the amendment to the story was that Brown made that statement in the middle of whatever the argument was that kept him out of the game and had not officially requested it. There is a press conference on Wednesday where undoubtedly Coach Mike Tomlin will be bombarded with questions regarding it. Most fans will be holding their collective breaths to hear something encouraging.
Last Word
When you get a group of talented, competitive and passionate athletes grouped together, they will experience times during which voices rise. Tempers will flare or people walk out of a room or practice. Maybe this stems from AB not receiving the MVP vote. Maybe because not enough passes were thrown to him or something completely unrelated. Most people in the steel city understand that there is one thing that is important for the long run. It is better to have a group of passionate players who want to push for that ultimate goal of a Super Bowl win over men with no spark or passion.
In the end, whoever is on the roster for the Steelers next year will be the ones have the talent to be there. It will also be who has the heart and desire to make this their life. In a world full of media outlets, any rift will be news and it is up to the team to keep a handle on what gets out, or if the wrong story gets out to quickly set it right.
Main Photo:
Embed from Getty Images