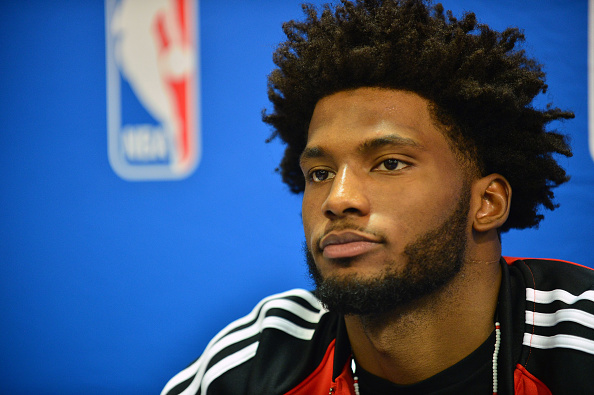 Justise Winslow was considered one of the top players coming into the 2015 NBA draft after his run with Duke to the NCAA Championship. He ended up falling all the way to the Miami Heat at the 10th pick to which experts deemed as an A grade draft for the Heat who were looking to make a comeback after having a four-year run of NBA finals appearances with LeBron James and then losing him in free agency just a year prior. Pat Riley's philosophy of play which has continued to be instituted by head coach Erik Spoelstra made a player like Winslow a perfect fit for the Heat. Winslow, however, hasn't been the shining young spot for the Heat in his first three years in the league but rather it was fellow draftee and second-round pick Josh Richardson who was getting it done on the offensive end. Winslow who has made more of a name for himself on the defensive end of the floor only averaged as high as 10 points once in his first three seasons in the NBA playing small forward and power forward primarily.
Justise Winslow Finding His Way in New Role
Winslow was a key piece in Miami's run to the playoffs last year and demonstrated how he is exactly what Pat Riley looks for in a player with his defense during the Heat's first-round matchup against the young and budding Philadelphia 76ers. It does, however, take more than defense to be a key cog for a team rather than just a role player which is something that Winslow was not drafted to be. Justise Winslow has shown an ability to facilitate the ball well over the last two seasons but it wasn't until this last month that Winslow was called upon to play more point guard for the team with starter Goran Dragic sidelined until after the all-star break with a recurring knee injury. During this time Winslow's put up some career stat lines with a few 20+ point games and again finding teammates for key assists or just key plays altogether. Head coach Erik Spoelstra has now announced that Justise Winslow will be the teams starting point guard going forward and after putting up 21-2-4 in his first game as the official point guard it does beg the question has he finally found a spot where he can be a key piece to this team like it was intended when he was drafted.
Winslow has been looked at as the standard "point forward" in today's NBA but as the Philadelphia 76ers have demonstrated with Ben Simmons you can have a guy whose stature and build is made to play forward be your primary point guard. While other players like this have spent time at the point the last time we saw someone of a larger build play the point primarily was Magic Johnson and with Simmons being Philadelphia's point guard and now Winslow being named the Heat's starting point guard we could see the league go to this model a lot more often. Winslow who is already a stout defender should have no problem defending other point guards in the league with his height advantage and has shown to be as capable as anyone at the position. During the month of December, Winslow has put up an average of 14-5-4 while shooting 48 percent from the field and 45 percent from three. This is a clear jump from the previous seasons where his field goal percentages were 42, 35, and 42 and his three-point percentages being 27, 20, and 38. The Miami Heat who are currently in the playoff picture has a lot of money against their cap and if Winslow can continue this upward trajectory he's been having at the point guard position it could put the teams front office in an easier position to move on from veteran Goran Dragic who will produce a cap hit of over $19 mil next season and is expected to be a free agent in the summer of 2020.
Main Photo:
Embed from Getty Images