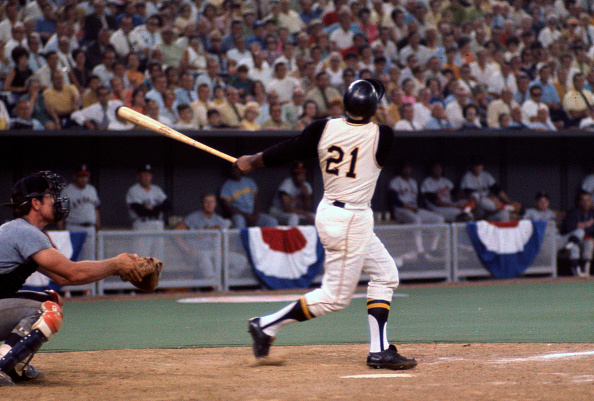 Over the course of the next month, LWOSports will be breaking down the top five Major League Baseball players in franchise history for all 30 teams. This article will rank the best five players from least to best by who had the biggest impact for the Pittsburgh Pirates.  You can check out the other series articles here.
Top Five Pittsburgh Pirates Players in Franchise History
5. Andrew McCutchen
Building a major league team means finding a player that can become the 'face' of a franchise. This player has to show heart, charisma, talent and overall love of the sport of baseball. One guy showcasing all of these items over the course of his career is outfielder Andrew McCutchen. Eight years with the Pittsburgh Pirates were enough for the fans in Steel City to fall for 'Cutch'.
Boasting five All-Star appearances, four Silver Slugger awards, and a Golden Glove award was not enough for the Florida native. McCutchen's rookie season highlighted his ability to quickly connect in the Major Leagues. His first career at-bat was a single that led to him finishing the game with a pair of singles, an RBI and a stolen base.
Following a stellar season, he was also crowned the National League MVP in 2013. Over the course of his career with the Pirates, he was able to lead the National League in hits, by smacking 194 balls around the diamond. McCutchen's legacy and the records held continue to be recognized by the organization. 
4. Ralph Kiner
To be a World War II Navy pilot and a professional Major League Baseball player in your life is not something that many people can attest to. In 1946, America received a taste of this distinctive career when Ralph Kiner entered the league as a left-fielder. The swanky right-hander was the slugger that the Pittsburgh Pirates needed. In 1947, after detailed hitting lessons from Hank Greenberg, Kiner recorded 51 home runs on the season. This was just the beginning of his Hall-of-Fame career as a Pittsburgh Pirate.
Two years later, he swung himself into a career high of 54 home runs, leading the National League from 1939 – 1960. Another great feat from Kiner was his seven-year streak being the home-run leader in the NL. Coupled with six straight appearances in the All-Star game, it was only fitting that his jersey, number four was retired. During his final year of eligibility, Ralph Kiner was elected into the Baseball Hall of Fame. 1,015 RBI's, 369 home runs and a batting average of .269 completed the rich legacy of Kiner.
3. Willie Stargell
Any pitcher that stood opposing Willie Stargell may have felt his 6'3" frame looming over the plate as a slight intimidation factor. However, his good-natured personality and unique playing style made his connection with the fans that much greater. The Oklahoman native spent his entire career, spanning two decades, with the Pittsburgh Pirates. It took a bit of time for Stargell to adjust to the major leagues. Although he debuted in the Major Leagues in 1962, it took a few seasons for him to produce consistently for the ball club.
Because of his health adjustments in the late 1960s, this sparked the start of his All-Star career as we know it today. In 1970, Stargell knocked in 85 RBI's, 31 home runs and a cool .264 batting average for the team. Following that year's performance, he was a member of the World Champion 1971 Pirates team. This team defeated the Baltimore Orioles in a seven-game series. Six years later, this team again won the World Series, digging their way up from the last place.
However, "Pops" as he was affectionately known did not stop there. His entire career showcased 2,232 hits, 475 home runs and 1,540 RBI's. These incredible numbers earned him a spot in the Hall of Fame and the honor of having his jersey number eight retired. What a way to seal the end of a fruitful baseball career.
2. Honus Wagner
17 years in the Major Leagues with multiple records and accolades to speak of, "The Flying Dutchman", Honus Wagner was a spectacle to behold as a member of the Pittsburgh Pirates. His career showcased the innate ability to play shortstop and become a batting leader in the National League. Although he did not start his playing time with the Pirates, the turn of the century in 1900 began his memorable playing time there. Wagner emerged as a premier hitter in the National League with his first batting league championship as a Pirate.
His batting average was .381 and over the next few seasons, remained no less than .300. This feat led to eight total batting championships and would remain an unbeaten record in the NL. He also held five RBI records and was the National League stolen base leader five times as well. His playing career took a small dive when in 1908 he briefly retired. The Pittsburgh Pirates owner offered Wagner $10,000 to return to the team. That contract made him the highest paid Pittsburgh Pirate for several years.
Upon his return, he managed to continue his excellent hitting statistics. Wagner was only two home runs shy of the Triple Crown. In totality, his complete records and statistics as a player boasted 3,430 hits, 1,732 RBI's, 722 stolen bases, 101 homers and a standing batting average of .329. The Hall of Fame voted for Wagner in 1936 as a first-ballot selection
1. Roberto Clemente
Perhaps the most well-known member of the Pittsburgh Pirates is none other than Roberto Clemente. The Puerto Rican born right-fielder spent his entire 18-year career playing for this National League team. His charisma and personality on and off the field made him an advocate for Latin players across the league. He debuted in the league seven years after the great Jackie Robinson became one of the first players of African descent to break racial barriers as a player.
Donning the number 21, Clemente began to unwrap his career as a Pirate. In 1960, he led the league with a batting average of .353 which contributed to his first All-Star appearance and World Series championship year. This, however, was just the beginning of his dominance. 15 All-Star appearance was a feat for Clemente. Coupled with 12 Golden Glove awards and four National League hitting championships, it is easy to see why he has been a leader for the Pirates. 1967 was one of his memorable years in the league. He swung for a .357 batting average, leading the league while subsequently driving in 110 runs and 23 home runs.
Throughout the latter part of his career, his contributions to the game gave him a second opportunity to play in the World Series. Clemente's production in the game earned him the series MVP award. His 3,000th hit came during his final career at-bat. He left the league with a batting average of .317, 1,305 RBI's and a total of 240 home runs. Unfortunately, a plane crash cut his life tragically short. The Pittsburgh Pirates retired his number, 21 to honor his legacy. 
Last Word
The Pittsburgh Pirates were one of the original teams of the MLB organization that has been around since 1891. As an organization, they hold five World Series Titles. However, their most recent win was back in 1979. The Pirates are a franchise that celebrated many wins during the earlier parts of their careers. Perhaps, as they continue to play their way into the upcoming season, the spirit of the legends that have gone before them will spark a winning sentiment.
Main Photo:
Embed from Getty Images