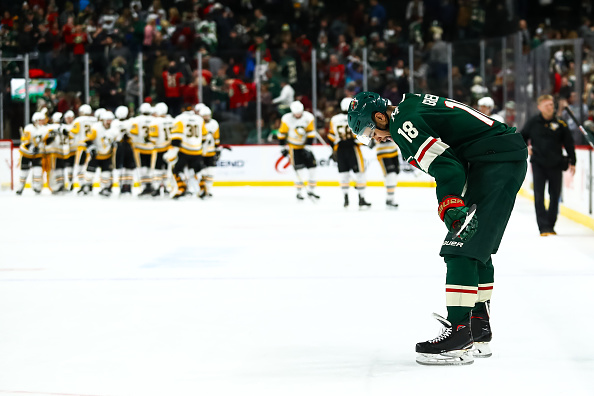 It takes a special kind of person to call Minnesota home. Considered by some as Canada's 11th province, Minnesota winters are long and cold. Minnesota is also nicknamed The State of Hockey.
The Minnesota Wild have one of the most passionate fan bases in the entire National Hockey League.
The Minnesota Wild have quite a few Minnesota natives on their roster. Alex Stalock (St. Paul), Zach Parise (Minneapolis), J.T. Brown (Burnsville), Matt Hendricks (Blaine), Nate Prosser (Elk River), and Nick Seeler (Eden Prairie).
So far this season, Minnesota natives on the Wild have a combined 40 points on the season. 32 of those 40 points belong to Zach Parise. Parise has looked good so far, tallying 16 goals and 16 assists, he is second on the team behind Mikael Granlund who has 36 points (11 goals – 25 assists).
What's In The Water In Minnesota?
Many Minnesotans practically live on the outdoor rinks. Whether it's a rink at home built by dad, or a rink built at a local park, kids are always outside skating. Currently, in the NHL, there are roughly 713 total players. of those 713 players, 42 of them call Minnesota home.
Combined, 31 Minnesotans have their name inscribed on the Stanley Cup. The latest Minnesotan to win the Stanley Cup is Washington Capitals forward and Warroad, MN native, T.J. Oshie.
Minnesota also has five Division-1 men's college hockey teams. Minnesota State, Bemidji State, University of Minnesota Duluth, St. Cloud State, and the University of Minnesota.
The Holy Grail Of High School Hockey:
Every year in March, thousands of Minnesotans flock to the Xcel Energy Center in St. Paul to witness the state's top high school teams compete in the state tournament. The four-day tournament generates an average of 19,000 people who attend the championship round games. Teams from all over the state come to St. Paul to play for the Class A and Class AA state title.
In 2016, 22,244 fans attended the State Boys' Hockey Tournament Class AA Semifinals round at the Xcel Energy Center. Those 22,244 fans set the record for the largest crowd to ever watch a hockey game in the state of Minnesota.
Hockey Day Minnesota
Another annual tradition in Minnesota is a day devoted to the beloved game. Hockey Day Minnesota. Each year, there is one "host site" to host a slew of outdoor hockey games ranging from youth all the way up to NCAA Division-1 college games. This year's host site is in Bemidji, MN.
Hockey Day Minnesota first started in 2007 in Baudette Bay, MN. Since then, it has been to St. Paul, Hermantown, Moorhead, Minnetonka/Excelsior, Grand Rapids, Elk River, Duluth, Stillwater, and St. Cloud.
Minnesotans love their hockey. It has special meaning beyond just the sport itself. There is something different about the hockey community, not just in Minnesota, but around the sport as a whole.
The thing that makes the game so special are the memories formed on those outdoor rinks late at night. When kids' fingers and toes are numb, but they have to skate that final rush up the ice, pretending to be their favorite NHL or college player. Those are the memories that last a lifetime. You can't find that kind of feeling in any other sport.
Main Photo:
Embed from Getty Images