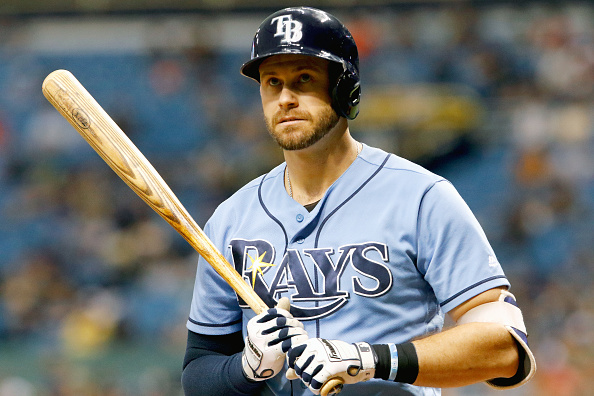 Over the course of the next month, LWOSports will be breaking down the top five Major League Baseball players in franchise history for all 30 teams. This article will rank the best five players from least to best by who had the biggest impact for the Tampa Bay Rays. You can check out the other series articles here.
Top Five Tampa Bay Rays Players in Franchise History
5. Fred McGriff
Fred McGriff, or "Crime Dog", was a key component to the Tampa Bay Rays organization. This team was founded in 1998 & burst onto the American League East division as the Tampa Bay Devil Rays. McGriff became a hometown hero late in his 18-year career by joining the young Tampa club for three years. Inaugural years are truly special for any team and McGriff's initial year was no different. He batted .278 & hit 19 home runs the first year and followed it up with an All-Star appearance the following year.
Over the course of his career, McGriff boasted 493 home runs and was seven homers away from joining the 500 home run club. This tied a record by the infamous Lou Gehrig. Tampa Bay attempted to sign Fred McGriff back to the team in 2004 in hopes of him completing that record. However, he was unable to knock the last few balls over the fence and after not receiving any offers, retired in 2005. That did not take away from his career as he became the second player in Tampa Bay's history to record a .300 batting average.
4. Ben Zobrist
2006 was the initial year of introducing Ben Zobrist to the MLB world. Born and raised in Illinois, Zobrist quickly became a household name for nine years in the Tampa Bay area as a utility player. His innate ability to play multiple positions around the field earned him starting positions in many lineups. It was not until 2008 that "Zorilla" really swung himself into the big leagues. He struggled through his rookie and sophomore seasons attempting to gain more power in his swing. A pitching coach pursued Ben Zobrist and this coupling helped kickstart his hitting campaign.
Subsequently, from 2009 until 2014, he began to shine as a member of the Rays. Three years of his career – 2009 to 2012 – his 27.6 WAR lead the entire MLB organization. Followed by his ability to switch hit and play any position, Ben Zobrist earned the well-deserved title of "Mr. Ray". Although his playing style was not eye-catching and dazzling as others across the league, he did stand out. Zobrist was a well-liked family guy and earned two trips to the All-Star game in 2009 and 2013. He was eventually traded to the Oakland Athletics, Kansas City Royals and finally, Chicago Cubs.
3. David Price
For a young kid whose dream was to be an all-star ace pitcher in the major leagues, David Price accomplished just that. In 2008, he was drafted number one by the Tampa Bay Rays out of Vanderbilt University. His college resume was impeccable; he was the first collegiate athlete to take home every college baseball award. This productivity earned him a starting spot on the Tampa roster. However, this was just the beginning of a successful career.
In 2012, the southpaw pitched his way into a Cy Young award. His 20-5 record on the mound, which tied the league in wins that season was unmatched. Coupled with a complete game shutout versus the Los Angeles Angels, an All-Star appearance was a given. David Price showed the Tampa Bay Rays that he was deserving of his contract and his talents echoed that. He became the first pitcher in Rays history to record a 20 win record. Before departing the Rays for the Detroit Tigers, Price was able to notch 189 strikeouts. This feat earned him the title of MLB strikeout leader in 2014. 
2. Carl Crawford
Perhaps one of the more well known Tampa Bay baseball players is none other than Carl Crawford. Four-time All-Star, American League stolen base leader and owner of a Golden Glove & Silver Slugger award. His stat line is bursting with accolades and awards. The ability to house so much talent on the baseball diamond was one of the items that set him apart. During the 2008 season, Carl Crawford, at the age of 20, had his first start in the MLB. Just 22 days following his debut, he hit his first major league home run.
Before his 25th birthday, he was able to solidify himself as an All-Star. He stole 59 bases, hit 11 home runs with a batting average of .296 and drove in 55 RBIs. This stellar feat earned him the Stellar Bible Award for the best fielder across the league playing left field in 2005. The last half of his career with the Rays did not slow him down. It only gained him traction in the Major Leagues. He was named to the All-Star roster for the second time and earned his 1,000 hit all before his 27th birthday. One of his more amazing performances came in 2009 where he tied a record. His 6 stolen bases against the Boston Red Sox earned him yet another All-Star nod. Overall, Carl Crawford was an exquisite member of the Tampa Bay Rays and well deserving of the title," Face of the Franchise'.
1. Evan Longoria
Nine years with the Tampa Bay Rays gave Evan Longoria ample time to earn several accolades with the team. The California native made his Major League debut in 2008 and continued his ascent in the MLB. Third pick overall in the draft,
"Longo" showcased a clinic in most games he played. The third baseman was named to his first All-Star team his rookie year in the MLB. Appearing in a World Series bout and hitting four home runs in the postseason earned him the title, "Rookie of the Year." He quickly followed that up his sophomore year with a Gold Glove award & Silver Slugger award. Longoria also brought the Rays franchise a Player of the Month accolade along with two Player of the Week awards.
As a result, his acrobatic style of play and versatility as a team leader gave the Tampa Bay Rays confidence in his longevity with the team. A six-year contract extension for $100 million with the team kept many Rays fans happy. Evan Longoria continued to produce offensively and defensively as a player. During his career, he notched four 25 home run season that tied a franchise record for the Rays. Consecutively, he appeared in nearly all games played in 2016. Topped with a .273 batting average, 36 RBI's and 98 RBI's, there wasn't much that Longo could not do. The final year of his playing tenure with the Rays, he was able to hit for the cycle. Most importantly, this would make him only the second player in franchise history to do so.
Last Word
The Tampa Bay Rays are a young team that has just recently established themselves in the MLB. Although their tenure has been shorter than many other teams, it has not impacted their tenacity. Four appearances in the playoffs over the past 20 years, shows that this American League team has the stamina for a World Series appearance. Looking forward to the future, the Rays can utilize their talent to perhaps gain another pennant and trip to the big show.
Main Photo:
Embed from Getty Images