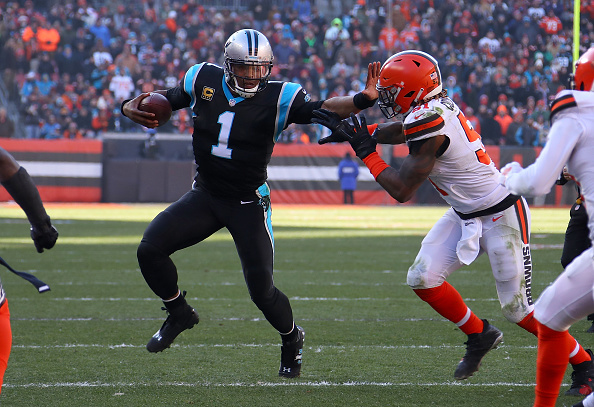 What if I told you the Carolina Panthers still had a chance in the playoffs? It's only about a 5 percent chance according to The Charlotte Observer, but one that head coach Ron Rivera says he'll take.
Chances Are There's Still a Chance 
Obviously, there are a ton of things that need to happen for this to become a reality for the Panthers but they should start by winning their last three games. Unfortunately for them, that won't be easy considering the New Orleans Saints are on the menu twice.
The Panthers will get their first crack at the Saints on December 17th, in primetime, in Charlotte.
New Orleans Saints
Here's the thing—the Saints are like the Panthers in a way in that you are never sure which team is going to show up. But the Saints, not like the Panthers, only have two losses compared to Carolina's seven.
New Orleans has two players with over 1,000 yards rushing and or receiving in Michael Thomas and Alvin Kamara. Mark Ingram probably would have made the third had he not been suspended for three games.
The Panthers saving grace is that New Orleans doesn't have the best defense. That doesn't mean they should play soft; after all, this is a division rival and the Saints will play hard.
Carolina Panthers
There are many reasons why the Panthers can't get it right and for those reasons, the football gods shouldn't give the Panthers a chance to redeem themselves. Still, the Panthers have a chance here and have to take full advantage.
There is some worry coming out of Carolina's camp on the injury front with Chris Clark nursing a knee injury and Kawaan Short not practicing due to a calf injury.
The offense has been somewhat consistent; weapons like D.J. Moore is proving to be major for Carolina. Curtis Samuel, only in his second year, is proving the same. Now, more than ever, those guys will need to be huge against the Saints if they want a chance at beating them.
Last Word 
The Panthers, regardless of injury, consistently find ways to win in December (although this could be the first year that doesn't happen). If they win on Monday, they give themselves a chance to go to the playoffs. This may not be the best thing for Cam Newton's shoulder or the rest of the crippled Panthers' roster, but it would sure do something for their pride. Let's see what they do.
Main Photo:
Embed from Getty Images