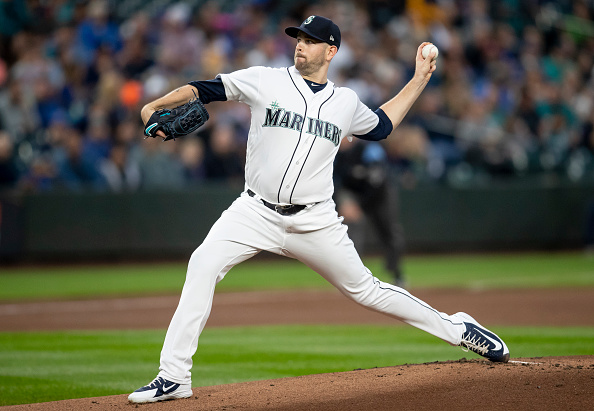 As the offseason begins to heat up and winter meetings begin for Major League Baseball. The New York Yankees have some positions that need to be filled and some questions that need to be answered. The Yankees have been quiet so far other than the trade with the Seattle Mariners where they acquired James Paxton. New York is reported to be looking for another starting pitcher, an infielder while Didi Gregorius is out, and relief pitchers. With many names on the market in free agency, as well as the trade market, heating up, I will be breaking down potential fits in each position for the New York Yankees.
Yankees Off-Season Plan
Starting Pitching
Corey Kluber/Trevor Bauer
The Cleveland Indians are reported to be looking to trade one of their starters if not both of them. The Yankees could use either guy in their rotation to form a dominating starting rotation. Corey Kluber has been one of the top pitchers in the American League over the past three seasons and has dominated in Cleveland so landing Corey would most likely take a haul but to have Kluber at the top of your rotation and have control of him for three seasons could be a great sign. The Yankees are in win-now mode so going after the best would be ideal for the team. Trevor Bauer would also be a nice piece in the middle of the rotation with his stuff he could be dominate with Severino, Tanaka, and Paxton ahead of him. Bauer might be able to handle the New York media better with his personality but Kluber has shown you that he can do it on any stage.
Noah Syndergaard
The New York Mets have floated out the idea of possibly trading Noah Syndergaard depending on what they receive back in a deal. It has been reported over the last 24+ hours that the New York Mets, New York Yankees, and Miami Marlins have been talking about a three-team trade that would have Syndergaard land with the Yankees. Noah would be a perfect fit on the Yankees with his age and that he already plays in New York so the media wouldn't bother him at all. If the Yankees could somehow swing this deal without giving up anyone on their major league roster then it would be a win-win for all the teams involved and their futures.
J.A. Happ
J.A. Happ is an interesting piece to fill the hole in the Yankees rotation. New York traded for Happ at the deadline last season and he was dominate for the Yankees to end the regular season. Happ did get roughed up in his outing during the playoffs but it was his first playoff experience of his career. He is a veteran and a leader in the clubhouse but with his age and the demand of a three-year deal, it might not be a match. The Yankees would love to bring him back but only on a multi-year deal because he is 35 years old. The market for Happ is heating up as there are 12-13 teams interested in signing him so the Yankees would have to make a nice case for him to stay in New York for less money.
Dallas Kuechel
The New York Yankees could take a look at Dallas Kuechel to add to their rotation as a dominant left-hander. Dallas was the main guy in Houston a few years ago before they acquired Justin Verlander and Gerrit Cole. Kuechel could be looking for a fresh start elsewhere and has expressed interest in New York and would be a nice piece to add. Dallas has proven to be a dominant pitcher and also perform on the biggest stage which is the World Series. The Yankees should at least talk to him and take a look as an option.
Bullpen Help
David Robertson
The New York Yankees had one of the best bullpens in baseball last season but with two of their main pieces being free agents, they will need to look to add some pieces in the bullpen. David Robertson who was in their bullpen last season and had a good season in New York. The Yankees will have to decide if they want to bring back Robertson who may want a long-term deal or move on from him and go after a different piece. Robertson would bring a veteran leader and a clubhouse guy back to New York.
Adam Ottavino
The New York Yankees could also take a look at Adam Ottavino who is a New York native and had a great season out of the bullpen for the Colorado Rockies last season. Ottavino would be a late inning reliever as the Yankees have Betances and Chapman to finish the game. Ottavino would be a perfect fit with his ability to get strikeouts and throws hard which is what the Yankees look for in the bullpen.
Zach Britton
Zach Britton was another piece that the Yankees acquired at the deadline last season from the Baltimore Orioles. Britton was one of the best closers in the league a few seasons ago before his knee injury. Britton was a lights out closer who led the league in saves which was remarkable. The Yankees may look to bring back Britton as he finished the season strong with New York and was a nice compliment to Chapman and Betances in the back end of the bullpen.
Andrew Miller
The New York Yankees could bring back an old friend in Andrew Miller. Miller was dominant for the Yankees before being traded to the Cleveland Indians where he had one of the best postseasons of any pitcher in playoff history. Miller is a dominant left-hander out of the bullpen who can pitch in any situation and be successful. Miller would also bring a veteran leader to the New York Yankees bullpen.
Kelvin Herrera
The Yankees were attached to Kelvin Herrera last offseason and at the trade deadline this past season. Herrera is one of the most reliable relief pitchers in the majors and can pitch in any situation. Kelvin was a major piece in the Kansas City Royals winning the World Series a few seasons ago with their dominating bullpen which included Herrea.
Infield Help
Manny Machado
The New York Yankees and Manny Machado have been linked to each other for a couple of years now. Machado has always wanted to play in New York and play in pinstripes. Manny will be looking for a huge long-term deal but I think he will land that and the Yankees will be the team he ends up on. Manny is one of the best players in the league and would be a major piece for the New York Yankees and their pursuit of another championship. Manny took the Los Angeles Dodgers to the World Series last season with his stellar play on the field.
Daniel Murphy
Daniel Murphy could be a nice infield replacement for Didi while he is out recovering from Tommy John Surgery. Murphy would be a cheap option on a one or two year deal in which the Yankees could move Torres back to his original position and shortstop and have Murphy play second base. The New York atmosphere and media won't bother Murphy as he played for the New York Mets and thrived during their run to the World Series. Murphy is a great all-around player and being at Yankee Stadium should help his numbers rise.
Josh Harrison and the Yankees were connected last offseason as the Yankees didn't know what to expect from Gleyber Torres and Miguel Andujar. Josh Harrison is a great veteran leader and would be a nice addition to the Yankees if they decided to go this route. Harrison is a good fielder and has nice career numbers at the plate which could go up hitting in this lineup as he will get his chances with the big hitters being pitched around.
Scooter Gennett
The Yankees have been active in trade talks surrounding Sonny Gray and one name that has come up is Scooter Gennett with the Cincinnati Reds. Scooter is young and has had some success in Cincinnati but with the Yankees being committed to Torres, Andujar, and Gregorius. Gennett would be a nice option until Didi comes back and to give Scooter an opportunity to showcase himself.
Last Word
The New York Yankees have plenty of options in free agency and the trade market to fill their needs and put them back in contention for a championship. Brian Cashman and the front office have been around a while and they know what they need to do this offseason to compete so let them do their work and put together the best team they can. The Yankees were a great team last season but they failed to win a championship so they will be back this season better than ever.
Main Photo:
Embed from Getty Images