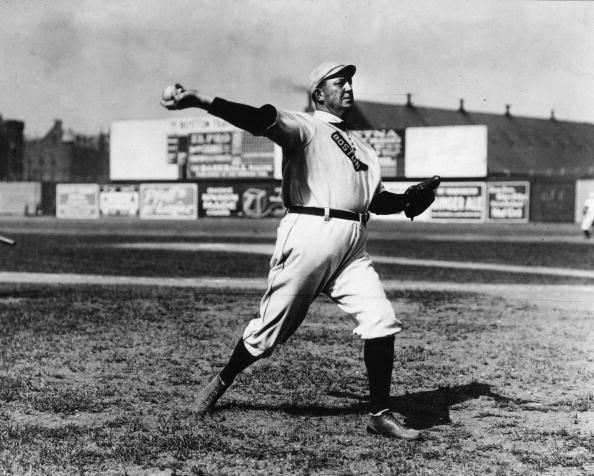 Over the course of the next month, LWOSports will be breaking down the top five MLB players in franchise history for all 30 teams. This article will rank the top five Boston Red Sox players from least to best by who had the biggest impact for the team. You can check out the other series articles here.
Top Five Boston Red Sox Players in Franchise History
5. Pedro Martinez
Pedro Martinez will go down in Red Sox franchise as one of the best pitchers to do it for the game. When you think about pitching as a key piece to the game of baseball, several key stats come to mind. Winning percentage, ERA's (Earned Run Average) and Strikeout Rate top this list of statistics that earn the right of "best pitcher". It is fitting that he was able to earn three Cy Young Awards. Although he was a starting pitcher for five MLB teams, Martinez most notably played with the Red Sox from 1998 – 2004.
During this time, he recorded an extraordinary record of 117 wins and only 37 losses. This winning record remains unmatched with any pitcher for any team in the history of the MLB. His career was exemplary and Martinez' 2.93 ERA showcased his awareness as a pitcher and opener. The Red Sox were fortunate to see a 2.49 ERA during his time on the mound. Subsequently, with favorable statistics in the circle, Martinez gave the fans reasons to be excited. His career showcased his pitching control and dominance. Over his 17-year career, 3,154 strikeouts were given to the Dominican native.
4. David Ortiz
Another big name across the MLB organization that many fans enjoyed watching play is none other than, David Ortiz. Most affectionately known as "Big Papi", the 6'3" Dominican native, best known for his position as a DH, was a game changer. His career boasted records that many young players dream of aspiring to. Holding the single-season record with 54 home runs, a ten-time All-Star appearance, seven Silver Slugger awards, and three World Series championships, it's no wonder that "Big Papi" is considered the top five for the Red Sox
In 2003, Ortiz made his debut with the Red Sox. His initial season did not showcase his talents until the end of the season. 2004, however, was a breakout season for Ortiz. He became a household name after cranking his 100th home run over the fence. That season, he was a pivotal leader for Red Sox as they finally broke the "Bambino Curse". After 86 long years, thanks to a five home-run / 23 RBI postseason showing by Ortiz, the Boston Red Sox won a World Series!
3. Cy Young
Denton True Young, better known as Cy Young, is one of the best pitchers in the history of the MLB. Even though his time with the Red Sox was limited to eight seasons, his records were not. Young dedicated his time as a pitcher to developing his craft. His career stats showcase the talent that blossomed from this right-hander. During his time as a member of the Red Sox, he was able to add several records to his plate. Young boasted a Triple Crown award in 1901 where he showcased his overall wins, ERA percentage, and strikeouts record. One of his most notable moments as a Red Sox was in 1904. On May 5th of that year, Cy Young threw the 1st no-hitter in AL history.
Career records are some of the most important awards of any players journey throughout the MLB. Young was able to hold several awards over his course as a pitcher that remains unbridled. He posted a total of 511 career wins over 815 starts. During this winning streak, he also holds the record for 7,356 innings pitched. In the midst of all those numbers, Young managed to pitch 25 1⁄3 hitless innings. In 1937, he was inducted into the Major League Baseball Hall of Fame. Probably one of the most notable remarks of his life came in 1956, where they honored his legacy. The "Cy Young Award" given to the best pitcher in the AL and NL respectively was named after him. What a tremendous opportunity for the sport of baseball to witness the greatness that was Cy Young.
2. Carl Yastrzemski
Carl Yastrzemski, also known as "Yaz", spent his entire career with the Red Sox spanning 23 years. He was most famously known as an outfielder, playing the left field position with prominence. As a left fielder, Yastrzemski earned every award possible passing several notable players along the way. He collected seven Golden Gloves for his outfield performances as well as being named to 18 All-Star teams. The outstanding outfielder was not his only accomplishment, however.  His batting statistics could only make opposing teams hope he was going to strike out at the plate. He boasted 3,419 hits in his career, 1,844 RBI's and 452 home runs.
The year 1967 proved to be the highlight of his career. During this year, he notched a .326 batting average, 44 home runs, and a whopping 121 RBI's which earned him the American League Triple Crown. His above average batting and fielding accomplishments led the Red Sox to the American League Pennant in the same year. 23 years is a long tenure with any MLB team. It was fitting that in 1989, the Red Sox honored such a great player by retiring his number eight. To top it off, he also received his induction into the Hall of Fame during his first year of eligibility.
1. Ted Williams
It is only fitting that we end this list with one of the greatest players of all time. Of course, Ted Williams deserves that honor. All 19 of his Major League seasons were spent with the Boston Red Sox. Over the course of his stellar career, Ted Williams posted some amazing statistics. His batting average of .344, 521 home runs, 1839 RBI's and 2,654 hits is truly spectacular. Not only did Williams devote his professional career to the Red Sox, but he was also a true American Hero. Pausing his baseball life only to serve in the United States Marine Corps & Navy, Williams is the definition of devotion.
After returning to the diamond in 1946, Williams continued his success in the league. He played in the only World Series championship of his career & received the award for the AL MVP. The following year, he received his second American League Triple Crown. This was also followed closely by four AL batting championships, two more AL home run leader awards and AL RBI leader awards respectively. In 1984, his number nine was retired. He was subsequently inducted into the Red Sox Hall of Fame. Ted Williams had a respectable career with several accolades and awards. He was a deserving recipient of every mention and many people aspired to be like the "Splendid Splinter".
Last Word
Although the players listed above have since retired from the great American sport of baseball, the Red Sox spirit still lives on. As an organization, the Red Sox have won nine World Series championships. Their most recent win came this year as the 2018 team reclaimed their top position in the baseball world. This team won 118 games and were only defeated 54 times. To say that the legacies of Williams, Yastrzemski, and Young impacted this young team is an understatement. They continue to uphold an amazing legacy as a complete team and hopefully will continue the legacy in the years to come.
Main Photo:
Embed from Getty Images