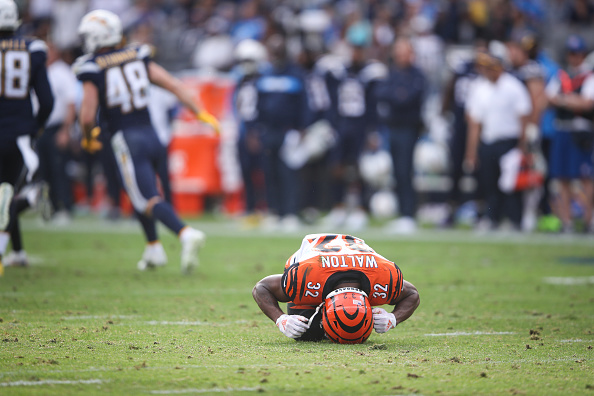 During the 2018 season overall there have been over 120 injuries across all 32 teams and is rapidly increasing as the season continues. These injuries are vastly occurring at an alarming rate in the NFL. Teams are attempting to shuffle their rosters and acquire free agents in order to remain competitive for the second half of the season. There are several players that may recover in time to finish the season and others may remain out indefinitely. Regardless, injuries this season are dominating many teams' headlines and rosters. Many understand that football is one of the most barbaric sports in America. However, fans enjoy the passion and the nature of the sport because it brings so many positive elements for everyone to enjoy.
Broadcast Coverage of NFL Injuries Should Be Discontinued
Football is a physical sport. It demands the best conditions of athletes from all positions who play. When players are drafted from college into the NFL they understand that league demands that their bodies and health require them to be at their maximum level of performance. Every Sunday these players risk their bodies and health in front of thousands of fans and a nationally televised audience to perform for their perspective teams. Some of the players meet the performance needs and others fall short due to unexpected injuries or physical conditions.
In football, injuries are a part of the game. The sport is very demanding on the bodies of players and takes a physical toll over seasons and years. When a player is injured on a nationally televised game, should there be continuous replays of the injury shown across the media? During the process of the initial coverage of a player's injury, when should it be medically respectfully of the player to reframe from continuous replays of showing such a heart-wrenching experience for the athlete?
I'm not insinuating that the media exploits a player's bodily dysfunction from tackles and big hits. However, in the age of social media and a privileged society when should there be a limit drawn?
In contrast to coverage of players injuries, there are standards for NFL players to communicate with the media. Oftentimes, they are fined or have to monitor their choice of words regarding various portions of the game because there is a standard. In the most sensitive part of being a professional athlete, should there be standards regarding the coverage of their health? How much information should the public and fans be privileged to know? These are questions that come from the thoughts of witnessing some of the most devastating injuries during the 2018 season to various players across the league. Also, how much privacy does professional athlete have regarding his health? Fans and all well-wishers desire to know the improvement of their favorite athlete once they have been hurt. In sports no one wants to see anyone experience an injury, but when it happens.
Poll: Should media replays of NFL players Injuries be Discontinued?
Please share your thoughts regarding the standards for players vs. standards for the media. Are society and media too privileged when it comes to knowledge of professional's health and privacy in the new era of social media?
Main Photo:
Embed from Getty Images