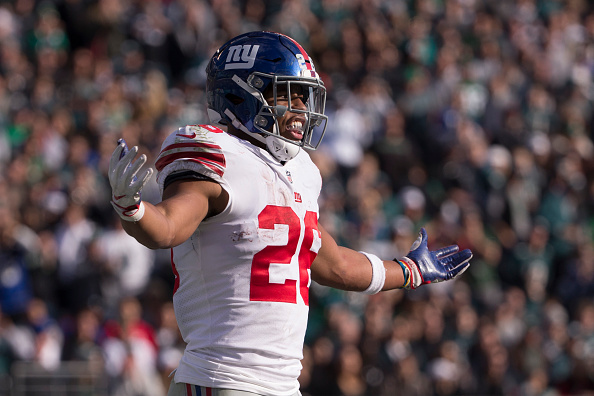 Expectations
New York Giants running back Saquon Barkley had a lot of expectations from the moment he was drafted at second overall. General Manager Dave Gettleman said the former Penn State running back had "gold-jacket potential". Barkley still has a long way to go to meet Gettleman's expectations, however, it is clear that Barkley is the front-runner for the Offensive Rookie of the Year award.
Saquon Barkley Should Be the 2018-19 Offensive Rookie of the Year
Statistics
Through his first 11 games, Barkley has amassed 829 yards on the ground and 581 yards through the air. To go along with that, Barkley has 12 total touchdowns — eight rushing and four receiving. This is all while running behind one of the worst offensive lines in the NFL. Barkley has become the New York Giant's go-to option as a rookie.
Barkley's numbers are comparable to the 2015 Offensive Rookie of the Year in St. Louis Rams' running back Todd Gurley. The year Gurley won the award, he had 1,294 total yards and 10 touchdowns on the season. Barkley already has more touchdowns and still has five more games to play. In addition, Barkley's dual-threat abilities in the pass and run game are superior. He already has 450 more receiving yards than Gurley did all year.
Barkley's rookie numbers are better than Gurley, a player many consider the best running back in the NFL, he's got to be doing something right.
Conclusions
Barkley has been by far the best rookie in the NFL this season and is outperforming every other rookie on the offensive side of the ball. That includes players like Phillip Lindsay, D.J. Moore, Calvin Ridley and Kerryon Johnson. He deserves to win the Offensive Rookie of the Year unanimously. If he doesn't, it would be a mistake on the part of the NFL.
Main Photo:
Embed from Getty Images