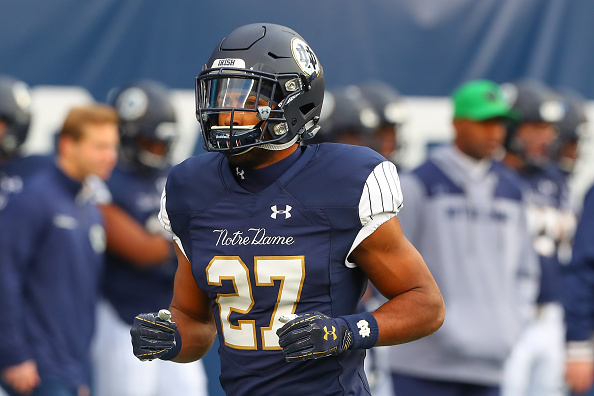 The cornerback position in this year's NFL Draft will vary depending on which scout you ask. Greedy Williams was the consensus top cornerback entering the season. For the most part, he still sits at the top for many. Players like Deandre Baker, Byron Murphy, and Bryce Hall have made their case for the top spot as well.
Before the season had started, I wrote a piece about my top cornerback for the 2020 draft class. Mark Gilbert is a junior at Duke, and he has the opportunity to declare for this season's draft but due to injury, he will likely defer his declaration to next season. Through preliminary tape and early studies, there is another junior cornerback who, if he declares, should be drafted in the first round.
Background
Love was a three-star cornerback out of Illinois. He ranked 480th nationally according to 247Sports and just inside the top 50 cornerbacks in the recruiting class. He received offers from tons of offers from Power Five teams, most namely Iowa and Northwestern. Both Michigan State and Wisconsin showed interest but did not extend an official offer.
Notre Dame does not classify as a Power Five team because they are an Independent school for football. They are though, without a doubt, the most notable non-Power Five team in the country. The best part of being on Notre Dame, who is not a part of any conference, is that the schedule boasts some of the best competition in the country. Having played Michigan, Stanford, Northwestern, Syracuse, USC and a soon-to-be-named playoff team, there won't be any questions regarding his level of competition.
High School
Julian Love attended Nazareth Academy in La Grange, Illinois. Love won two state championships with Nazareth Academy in 2014 and 2015. He was well-regarded as an All-Illinois First-Teamer by several different sources.
Love played both defensive back and running back. He also returned kicks at some point in his senior season, doing so relatively successfully. Love returned six kicks for an average of 21 yards in his junior season, but according to his Notre Dame bio, he did not return kicks as a senior. He finished his senior season with 92 tackles, 19 of which went for a loss. He had three forced fumbles also, which is very impressive for defensive backs.
On offense, he was absolutely lethal. He rushed for over 1,000 yards and scored 18 touchdowns on over 10 yards per carry. He also picked up more than 650 yards through the air, tacking on seven more touchdowns. Even though he may not have had a defensive touchdown as a senior, he didn't struggle to get there quite often.
College Career
Accolades
Love played in all 12 games in his freshman season, starting eight of them. He was named as a 247Sports Freshman All-American. As a sophomore in 2017, he was also named as an All-American Second-Team by Sports Illustrated.
This season, Love was named to the Thorpe Award watch list, given to the top defensive back in the nation. He was named one of three semifinalists along with LSU's Williams and Georgia's Baker. Williams currently leads the fan voting, followed by Love by a narrow margin. He was also named to the Bronko Nagurski Trophy watch list, which is given to the top defensive standouts in the country.
At the conclusion of this season, he can expect to find himself to be named as an All-American by just about every source. His accolade list would also be significantly longer if he were not Independent. In that case, he would be named to All-Conference Teams in each of the years he has played.
Statistics
Love's most productive season came as a sophomore in 2017. He finished with 68 tackles, one of which went for a loss. He had three interceptions and returned two of them for touchdowns. His best attribute is his ability to defend passes and get his hands in on passes. He finished last season with an absurd 20 passes defended.
This season, Love has 61 tackles, three for losses. He has one interception and another 15 passes defended. He also has a forced fumble and three fumble recoveries, one of them he reached the endzone. His 38 career passes defended rank eighth in NCAA history. If Love does stay for his senior season he will have a serious shot at breaking the NCAA record of 53.
NFL Traits
It's easy to fall in love with Julian Love's game. His hands are exceptional and his footwork is really good also. It's unsurprising that he played running back in high school because his speed is evident in coverage. He has the ability to run stride for stride with just about any receiver in the country. He has very fluid hips and flips them quickly and efficiently to run with receivers. His playmaking ability stands out and the numbers prove that. He also takes very good routes to tackles and very rarely misses them due to the wrong angle or lack of speed.
As with every prospect, he has parts of his game that he can clean up. His biggest issue is that he doesn't always get his head around in deep coverage. This resulted in some pass interference penalties in coverage. He has shown flashes of being able to get his head around to the ball, but consistency would go a long way in that area. Love also has the ability with his hands to get his hands in late even if he can't get his head around, but it is riskier for obvious reasons.
Love also needs to be wary of double moves. A little too often do his eyes light up at the chance of breaking on a short pass. His body begins to lean forward as the wide receiver sells his short move. At this point, Love makes himself vulnerable to the second move. It's not a common occurrence, but it is something that needs slight improvement moving forward.
Conclusions
Love is very reminiscent of Josh Jackson from last draft season. He is a defensive playmaker who will get his opportunity to make a big difference at the next level. Jackson and Jaire Alexander have both played a big role in strengthening that Packers' secondary. Being able to make plays on the ball is likely the most translatable trait for a defensive back, and that is why Love should have no problem making the leap to the NFL.
Love may not be as hyped up for the draft as Greedy Williams or DeAndre Baker but don't be fooled; he's going to be a steal. Defensive playmakers play such an integral part to a defense. Especially with the strategy changing towards bend don't break, it's so important to have players who can give the ball back to your offense. If Love does decide to declare this offseason, I would expect tons of teams to be interested.
Main Photo:
Embed from Getty Images