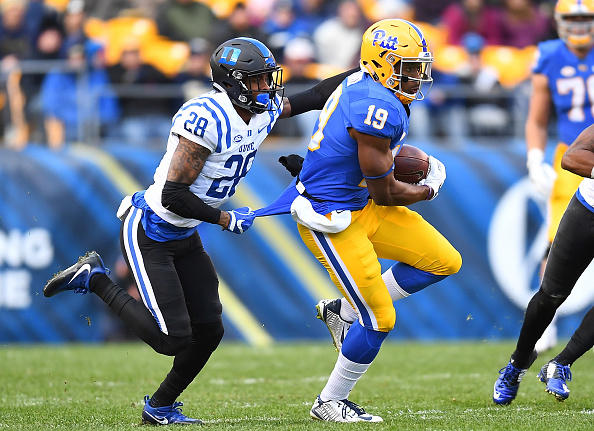 There's plenty positions where you can predict NFL success before they play in their final year of college football. Quarterbacks, running backs, offensive and defensive linemen rarely have massive breakout seasons that put them on the map as seniors. Cornerbacks though are different; it's difficult to predict the top players at the position before the season plays out. Generally you can expect some players who weren't on the draft radar to play themselves into early draft talk.
I'm going to take this one step further though, and instead of predicting early 2019 top cornerbacks, I will introduce the top cornerback for the 2020 draft. After a really special sophomore season, he flew up my draft board to my second ranked cornerback for 2019. In week 2, he left the game with a hip injury. Duke ruled him out for the season later that weekend. Now, probable to return for his senior season, he is my current 2020 top cornerback prospect. Meet Duke cornerback Mark Gilbert.
Background
Gilbert was a three-star cornerback who received offers from several Power 5 conference teams, most notably Michigan. Ultimately, he stayed at home and committed to Duke. Gilbert has had two members of his immediate family members play high level football. Sean Gilbert, his uncle was the third overall draft pick in 1992 and played 11 seasons in the NFL. Darrelle Revis, his cousin was drafted fourteenth overall in 2007 and is a 7 time pro-bowler. Both of them attended Pitt in college, and even though he received an offer from Pitt as well, he chose to attend Duke to stay close to home and to receive a better academic opportunity. Gilbert projects to be the third family member to make it to the NFL, and he hopes to follow in the footsteps of the two Pitt Panther products and get drafted in the first round.
High School
Mark Gilbert has proven himself as quite the versatile athlete. In his high school days at Terry Sanford High School, located in North Carolina, he played basketball as well as football. He was always likely to commit to college as a football player, but he did play a large role on his varsity basketball team as a senior.
In regards to football, he got a large number of snaps on defense from his freshman year until his senior year. His high school used him as a wide receiver as a sophomore as well which showcases his athleticism. It's not uncommon to see players who play on both sides of the ball but that, combined with his basketball prowess, explains his athleticism at cornerback. As a senior cornerback he only had one interception. This would prove to not be indicative of his upcoming college success.
College Career
Accolades
Brought in as a three-star prospect, Gilbert made an immediate impact on the team. He was named freshman second-team All-ACC by Athlon Sports in 2016. As a sophomore in 2017, Gilbert was awarded fourth-team All-American honors by Athlon Sports and he claimed first-team All-ACC with ease. He was also given the Willis Aldridge Award after being named Duke's best defensive back. Entering the 2018 season he was a recipient of preseason All-American teams. The team ranged from first team to fourth team dependent upon the magazine or website.
Statistics
The two ways to look upon cornerback success is to have very little plays on the ball or lots of plays on the ball. Having little plays on the ball would likely mean that they are not being targeted very often, while having many plays on the ball means that you are a very effective cornerback.
In Gilbert's case, he is very productive and his statistics are impressive and full of plays on the ball. In Comparison, Josh Jackson was one of the most productive players from last years' draft. He showed the NFL upside in being a highly productive cornerback after being drafted in the second round. He finished the season with 8 interceptions and 18 passes defensed with 2 touchdowns. Gilbert finished last season with 6 interceptions and 15 passes defensed but had no touchdowns. Gilbert did this while being a year less experienced, and development should only help improve upon those numbers.
NFL Traits
Mark Gilbert is a physical cornerback on the line of scrimmage. He'll get his hands on the receiver early to knock him off his route; he's very twitchy and flips his hips really well to adjust to the route being run. Impressive long speed with exceptional footwork and good height at 6'1 allows him to match the other team's number one receiver regardless of playing style.
He's really sticky in coverage and allows very little separation; in part due to his ability to maintain active hands, usually one to gauge where the receiver is and the other one free to break up a pass. He showed the ability to get his head around last season but did not do it consistently, but with another year of development, he should be able to work on doing it more often. Sticky in coverage, productive on the ball, good length and above average footwork is a good recipe for being labelled as the top cornerback in the 2020 draft.
Main Image: Embed from Getty Images