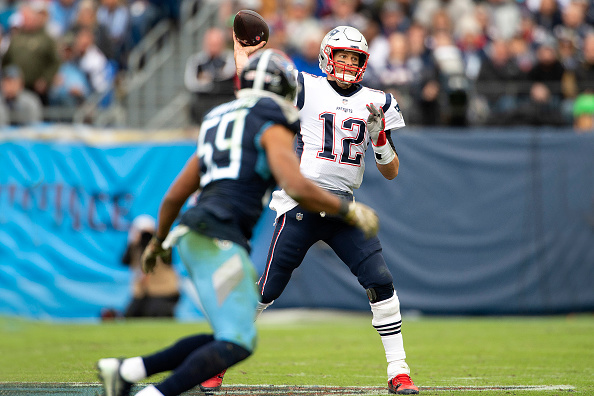 Recap
After a wild win against Green Bay, the Patriots waltzed into Tennesse the most confident team in the league. That was their first mistake. The Titans dismantled the Patriots in a way we haven't seen this season. Tom Brady and the offensive line were both under constant pressure from Tennessee and the offense simply never got going. So what's next? Many have said this bye week couldn't have come at a better time, but it means nothing if it isn't used correctly.
Heal Your Stars
The Patriots have been absolutely hammered by injuries in the past couple weeks. Highlighted by Sony Michel and Rob Gronkowski, the Patriots have got to rest these guys and get them back to 100%. Before Michel went down, he was averaging over 4.5 yards per carry. In his return, a mere 2.8 on 11 carries for 31 yards. The Patriots entire offense was stagnant against the Titans, but it definitely isn't settling to see such a low number in his return.
Gronkowski has been nursing an ankle/back injury for quite some time now. In terms of getting him back to 100%, I don't see that as a possibility. However, getting him back to "healthy enough to play" is important to their success. Whether he's racking up the yards or not, when he's out there, teams pay attention. It gives guys like Josh Gordon and Julien Edelman the chance to open the field a little bit more. Right now, far too much focus is on Gordon and Edelman and it's affecting the entire offense.
Both Shaq Mason and Trent Brown have been dealing with different "set-backs" in their game. Mason is dealing with a calf injury, while Brown is dealing with an illness. Brown should be fine after a week off, but Mason is a key piece in their O-line. His health not only helps the rest of the offensive line around him, but it also helps the guy running the offense, Tom Brady.
Figure out the Defense
The Patriots defense has been one of the worst defenses in the NFL this year. They are currently in the bottom 5 for sacks on the season and they have allowed nearly 4000 yards on the season. That's roughly 400 yards per game. When you play teams like the Bills, Dolphins, and soon to be Jets, this shouldn't be the case. There have been only two games this season where the Patriots opponents have scored less than 17 points and nearly every other week has put up 20+. It is not a good sign for the Patriots who have struggled to maintain a top defense.
The Patriots will be facing Kirk Cousins in 3 weeks and Big Ben in 5 weeks, both who are capable of dismantling defenses who aren't ready. A game against the horrific Jets on their return from the bye week should give this defense some confidence ahead of their week 13 matchup with Minnesota.
This defense has got to gather itself at least a little bit because otherwise, the Patriots will not be able to hold of the high powered offenses that are plentiful in the NFL.
For the Fans: Relax. (Final Word)
So much of Pats Nation is becoming extremely irrational and unrealistic with their expectations for this team. The Patriots have finished with an above .500 record for 17 straight seasons, and they will make it 18 this year. They have made the playoffs for nine straight seasons, and they will make it 10 this year. New England is a perfect example of the saying 'it's a marathon, not a sprint'.
The Patriots have gone undefeated 8 times in the month of December, 7 of those being with Brady. If New England isn't the definition of a second-half team then I don't know what is. Although the thought of getting the one seed is slowly slipping away, Pats Nation shouldn't worry about this 2018 squad. No matter who is on the team they still have Brady and Belichick and anything is possible with those two in your corner.
Main Photo
Embed from Getty Images