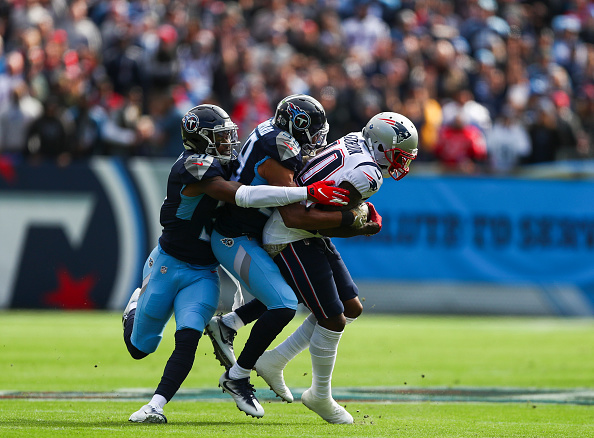 After their Sunday Night victory over Aaron Rodgers and the Green Bay Packers, the New England Patriots took on the Tennessee Titans. It's the 43rd meeting between the two clubs and the rematch of last year's Divisional Playoff contest. Additionally, Bill Belichick took on his former players Titans head coach Mike Vrabel, Dion Lewis, Malcolm Butler, and Logan Ryan for the first time. Vrabel played with the team from 2001 to 2008 as a linebacker and an occasional tight end in the red zone. The Patriots would lay an egg as Tennessee took care of them 34-10.
New England Patriots Takeaways
Struggles On Defense
The struggles of the 28th ranked defense would continue on Sunday. It started when Titans return man Darius Jennings returned the opening kickoff 63 yards to the Patriots 35 yard line. They went seven plays for 40 yards that capped off on a Marcus Mariota touchdown pass to Jonnu Smith. They would score again on their next possession on a Mariota rainbow pass to Corey Davis for a 23-yard score. He burned Patriots No. 1 corner Stephon Gilmore on that play.
Davis, the former first-round pick out of Western Michigan had a second 100-yard receiving game. He continues to develop chemistry with Mariota as he gains more confidence in each game. Speaking of Mariota, he also had an impressive performance like he did last Monday Night versus the Dallas Cowboys. The former Heisman Trophy winner played mistake-free football by throwing for over 200 yards on 16 of 24 and his two touchdown strikes. He continues to make an improvement on his throwing elbow that he hurt it in week one. Also, he caught a pass for 21 yards on a trick play and 21 more on the ground.
The two headed backfield of Dion Lewis and Derrick Henry chipped in the running game to help out Mariota. Lewis, who signed with the Titans after spending the last three seasons with the Patriots said this after the game. "That's what happens when you go cheap. You get your (bleep) kicked." He had 57 yards on the ground and Henry tied a career-high with two touchdowns.
Brady Under Duress
It wasn't one of the best performances by the game Tom Brady. Coming into the game, he'd been only sacked 13 times. But he got sacked three times (all in the first half) and only completing 51 percent of his throws without a touchdown pass. It didn't help that his right guard Shaq Mason was inactive and his left tackle Trent Brown leaving the game with a back injury. Those two are the main guys that give him protection upfront.
Going up against the Titans top scoring defense led by Jurrell Casey and Wesley Woodyard, they only mustered up 10 points and 284 total yards. Their running game is virtually nonexistent as they only had 40 yards despite Sony Michel coming back from a knee injury.
With Rob Gronkowski missing his second consecutive game, Julian Edelman and Josh Gordon stepped in and played well. Edelman had nine receptions for 104 yards while Gordon caught four balls for 81 yards. The former Cleveland Brown had a 44-yard catch on third-and-13 during their opening drive.
The Last Word
It was just a bad day in the office for the Pats. With their six-game winning streak coming to an end, they will have a bye week to lick their wounds. After the off week, they should be ready in the second half of the season to get on a roll.
Main Photo:
Embed from Getty Images