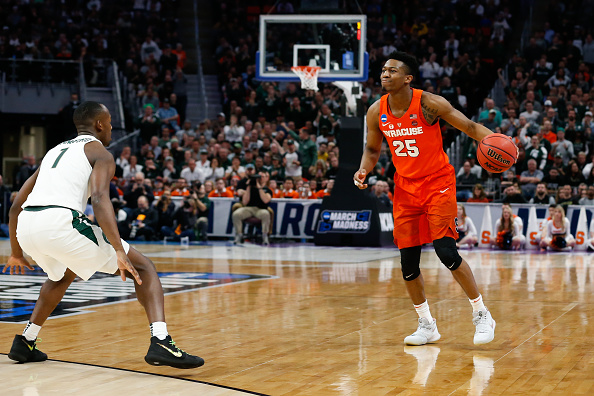 The Syracuse Men's Basketball team will begin their 2018-2019 season on Tuesday, November 6th. Syracuse had an up and down season last year due to the lack of depth on the team. Syracuse had three players in the top 10 for minutes played in all of college basketball with Frank Howard, Tyus Battle, and Oshae Brissett. They would end up slipping into the NCAA tournament with a play-in game against Arizona State. Syracuse would wind up beating Arizona State, TCU, and upset Michigan State to make it to the Sweet 16 before losing to Duke. Syracuse will be returning all five starters from their tournament run last season while adding a good recruiting class. I will be breaking down the high for their season, their two exhibition games, and the impact of the incoming players.
2018-2019 Syracuse Basketball Season Preview
Exhibition Games
Syracuse played two exhibition games against Saint Rose and Lemoyne over the past week and a half. Syracuse had to play both games without a healthy scholarship point guard due to Frank Howard, Howard Washington, and Jalen Carey all being injured. Tyus Battle played point guard in both games and the offense didn't miss a beat even being against weaker competition. Syracuse got huge contributions from two of their new players in Elijah Hughes and Buddy Boeheim. The Orange played more uptempo and scored over 80 points in each game which is going to be key this season as Syracuse wants to play faster with their depth this season. Everyone on Syracuse seemed to be improved from last season and their young players came in and made their presence felt early.
Ceiling
The Syracuse Men's Basketball team has a chance to be very good this season as they are ranked in the preseason top 25. Syracuse is returning five starters from a Sweet 16 run without losing any key players from last year's team. The only players that Syracuse lost from their team last season were Matthew Moyer, Geno Thorpe, and Brandon Bayer. Syracuse with an improved team depth-wise should make a huge difference this season as it was Syracuse's major weakness last year. This season if the Orange stay healthy they should be a final four caliber team with some expectations of being a national championship contender. Syracuse should roll through the non-conference schedule and then begins ACC play where the ACC is stacked this season again. Syracuse will play North Carolina and Virginia all once this season with North Carolina at their home and Virginia in the Dome. Syracuse and Duke will meet twice this season which will be huge for both teams as Duke is stacked this season with the top three freshmen in the country in Zion Williamson, RJ Barrett, and Cam Reddish. Look for Syracuse to be one of the top teams in college basketball this season and staying inside the top 15 for most of the season.
Impacts of the New Comers
Elijah Hughes
Elijah Hughes transferred into Syracuse last season from East Carolina but due to NCAA regulations, he had to sit out one year. Hughes got to practice with the team and was around the team all season last year which is key to learning the offense and defense for Syracuse. Hughes looked very comfortable in his first two exhibition games with Syracuse which is going to be key for them this season. Hughes will add another scoring dimension to the offense with Tyus Battle and Oshea Brissett. Hughes will most likely fill the role of the sixth man but play huge minutes this season as he is a position-less player.
Buddy Boeheim
Buddy Boeheim is Jim Boeheim's son and was one of the best high school basketball players around. Boeheim was one of the top three-point shooters in high school basketball which will be another key for Syracuse this season. Boeheim started the two exhibition games and had some nice games while showing off his shooting touch from deep and mid-range. Whether Boeheim starts or comes off the bench, his shooting from the outside will also be key for Syracuse and spreading the floor for the guards to be aggressive and attack.
Jalen Carey
Jalen Carey is also a freshman who can play either guard position and can score with the best of them. Carey will most likely be the backup point guard or shooting guard depending on how Jim Boeheim plans to use his players in different rotations. Carey will provide much-needed scoring and ball handing behind Frank Howard and Tyus Battle which is an area that Syracuse had no depth in last season.
Robert Braswell
Robert Braswell was a late commit to Syracuse but could provide depth for them in some areas. Braswell's game reminds me of the way Hakim Warrick played with his length and athleticism. Braswell is a long-armed defender who will be great in the 2-3 zone that Syracuse is famous for running. Braswell has the ability to score around the rim with his dunks and can step out to three-point line as well. Braswell could end up being a great defensive and offensive rebounder for Syracuse and might get some minutes early on in the season to show the coaching staff he deserves to be in the rotation this season.
Most Valuable Player
My MVP for the Orange this season is Oshae Brissett. While many of you may think the obvious answer is Tyus Battle. Brissett had a great freshman year last season while almost averaging a double-double and he had to play 40 minutes a night. Brissett won't have to play that many minutes this season and should be able to be more efficient with Tyus returning and the newcomers and their abilities. Brissett added some muscle during the offseason and looks to better stronger in the paint and has an improved shooting stroke which is key for his overall game.
X-Factor
The X-Factor for Syracuse this season will be their improved depth. As I have said plenty of times in this article, Syracuse had zero depth last season which ended up catching up to them towards the end of the season. Syracuse with the additions of Elijah Hughes, Jalen Carey, Buddy Boeheim, Robert Braswell, and a healthy Howard Washington will have 9-11 guys a night. Jim Boeheim will have the options to try different lineups all season long if he wants to go defense or offense as well as scoring to quickness. Syracuse and their improved depth will have a great season and Tyus Battle, Oshae Brissett, and Frank Howard won't have to play as many minutes this season and will have help scoring the ball every night.
Main Photo:
Embed from Getty Images