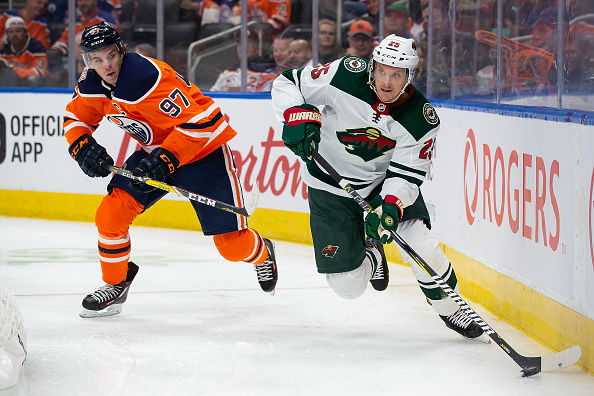 The Minnesota Wild have not looked very good in the first period of many of their first 12 games of this new season. They have given up 35 goals against, which ranks 16th in the league in that statistic category. Of those 35 goals against, 12 have come in the first period. The Wild have scored seven first period goals. Head coach Bruce Boudreau has juggled lines in an effort to get more of a jump from his team, and to spark more offense at the beginning of games.
Minnesota Wild Early Season Thoughts
Struggles On The Road
The Wild are just 2-3 on the road to start the season. That simply is not good enough. The Wild are in the midst of a franchise-record seven-game road trip. Their first game of the road trip came on October 29th in Vancouver, where they lost 5-2. The Wild have to find a way to win on the road if they want to be successful at all this season. Now is the perfect time to start a road winning streak.
Early Success In The Crease
The Wild are currently 5-0-2 when playing at the Xcel Energy Center. That is thanks in large part to the outstanding play of goaltender Devan Dubnyk. Dubnyk has a record of 5-2-2 to start off the year. He has faced 319 shots and allowed 20 goal against, which puts his Goals Against Average (GAA) at 2.19. His save percentage is currently at .937.
What also can't be overlooked is the play of backup goaltender Alex Stalock. Stalock has been ready to answer when his number is called so far this season. With a record of 2-1 and a save percentage of .895, Stalock has looked good between the pipes, allowing just 10 goals on 95 shots faced.
Finnish Flow
A player in Minnesota's lineup every night who has been producing is Mikael Granlund. Granlund has 12 points in 12 games played so far this season; six goals, and six assists. Last season, Granlund had 67 points in 77 games played.
Niederreiter's Struggles
Wild forward Nino Niederreiter has been struggling out of the gate offensively early into the 2018-19 campaign. Niederreiter has registered just five points in 12 games played. Those five points have all been assists. This is certainly below average for a player like him. How long will it take for Niederreiter to get his first goal of the season? Last season, Niederreiter had 32 points in 63 games played.
When asked about Niederreiter's performance, Boudreau said he is not worried about his winger's struggles so far to start the year.
Last Word
The Wild are in the midst of their franchise-record seven-game road trip. They played in Edmonton on October 30th and got the win 4-3 after trailing for much of the game. That shows how resilient the Wild can be.
The Wild will go to St. Louis, San Jose, Los Angeles, Anaheim, and back to St. Louis again, before returning to the Xcel Energy Center to take on the Washington Capitals on November 13th. Let's hope they can get some wins on this road trip to help their cause, and gain some ground in the very tight central division.
Main Photo:
Embed from Getty Images