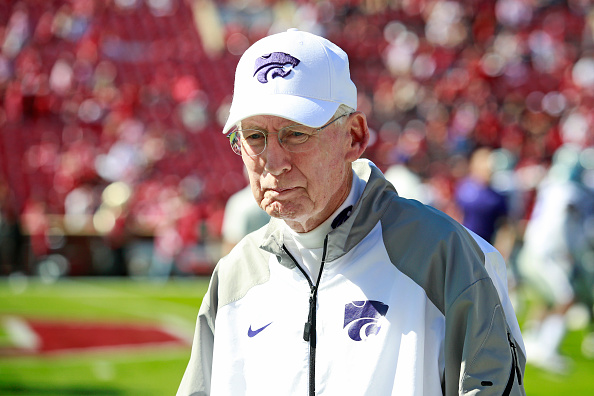 Bill Snyder should retire. He isn't the coach he used to be. He has failed to adapt. K-State has had a disappointing season so far in 2018. They are 3-5 with a 1-4 conference record and they are tied with Kansas and TCU for last in the Big 12. The Wildcats have really underperformed this season after going 8-5 last year with a win against UCLA in the Cactus Bowl. The Wildcats have struggled everywhere this season, but especially on offense. The only bright spot has been Alex Barnes, who has had two games of at least 175 rushing yards.
Last season the Wildcats were 3-4 before they won four of their last five games. The question circling around Manhattan is can it be done again? K-State needs to be three of their last four to be bowl eligible. It will be extremely hard to do with the remaining schedule being: TCU, Kansas, Texas Tech, and Iowa State. The fans are divided on whether Snyder should retire or keep coaching. Snyder should retire because the football has been on a steady decline since he won the Big 12 championship in 2012. The recruiting classes have gotten worse each year and the teams aren't as talented as they used to be. The records are getting worse and the fans are getting impatient.
Bill Snyder Should Retire After the Disappointing Season For Kansas State Football
Recruiting Is Bad
K-State's recruiting class in 2001 was ranked 18th in the nation and 3rd in the Big 12. 2001 was during the prime of Bill Snyder as a head coach. From 1997-2003, he won 11 games in a season six out of those seven years and he had two Big 12 championships. The 2018 recruiting class is ranked 65th in the nation and 9th in the Big 12. The lack of talent is evident, and it is resulting in more losses. The Wildcats haven't won more than nine games since the 2012 championship season.
Bad Offense
The offense has been bad all year long. Skylar Thompson has gotten a majority of the snaps at quarterback this season, and he has only thrown for over 150 yards once this season. It was against UTSA, who is also 3-5. The offense has struggled all year long. They put together respected performances on offense against Oklahoma State and Baylor, but they had awful performances against Oklahoma, West Virginia, Mississippi State, and Texas. The offense hasn't been consistent this season and they haven't played up to their potential this season.
Inconsistent Defense
They are allowing 28 points per game this season, which 72nd in the nation. Their worst defensive effort was last week against Oklahoma. They gave up 51 points and over 700 yards of offense. The Sooners scored 48 in the first three quarters, but the offense laid off in the fourth. The Wildcats best defensive performance was against Oklahoma State where they only gave up 12 points and 311 yards of total offense. The defense has shown spurts of greatness but they haven't been able to do it consistently.
It's Time For the Snyder Era to End
Joel Klatt of Fox Sports said last weekend during the game against Oklahoma that this is the lowest K-State football has been since 1988, the year before Bill Snyder was the coach. He said, "I've never seen Kansas State play with this pedestrian of effort and this undiscipline of character. Never in my life." Snyder teams are known for their effort and discipline of character and that is nowhere to be found this season. The Wildcats haven't been disciplined on offense or defense. They're averaging 49 penalty yards per game, which ranks 40th in the nation. The Wildcats are usually top ten in the nation in penalty yards per game. College football has changed a lot since 1989 when Snyder first took over. He has failed to adapt to what college football is doing. Snyder's time has passed and K-State needs to move on.
Main Photo:
Embed from Getty Images