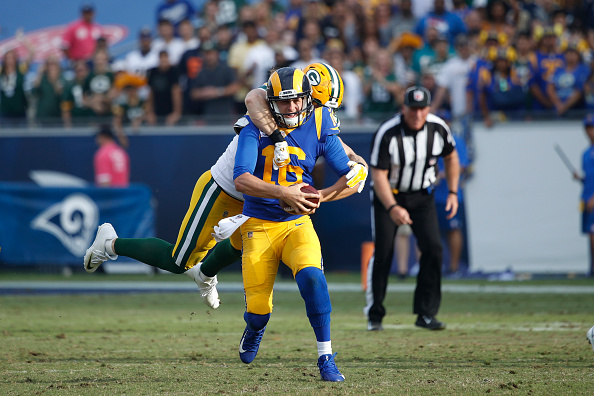 There are no overreactions here. Just surefire takeaways from the NFL Week 8 games.
NFL Week 8 Takeaways
Steelers Do Not Need Le'Veon Bell
At the start of the season, Le'Veon Bell's holdout made perfect sense. Why risk a serious injury that could put his opportunity to cash in on free agency next offseason in jeopardy? With the passing of time, however, Bell now finds himself on the wrong end of this battle for a few reasons. Not only is he not making money and not getting a team to bite on a trade, but the Pittsburgh Steelers offense seems to have found its stride without him.
The worst part of all for Bell is that James Conner is proving himself perfectly capable of handling Bell's massive volume rollout of the backfield. In Sunday's win over the Cleveland Browns, Conner piled up 146 rushing yards and two touchdowns on 24 carries while adding 66 receiving yards on five receptions. The Steelers are back atop the AFC North, having won three straight following a 1-2-1 start. It will be interesting to see what Bell's role is whenever he does finally join the team. Bell has until November 13th to sign his franchise tag if he is going to play at all this season.
Chiefs Offense Just Might be Unstoppable
Andy Reid and the Kansas City Chiefs front office look like geniuses for trading up to draft Patrick Mahomes two years ago and trading Pro Bowler Alex Smith to make way for the young gunslinger to start. His 4 touchdown passes in Sunday's win over the Denver Broncos enabled Mahomes to join Tom Brady and Peyton Manning as the only quarterbacks with 25 touchdown passes through the first eight games of their careers. Talk about some elite company!
With regards to the Chiefs offense as a whole, the question at this point becomes how on earth do you stop them? The Broncos did a decent job on the explosive Tyreek Hill, holding him to just three receptions for 70 yards. They bottled up the running game as well, holding Kareem Hunt to just 54 yards on 16 carries. And yet the Chiefs still scored 30 points, thanks largely to Sammy Watkins going off for 107 yards receiving and reeling in two touchdown catches. Add in a touchdown by Travis Kelce on 79 yards receiving and there are just too many threats to contain in this offense. Good luck to the Browns, Arizona Cardinals, and Los Angeles Rams trying to stop this freight train the next three weeks.
Matthew Stafford is Not Good
Before making the case against Matthew Stafford, due credit must be given to the Seattle Seahawks defense. With the Legion of Boom stalwarts either no longer in the Pacific Northwest or lost for the year to injury, the Seahawks have been much better than expected. They currently rank fourth in terms of overall defense and third against the pass according to Football Outsiders. They have also been incredibly opportunistic, tied for third in the league with 16 takeaways.
Still, you would think that with weapons like Marvin Jones Jr., Kenny Golladay, and Golden Tate (who has since been traded), plus playing indoors at home, Stafford could put together a big day. The final stat line wasn't terrible, but as is often the case, the yardage output was inflated with Detroit way behind trying to play catch-up late. The telling stat for Stafford is his QBR (Quarterback Rating) which measures overall contributions to team success. Stafford's Total QBR this season sits at 58.9, good for a middling 16th. Over the course of his ten-year career, Stafford's rating is 88.8 which is only an average mark. He could be much worse, but for a number one overall draft pick, Stafford just is not good enough to take the Detroit Lions to the next level.
Colts Ground Game is Real
A new day has dawned in the Indianapolis Colts backfield. After finishing 22nd in total rushing offense last season, the Colts have cracked the top ten in that same category through the first eight weeks of 2018. Marlon Mack has certainly laid claim to the lead role the last two weeks. His 132 rushing yards and two touchdowns in yesterday's win over the Oakland Raiders was a spectacular encore to his 126 yards and two total TD's (one receiving) a week ago. Provided he can stay healthy, Mack will have plenty more volume headed his way in the coming weeks.
The performance of Nyheim Hines must also be noted as he racked up 78 yards rushing on 11 carries operating in the change-of-pace role. Combined, that's 204 yards rushing between Mack and Hines. Presumed by many before the season to again be the weak link in the AFC South, the emergence of a rushing attack could mean big things for the Colts. If defenses are forced to key on the run, the passing game will open up more for Andrew Luck. Following their Week 9 bye, Indy will play a pair of telltale games against their division rivals Jacksonville Jaguars and Tennessee Titans.
Rams, Saints Are a Step Above Rest in NFC
It was clear coming into the season that there would be a plethora of contenders in the NFC. Through the first eight weeks, however, the Los Angeles Rams and New Orleans Saints appear to be a cut above the rest. After trailing through the entire first half, the Rams exploded for 21 second-half points to edge the Green Bay Packers and run their unblemished start to 8-0. The absence of wideout Cooper Kupp hasn't slowed down the mighty Rams offense (ranked 2nd by Football Outsiders), and Jared Goff outplayed Aaron Rodgers on Sunday. Given that the Rams secondary is not 100% healthy, just slowing down Rodgers was impressive.
Meanwhile, the Saints traveled north to hostile territory and took down another NFC North team in the Minnesota Vikings. New Orleans is now 6-1 and hasn't lost since the very first game of the season. While Drew Brees has been setting records left and right this season, the story for the Saints this week was the dead even workload of running backs, Mark Ingram and Alvin Kamara. If that duo gets back to last season's form, the league's 4th best offense according to Football Outsiders will get even better.
The Rams and Saints are just too talented and playing at too high a level to not dub them the NFC favorites. And the best part of it all? They face off next week in New Orleans. Get ready for one great game!
Main photo:
Embed from Getty Images