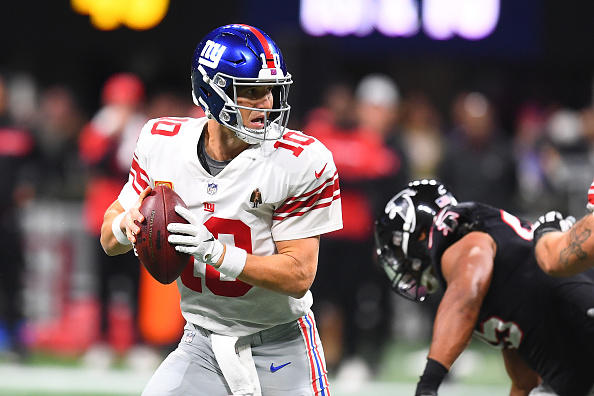 At 1-6 through their first seven games, the New York Giants are facing a second consecutive season with no playoffs as well as a below .500 record. New York is coming off their worst season in over 30 years and many fans figured it couldn't possibly be worse this year. This has not been the case, as the Giants continue to struggle to win games and the locker room culture is at an all-time low. They are many reasons for this including the lackluster offensive line, a defense nowhere near as dominant as years past, and Eli Manning taking a significant downfall. Instead of focusing on these issues, I will be looking back at how these issues started which I believe is after the 2011 Super Bowl Championship.
The New York Giants Have a Giant Problem Part 2
Big Blue Wrecking Crew?
On defense, the Giants have had a lackluster unit since 2011. They have finished in the top 10 in total defense once, and except for the playoff season in 2016 have been in the bottom five. In 2010 and 2008 New York ranked in the top ten led by Justin Tuck and Osi Umenyiora, however since they left they have not had a consistent pass rush. They have not had a decent linebacker core for decades. Michael Boley and Chase Blackburn were the starting linebackers in Super Bowl 46, these are two players who had moments but were mostly average players. Corey Webster, Kenny Phillips, and Antrel Rolle created a good but not great secondary. Rolle impressed in his time in New York, however, none of them were by any means stars. For a franchise known for defense and names such as Michael Strahan, Lawrence Taylor, and Carl Banks the last six to seven years have not lived up to the nickname "Big Blue".
It Starts At The Top
These issues don't just trace back to players, but also coaches, gms, and ownership. Tom Coughlin won two championships and is by far the best head coach since Bill Parcells, however, he had multiple moments of questionable play calling that cost the Giants games and playoff berths. Ben McAdoo completely lost the respect of the locker room and was shunned by fans and the media for ending Eli Manning's consecutive starts streak in the fashion he did. Pat Shurmur so far has had locker room controversies each week, Odell Beckham Jr.'s comments alone have created a shadow over East Rutherford. None of them have consistently produced a team to respect and fear, and since the 2011 season, the Giants have been one of the most inconsistent teams in sports. Since 2012 the Giants have had two winning seasons, and four losing including three of the last four.
General Manager or Great Mistake?
Jerry Reese is a major suspect in the lack of wins lately. As general manager, he has failed time and time again to acquire talent to contend whether in free agency or the draft. Besides revitalizing the defense in 2015 he has not done much to create a serious contender in the NFC. No players from the 2012 or 2013 draft classes remain, and only Odell Beckham remains from 2014. Landon Collins from 2015 and half of 2016 are wearing royal blue. 2017 and 2018 are recent enough that most of the draftees are still in NY, however, the fact that two players lasted from two draft classes says a lot about the lack of success the Giants have had in the draft.
In free agency, they had one big year signing Olivier Vernon, Janoris Jenkins, and Damon Harrison. They have failed to sign anyone who has been a major contributor. He failed to create a reliable offensive line group in six years following the ring in 2011. Dave Gettleman has also made some errors in his short time, failing to sign Justin Pugh who was the best offensive line by far on the Giants. He drafted Saquon Barkley, who has been impressive however he passed on quarterbacks such as Sam Darnold and Josh Rosen who were in the best quarterback class since 2012. Believing in Manning that he had a few years left and going for the "win now" pick instead of taking a quarterback and building for the future resulted in Manning's worst season to date so far. He also failed to sign Andrew Norwell the top Guard in free agency even though reports surfaced he would sign in NY, only for new reports a few hours later announcing his deal with the Jaguars.
The Men In Blue
The Mara family has owned the Giants since 1925. Wellington Mara is considered one of the most influential men in pro football history. His son John Mara, however, has failed to live up to his father's legacy. He has fallen in love with Eli Manning way too much and is overprotective of the player who brought two championships. This has led to a mentality of defending Manning and instead of setting the team up for the future going all out to win now. Instead of doing what's best for the franchise, the greed and selfishness have cost the Giants multiple chances to win even more championships.
Now What?
The Giants have a lot of problems, however, with the right mindset, I think they can turn it around. Beckham and Sterling Shepard could become a solid wide receiver duo. If Evan Engram can learn to block his potential is unlimited. We all know how special Saquon Barkley could be, and if they can get a young quarterback whether grooming Kyle Lauletta or drafting one the future on offense looks bright. With a solid offensive line and this core, I can only imagine the potential they have for the next 10-15 years. The defense with Harrison and Landon Collins has potential as well, but they still need a few more pieces. Kickers are important, and Aldrick Rosas seems to be trustworthy now. If the pieces can fit together, this team can change it around and become a team resembling the Lawrence Taylor era of the New York Football Giants.
You can read part one here.
Main Photo:
Embed from Getty Images