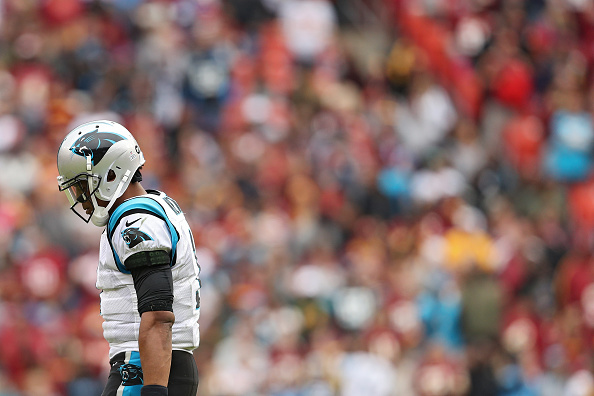 After giving up 14 points to the Washington Redskins early in the first quarter, the Carolina Panthers had the opportunity to come back and win. However, multiple mistakes cost the Carolina Panthers in week six.
Mistakes Cost the Carolina Panthers in Week Six
D.J. Moore had a costly fumble on a punt return that prevented the Panthers from driving down the field to score. Even though he is a rookie, protecting the ball will be key if his role in the offense continues to expand.
After allowing two touchdowns, Cam Newton threw a pick which was another turnover for the team. While this did not lead to a score, it gave the Redskins momentum. On the very next drive, the Panthers lost the ball on another Moore fumble which was a huge turning point in the game. This put the Panthers in a hole because it gave the ball to the Redskins up two scores halfway through the second.
Ultimately, the Panthers did not score until late in the second quarter when they were already down by three scores. As if things could not get any worse, Graham Gano missed the extra point making the score 6-17 going into halftime. This prevented the Panthers from gaining much-needed momentum and allowed Washington to continue to control the flow of the game.
The second half of the game started as a defensive battle. The Panthers were able to stop the Redskins with a turnover on downs. They then drove down the field and scored a field goal to get the score down to a one-possession game. Unfortunately, they were unable to stop the Redskins scoring a field goal on the next drive. This turned the second half into a back and forth scoring affair. The Panthers answered with a touchdown but the Redskins responded with another field goal. This made the game 17-23 with just over three minutes remaining.
It looked like it would be another game-winning drive by Cam Newton as he was able to get the Panthers into the Redskins red zone. Unfortunately, the Panthers were stopped short with a turnover on downs. The three first-half turnovers were too much to overcome for the Panthers to win. Combine that with not forcing turnovers on the defensive end, and you have a game with a large uphill battle. In the past, announcers have claimed that the Panthers offense was not built to play from behind. This game was another example of that statement coming to fruition.
D.J. Moore will only get better as the season goes along. Cam Newton has already shown he's much better at taking care of the ball this year. As long as the Panthers keep their turnovers to a minimum, they have a good shot of returning to the playoffs making this game a great resource to improve in that area.
Main Photo:
Embed from Getty Images