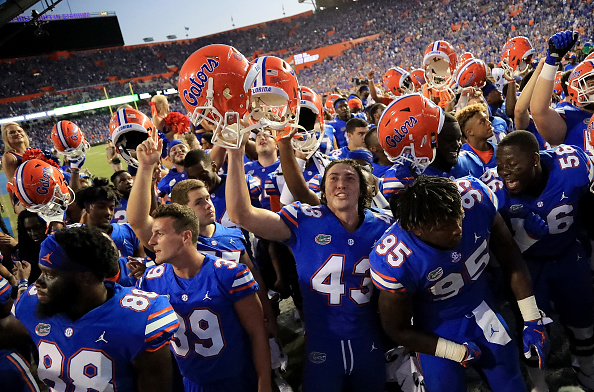 This was yet another highly revealing weekend of college football. Several ranked teams bit the dust. Additionally, there were a couple of important upsets that occurred. Let's take a look at the biggest takeaways from the weekend of action, as well as look ahead to next week. This is the last word on college football, week six edition.
Overrated
Michigan State is clearly struggling so far this season. The Spartans lost in East Lansing, 29-19, to a struggling Northwestern team. With the loss, Michigan State drops to 3-2 overall, 1-1 in the Big Ten. Currently, the Spartans rank 83rd in total offense while ranking 110th in rushing offense. That is alarming for a program known for running the ball effectively. Michigan State's defense is still performing solidly at 28th overall, however if the running game does not improve, this will be a long season for Sparty especially when you consider their three toughest games are coming up still.
Boise State is another program with high expectations that is coming off a surprising loss. They lost to Oklahoma State earlier this season in a game where the offense was shut down. This week, San Diego State shut down Boise by a score of 19-13. Brett Rypien threw for 170 yards with two interceptions while the Broncos were held to just 51 yards rushing. Boise currently ranks 90th in rushing so far. They, like Michigan State, need that to improve in order to stay on course in the Mountain West Conference because Utah State means business in their division.
Underrated
Washington State has far exceeded expectations to start this season. They sit at 5-1 overall as well as 2-1 in the Pac-12 after defeating Oregon State 56-37 on Saturday. Their only loss is a 3 point defeat at the hands of USC on the road. Their wins are not overly impressive, however a home win against Utah is solid. Gardner Minshew leads the country in passing yards per game at 403.7 while throwing 19 touchdowns to just four interceptions.
Georgia Southern is the biggest surprise of the Sun Belt thus far. Currently, they are 4-1 including 2-0 in the Sun Belt with a major win over Arkansas State a couple of weeks ago. They handled South Alabama with ease, 48-13 on Saturday. Their option attack is proving difficult to stop as Ga Southern currently ranks 7th in rushing nationally. Defensively they give up yards, but rank 20th in scoring defense. They get their two toughest opponents at home later this year, which will determine their conference fate as Appalachian State and Troy both visit Statesboro. Keep in mind they won only two games last season.
Many experts picked Utah State as a potential surprise team in the Mountain West this year. The thing is, they actually have a chance at winning the Mountain division. The Aggies are 4-1 overall after taking down BYU on the road by a 45-20 final. Their lone loss came by 7 at Michigan State in a game where they scored 31 points.
Can't count us out
Kent State led the entire game against Ohio until the last 1:28. That is when Ohio quarterback Nathan Rourke ran it eight yards for a touchdown to take a 27-26 lead, which proved to be the final score. Disappointing loss for Kent State as they fall to 1-5 on the season.
Florida State was in complete control of Miami (FL), taking a 27-7 lead on D.J Matthews 74 yard punt return with 11:52 left in the third quarter. After that, the Miami defense put the clamps on the Seminole offense. Additionally, N'Kosi Perry threw three of his four touchdowns in the second half. The Hurricane defense also put up 12 tackles for loss, six sacks while deflecting six passes. This is the first win after 26 straight games in which they trailed by 20 points or more. The last time they made a comeback similar to Saturday's was in 2003 against Florida.
Red River Riv…Shootout
Texas defeated OU 48-45 on a Dicker the kicker field goal in the final seconds. The Longhorns showed great balance on offense as they built a 45-24 lead, which they held going into the fourth quarter. Despite that deficit, Oklahoma proved that their offense simply cannot be contained for long. They exploded for 21 points in the fourth quarter to tie the game! Kyler Murray went 19 of 26 for 304 yards and four touchdowns while running 11 times for 92 yards. In addition, he had a huge 67 yard touchdown run which brought the game to within seven with 5:11 remaining. Three OU turnovers certainly aided Texas. OU only out-gained the Longhorns by 31 yards while Texas won the time of possession battle by seven minutes. Texas also converted 27 first downs compared to 21 for Oklahoma.
The 48 points is the most that Texas has scored in this series against OU. This was also the highest point total the teams have ever combined for. Sam Ehlinger continued to show improvement as he went 24 of 35 for 314 yards with two touchdowns while also running for 72 yards and three touchdowns. Freshman running back Keaontay Ingram also made key runs during the game. Texas is proving that they are a legitimate Big 12 title contender. Is Texas back? Time will tell as tough games remain, but they sure are on the right road.
Let the good times roll
South Carolina took down Missouri 37-35 in one of the most entertaining games of the slate. Missouri was up 23-14 at the half. South Carolina stormed back, scoring 17 in the third quarter to take a 31-23 lead. There were four lead changes in the fourth quarter alone before a Parker White field goal with two seconds remaining pushed the Gamecocks over the top. Drew Lock of Missouri threw two interceptions and was outperformed by Carolina backup quarterback Michael Scarnecchia.
Another highly entertaining game saw Pittsburgh beat Syracuse 44-37 in overtime. Syracuse jumped out to a quick 14-0 lead, but Qadree Ollison capped a two play 75 yard drive with a 69 yard touchdown run. Then, 1:26 later, Dane Jackson returned a fumble 35 yards for a touchdown to tie it at 14. Pitt actually built a 10 point lead in the third quarter, but Syracuse ended up taking the lead by the end of it. This game was tied on two different occasions in the fourth quarter before Pitt finally took it in OT.
Talking Notre Dame again?
Notre Dame continued to bolster their playoff chances with a 45-23 win at Virginia Tech. The 22 point victory was the largest road win against an AP ranked team since 1966 when they beat #10 USC 51-0. A 42 yard Julian Love scoop and score seemingly gave Notre Dame momentum with 1:08 left in the first half. Tech answered with a quick touchdown though, thus making it a 17-16 game at the half. Dexter Williams broke things open for the Irish with a 97 yard TD run early in the third quarter. The Irish pulled away after that, even though the Hokies actually out-gained the Irish by three yards for the game. Meanwhile, Notre Dame kicker, Justin Yoon, became the all time leading scorer in school history. Yoon passed Allen Pinkett, who set the record in 1985.
Is Bobby Petrino done?
Louisville is off to a horrendous 2-4 start this season, including 0-3 in ACC play already. Turns out life after Lamar Jackson is pretty rough. The thing is, Petrino did not exactly take advantage of Jackson. In fact, they lost 14 games in the three years Lamar was playing. Since returning to Louisville, Petrino has gone 36-22, which is not great, although not awful either. This year, the Cardinals rank 115th in total offense. Thought Petrino was an offensive genius? Defensively they have slipped to 93rd in the country this year. When you consider the talent that Louisville has had, and the obvious regression this year, Petrino might be out the door.
Going around the country
Georgia Tech ran for a whopping 542 yards along with eight touchdowns in a dominating 66-31 beat-down of aforementioned Louisville.
Auburn's anemic offense disappointed once again as they managed just three field goals in their 23-9 loss to Mississippi State. Meanwhile, Mississippi State quarterback Nick Fitzgerald passed Tim Tebow for most rushing yards by a quarterback in SEC history. He now has 2,999 in his career compared to Tebow's 2,947.
Buffalo ran for 307 yards en route to their 34-24 win on the road at Central Michigan. In doing so, Buffalo moved to 5-1 on the season, which is the best start to a season in school history.
Newsflash: Clemson is just fine, as evidenced by their 63-3 shellacking of Wake Forest on the road. The Tigers amazingly ran for 471 yards with six touchdowns while Trevor Lawrence added 175 yards along with two TD's in the air. Travis Etienne is the first Clemson player to record four straight 100 yard rushing games since 2000 when Woodrow Dantzler did it. Clemson out-gained Wake 698-249 while accumulating 12 tackles for loss. Pure domination.
Texas A&M handed Kentucky their first loss of the season, 20-14, in overtime. A&M held the UK offense to just 178 total yards, marking only the second time since joining the SEC that they have held an SEC opponent under 200 yards. They held Benny Snell to 60 yards on 13 carries while rushing for 164 yards themselves. UK made a major mistake by not putting the ball in Snell's hands in overtime.
Florida's continued pressure of Joe Burrow on defense along with creative play calling on what turned out to be the game winning drive were keys in their 27-19 victory over LSU in The Swamp. Florida registered 11 tackles for loss, five sacks and eight quarterback hurries to go with six pass deflections and two interceptions. Those picks were Burrow's first of the season. The Gators ran for 215 yards as well. LSU did extend a streak of not allowing a first quarter touchdown to 10 straight games, so there's that, which is nice.
Colorado picked up an important 28-21 win over Arizona State to move to 2-0 in Pac-12 play. Steven Montez was terrific yet again throwing for 328 yards and two touchdowns while Laviska Shenault hauled in 13 passes for 127 yards while snagging a couple of touchdowns. Additionally, Shenault ran for two touchdowns, thus continuing to prove how dynamic he is.
UAB's dominating 28-7 win at Louisiana Tech was tremendously huge for the Conference USA West picture. Just last week, La Tech beat North Texas, and if they would have beaten the Blazers, it would have likely been La Tech's division to win. Now, UAB inserts themselves in position with a major home game against North Texas coming up in two weeks.
Florida Atlantic's star running back, Devin Singletary, scored his 14th touchdown of the season in the Owls 52-33 win over Old Dominion. That 14th TD, which leads the FBS, was also the 58th of his career, moving him past both Tim Tebow and Marshall Faulk for 13th place in FBS history.
Backup quarterback Brock Purdy came in to deliver an amazing performance as he led Iowa State to a 48-42 victory over Oklahoma State. Purdy went 18 of 23 for 318 yards along with four touchdowns while also rushing for 84 yards and another TD.
NC State is off to their first 5-0 start since 2002. Led by star quarterback Ryan Finley, they defeated an A.J Dillon-less Boston College squad 28-23. Finley threw for 308 yards, despite tossing a couple of interceptions.
Vanderbilt moved to 0-53 all time against AP top five teams, which is the most losses without a win in the history of the AP poll. Meanwhile, Georgia has now won nine straight at home, outscoring foes by 28.7 points per game while out-gaining them by 22 yards per game. UGA picked up a 41-13 win over the Commodores on Saturday.
There are only three active quarterbacks who have reached 10,000 career passing yards. Jake Browning of Washington, Brett Rypien of Boise State and now Middle Tennessee State quarterback Brent Stockstill. Stockstill joined the group this week in the Blue Raiders victory over Marshall.
Looking ahead to this week
As we continue the last word on college football, week six edition, let's take a look at the five biggest games coming up this week.
Wisconsin at Michigan
This game has obvious playoff implications to be sure. Both teams enter with one loss, although Michigan's loss to Notre Dame looks much better than Wisconsin's home loss to BYU. Obviously for Michigan, Shea Patterson needs to play lights out, however they need at least 150 rushing yards. Can Wisconsin mix it up enough against Michigan's stout defense? We know the Wolverines will key in on Jonathan Taylor forcing Alex Hornibrook to have to make plays in the passing game.
West Virginia at Iowa State
Iowa State is one of the toughest 2-3 teams we have seen in a while. They will present a unique challenge for West Virginia, who comes in at 5-0 overall, 3-0 in Big 12 play. This is a huge game for the Mountaineers as they, along with Texas, are the only undefeated teams left in Big 12 conference play. They still have to play both the Longhorns and Oklahoma during the second half of the season. In order to remain the hunt for the Big 12 title game, Will Grier and company need a win in Ames.
Washington at Oregon
Jake Browning and Washington has looked iffy at times on offense this season, even at 5-1 and 3-0 in Pac-12 play. This much we know: their defense is one of the best, ranking 13th nationally in total defense. Oregon comes into this game at 4-1 overall, 1-1 in conference, which includes a loss to Stanford. If Oregon wants any chance at the Pac-12 North title, they have to win this game and hope for another conference loss for Stanford along the way. For Washington, a win puts them in the drivers seat for another division title.
Colorado at USC
The battle between Colorado and USC looks very likely to determine the Pac-12 South race. Colorado enters 2-0 in the conference and 5-0 overall. USC is 2-1 in Pac-12 play while their overall record sits at 3-2. Colorado's 18th ranked offense against USC's surprisingly 67th ranked defense is an interesting matchup. If Colorado gets pressure on freshman quarterback J.T Daniels, it could be a long night for the Trojans.
Georgia at LSU
Georgia can pick up a quality SEC road win over LSU, which helps in the eyes of the playoff committee. For LSU, they need this win to stay on pace for a chance in the SEC West. A two loss LSU team would surely be eliminated from SEC title and national playoff contention. Joe Burrow will have to make big plays against Georgia's 7th ranked defense, otherwise this could get ugly. Georgia's deliberate approach on offense could limit the amount of opportunities LSU actually gets.
Other games to pay attention to: Michigan State at Penn State, Iowa at Indiana, Texas Tech at TCU, Ohio at Northern Illinois, Texas A&M at South Carolina, Appalachian State at Arkansas State
Last Word
This is the last word on college football, week six edition. For additional college football content, along with lots of great content across all sports please visit https://lwosports.com/.
Main Photo: