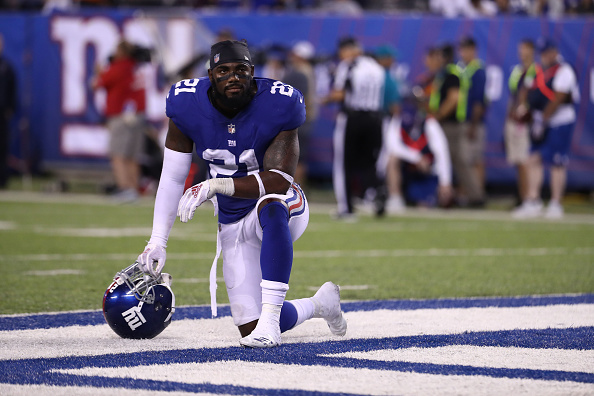 The New York Giants played poorly in Week 4 against the New Orleans Saints, particularly on the offensive side of the ball, but that's not to say everyone on the team underperformed in the 33-18 loss. Safety Landon Collins had his best game of the season despite the loss to the Saints.
Landon Collins is a Bright Spot in Giants Loss
Collins's Dominance Against the Saints
Landon Collins's performance on Sunday was reminiscent of his All-Pro 2016 season. He was the game's leading tackler by a wide margin. The defensive captain finished last Sunday with 14 tackles and one pass breakup. As a group, the Giants' secondary allowed five passes of 15 yards or more. But Collins' strong play both in coverage as well as primarily up near the line of scrimmage was a bright spot. Collins finished with an 82.3 overall grade which was the best on the Giants defense and the 5th best among Week 4 safeties. Along with this, he finished with the top run defense grade (85.7) and 6th best tackling grade (84.3) among Week 4 safeties. Collins' 15.6% run stop percentage also ranked 2nd among Week 4 safeties with a minimum of 10 run defense snaps.
Held Drew Brees to His Worst Performance of the 2018 Season
Collins and the rest of the Giants secondary did an effective job against New Orleans' high-powered passing offense, limiting Saints quarterback Drew Brees to 217 yards and no touchdowns on 18 completions on 32 attempts. In week five, Collins hopes to produce similar results as he faces Cam Newton and the Carolina Panthers. For the 2018 season so far, Newton has a quarterback rating of 99.7 along with 646 in passing yards and five touchdowns.
Contract Year for Collins
The All-Pro safety is playing on the final year of his rookie contract, a four-year, $6.1 million deal for being a second-round pick, the 33rd player taken in the 2015 draft. He will be looking for and should receive a big payday.
Main Photo:
Embed from Getty Images