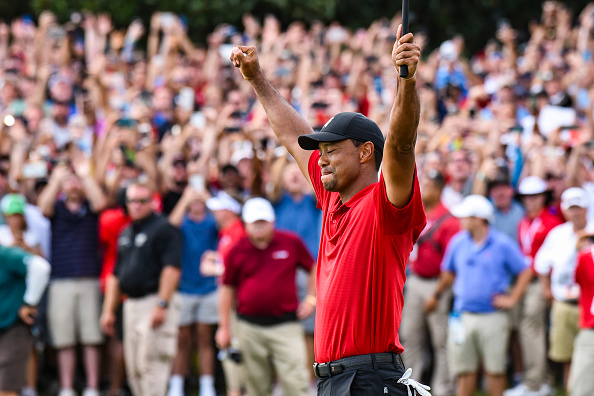 I am a writer and even I couldn't have written it a story book better. An amazing year of PGA golf has ended with two of the most talented players standing tall. One from England, one from the United States, both with almost the same amount of time as a professional. And most importantly, both walking away from today's tournament with a trophy. Let's break it down shall us?
WINNER OF THE FEDEX CUP
In addition to the tournaments that play during the year. There are other goals for the golfers to aim for. The Fedex cup is one of them. Points are earned throughout the year from wins and even what place you are in when you compete, obviously the higher you place the more points you earn. At the end of the year, the golfer with the most points wins this chapter of the story and earns the Fedex cup. A tremendous honor and prestigious win. This year's story has Justin Rose as the winner of this cup.
Justin has played through harsh conditions and rough greens to stay on top of the standings. To show how close the top spot was, only 72 points separated the top three players. Justin being in first, Tiger Woods in second and Bryson DeChambeau third. In fact, last week Bryson was in first place. The points standings is a fickle mistress, as much as any tough golf course, and one or two bad shots can not only knock you off of the leader-board, but also out of first place of the Fedex cup standings.
TOUR CHAMPIONSHIP WINNER
We have been waiting for this story. I have been writing about this story. The naysayers were saying this story would never happen. However, here it finally is, Tiger Woods has completed his comeback and won the Tour Championship. The 80th win of his amazing career. A win in itself at one point would have been so normal and barely newsworthy for Tiger. But this story is special, this is a story that was supposed to have ended years ago.
Pushing his way with determination through not one, but four back surgeries. Through the frustration of started tournaments that he had to drop out of due to pain and spasms. He never gave up on the hope of coming back, the hope of doing what he does best at the level only he can do it. Then, we saw the spark, the hint that this time the surgery worked. He had staying off the course long enough to heal and yet practiced enough to not be completely rusty. He tried new clubs, new styles until he found what worked for him. Needing to take everything into account, his age, his new body after surgery, his mental status.
THE HARD WORK PAID OFF
Watching him this year, even though he didn't win until this week. You could see the improvement in every week. You can see the old twinkle in his eye and the gleam in his smile as he walked the fairways. This was the year, he was coming back, he wasn't done with this sport and this sport was certainly not done with him. As much talent as there is across the board in the league now. There has always been a special pull that Tiger brings to the sport. Every generation has that guy, be it Jack Nicklaus, Arnold Palmer, Greg Norman or Tiger. Or whoever will show up ten years from now and intrigue us. In every sport there are the ones that are just pure magnetic pull, and Tiger has not lost that pull one bit.
LAST WORD
What can we take away from this? An awful lot actually. When Tiger won today, obviously he was happy, but he was also very quick to thank his fans for their support. Saying he couldn't have done it without them. There is no doubt the fans were a presence on the course today. If you didn't see it, google the walk up the 18th fairway. Never has there been such a crowd following someone. And not only was the crowd unbelievably huge, but it was so controlled. A group that large could easily disrupt any game just with their enthusiasm, but as loud as their USA or Tiger chants got. When the card was raised to be quiet for the shot, there was silence.
There is also the lesson to remember, don't give up. How many people said his career was done? Golf fans and sportscasters alike. We will never see it again, he will never be the Tiger that we knew. I beg to differ, the shots he has been making this year are not all easy straight shots. He like any golfer sometimes go wide left or right.
The amazing thing about Tiger has been and still is his recovery game. It is and has been one of the best if not the best of all time. He can recover from almost any place the ball drifts to. And he has shown that he can also recover from an injury that should have ended his storied career. Thankfully for fans who love to watch him and the game of golf itself, it hasn't. I foresee many more tournaments and wins in Tiger's future. Fore!!!
Main Image: Embed from Getty Images