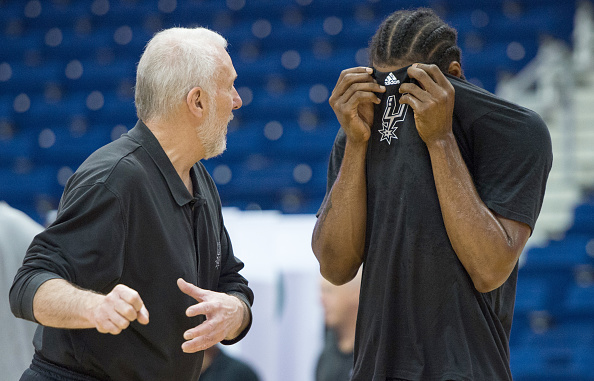 Can Kawhi Leonard lead the Raptors to the Finals?
Is this the year the Raptors Reach the Finals? The Toronto Raptors have a chance at being very special this year. An eventful off-season has us optimistic for this upcoming season. After being thrashed by LeBron James once again, retooling the roster was a necessary step. Masai fired Dwayne Casey and traded our franchise star DeMar DeRozan and Jacob Poeltl for Kawhi Leonard and Danny Green. Kawhi is a definite upgrade over DeMar and Danny gives the Raptors another 3 and D wing. Can the Raptors finally make the finals this year?
New Threat
The Raptors bogey man has left the east but that has not guaranteed safe passage to the finals. The Celtics and Sixers (to a lesser degree) stand in the way to the glory land. My concern is the Celtics depth at the wing position. Jayson Tatum, Jaylen Brown, Gordon Hayward, Marcus Morris, and Semi Ojeleye form a formidable wing rotation. Each player can guard taller and stronger players giving them the ability to switch everything on defense. Add Kryie Irving, Al Horford, Terry Rozier, and Marcus Smart to the mix and this roster has a chance at overthrowing the Warriors. The Celtics pose the biggest threat but we have the roster to compete with them over a seven game series.
Will Kawhi Fit?
Will Kawhi mesh with the current core? It's not set in stone that Kawhi will fit seamlessly. His fit with the team will be crucial for the Raptors success. Kawhi's fit with the team is just as important as his health. As far as we know Kawhi is at full strength entering the season. Who knows if his quadriceps injury comes back to haunt him. Will Kawhi be the same after taking majority of last season off? If Kawhi fits in and is healthy the Raptors will have a top 5 talent on their team, that's an impact player on both offence and defense.
Is this the Year?
This year could definitely be the year the Raptors make the finals and challenge the Warriors (assuming they make it). The Celtics pose the biggest threat in the east while Kawhi's fit and health will play an important role to how far we can go. If everything goes as planned the Raptors and Celtics will face off in the east finals. But thats only if everything goes as planned. The Raptors will put a lot of faith in Kawhi but can he deliver? Can he lead the Raptors to the finals?
Main Image:Embed from Getty Images