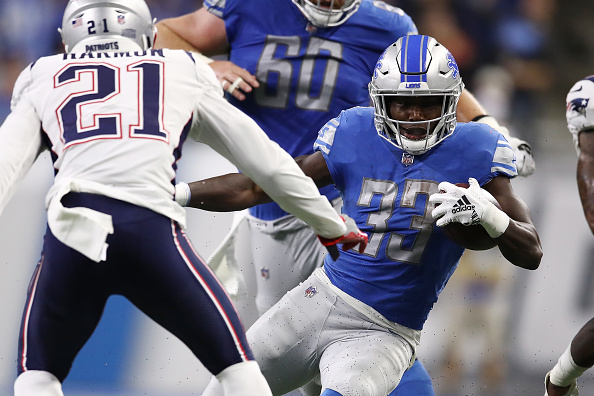 The Patriots were drubbed last week by the Jaguars but their struggles continued in Week 3, as they were taken care of by the Lions 26-10. It was a battle between the teacher Bill Belichick and his ex-student Matt Patricia. The Patriots have done well after a loss in their previous games but not this time. It's the first time since 2015 since they have lost back to back games. Here are some lowlights of the Pats loss.
Lions controlling the Game
The Lions took control of the game throughout as they held the ball for 39:15 of the 60-minute game. They had 25 first downs and were 7 of 14 on third downs. Thanks to the Lions offensive line, there was a balance between the running and passing game that we haven't seen in the Motor City for a while. For once, Matthew Stafford didn't have to throw 50 times and for 400 yards like he would have to win games in the past. In addition, it certainly helps that they have an ex-Patriots assistant as their head coach.
For the first time since 2013, Detroit had a 100 yard rusher thanks to rookie Kerryon Johnson. The Lions scored the only touchdown of the half as Stafford found Kenny Golladay from four yards out. He was originally short but Patricia threw the red flag like a QB and got it overturned.
Matt Patricia looks like hes wanted to throw a challenge flag his entire life ?? pic.twitter.com/UDP6LfPctc

— The Rush (@therushyahoo) September 24, 2018
They would score another TD in the second half with Stafford hitting Marvin Jones Jr. for 33 yards.
Defensive Struggles continue
The defense was without Trey Flowers, Patrick Chung and Eric Rowe due to injuries. So it didn't help that they couldn't contain Johnson as the rookie averaged 6.3 yards a rush. Also, there was a miscommunication between Stephon Gilmore and Duron Harmon when Jones Jr. broke away from Gilmore for a 33 yard TD on a deep crossing route. The defensive unit gave up 414 total yards (255 passing and 159 rushing) and were 50% on third downs — tiring out the defence over time. What was also unusual was the 12 men on the field penalty. It's very rare by a Belichick coached team to make that mental mistake.
Lack of Offensive production
The Patriots offence failed to produce because they weren't on the field much. They didn't get a first down until 3:51 left in the first half. They only controlled the ball for just under 21 minutes. This made Tom Brady unhappy as he had fewer opportunities to touch the football. Brady couldn't even reach 100 yards passing in the first three quarters of the ballgame. The interception he threw to Lion's corner Darius Slay was effortless and an act of desperation. It's what happens when the defence is on the field for a very long time.
The only positive was Brady made his 254th start which surpasses Brett Favre for most starts with one team in NFL history.
Earlier in the day, there was a report from ESPN that Rob Gronkowski was almost traded to Detroit. Gronkowski has been the only guy that produces on the Patriots offence because of lack of depth from the receiver position. Josh Gordon did not play because he's dealing with a hamstring injury but it'll take time for him to learn New England's complex offense. It's clear that he'll have to come in and produce immediately because the Patriots aren't getting much production outside of Gronkowski and James White.
The Last Word
Although the Pats are not their dominant selves right now, history says they'll recover. They have to do better on both sides of the ball especially defensively because they can't consistently pressure the QB and can't get off the field on third down. Now it's on to the 3-0 and AFC East leading Dolphins next Sunday.
Image Credit:
Embed from Getty Images