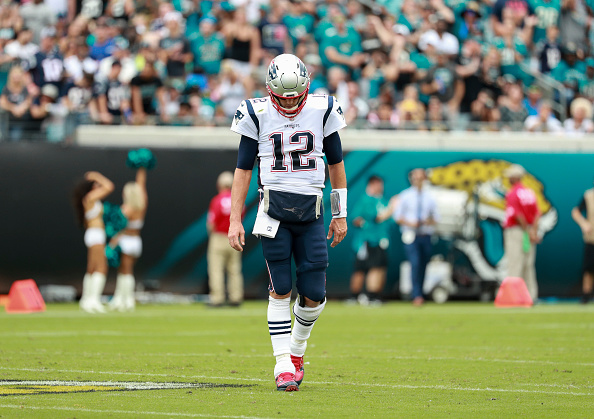 In a rematch of the AFC Championship Game last season, the Jaguars got revenge on the Patriots 31-20. It was a relatively warm day in Jacksonville as temperatures reached an incredible 97 degrees at kickoff. With that, it was an impressive day for the Jags as they led throughout and never looked back. Here are the highlights of the Patriots Week 2 loss to the Jags.
Blake Bortles arguably played the best game of his career. The Jags came into the game planning to be aggressive unlike last year's AFC title game. In that game, they played conservatively when they went up 20-10 in the fourth quarter and it backfired. But this time, head coach Doug Marrone had a different gameplan. First off, Leonard Fournette sat out because of a hamstring injury. That meant the ball would be put in Blake Bortles hands and boy he did not disappoint.
The Jaguars quarterback completed 29 of his 45 passes for 377 yards, four touchdowns and one interception. The first two happened in the first half to Donte Moncrief, Keelan Cole (who had an impressive one hand catch) and Austin Seferian-Jenkins. The final one was 61 catch and run to Dede Westbrook that put the nail in the coffin. Offensive Coordinator Nathaniel Hackett dialed up a great gameplan with aggressive playcalling. They were throwing the football with the lead even when the Pats got some momentum. It showed that they learned their mistakes in not letting the Pats off the hook.
Patriots Defense
Bill Belichick's defense that played well the previous week looked like the unit from Super Bowl 52 when they gave up 41 points to Nick Foles. This time they would give 31 points to a Blake Bortles led squad. The defense came out flat and Bortles was picking them to pieces. Eric Rowe was put on the bench after two series for getting beat by Keelan Cole for a touchdown. Bortles looked like the second coming of Joe Montana the way he was playing out there.
What made things worse when their leading pass rusher Trey Flowers and safety Patrick Chung both suffered concussions and never returned to the contest. This unit did not have any sacks as Bortles felt very comfortable in the pocket. However, they forced a fumble and a pick that would give them some semblance of life but that did not materialize to much.
Patriots offense outplayed
Tom Brady did not have a good day as Sacksonville's pass rush made life difficult for him. He got sacked twice, including the sack and fumble from Dante Fowler Jr. in the fourth while in field goal range. It did not help when he and Josh McDaniels were yelling at his teammates to do their job. Rob Gronkowski had been in check by catching only two balls for 15 yards while facing extra coverages. Jags defensive coordinator Todd Walsh devised a great gameplan to take Gronk out of the game.
Brady's final numbers were 24/35 for 234 yards and two touchdowns to Chris Hogan. The Patriots' first round pick Sony Michel made his debut. He played in 12 snaps and ran for 33 yards on 10 carries. The wide receivers combined for 11 receptions for 104 yards while Edelman serves his suspension.
The Last Word
New England might be facing this team again in the playoffs as Jacksonville will have the home field advantage. The Patriots will correct their mistakes and work things out as history says they will. Next, on to Detroit to face ex-defensive coordinator Matt Patricia.
Main Photo: