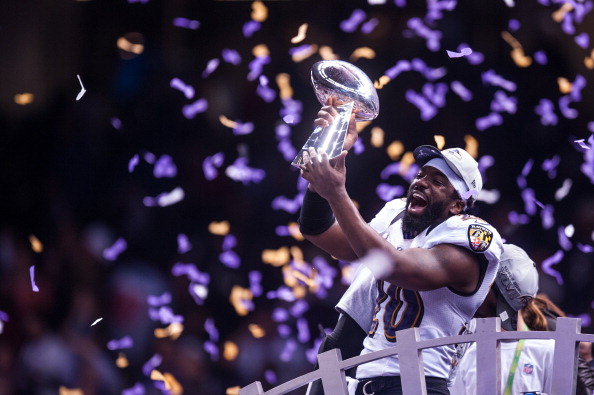 As the 2018 NFL Season is underway, fans look forward to February for Super Bowl 53. One of the highlights of the weekend is the announcement of the Pro Football Hall of Fame's newest inductees. This year's class included legends such as Brian Dawkins, Jerry Kramer, and Ray Lewis. Next year looks to be promising, with many deserving candidates eligible. Here are my predictions for next year's class of 2019.
Ed Reed, Safety
The former Baltimore Ravens star looks to be a first ballot the year after his teammate Ray Lewis went in this year. 64 interceptions puts him seventh all time, and 5 of the players ahead of him are either in the Hall or will be. Once he caught the ball, he was basically a returner, with 1,590 yards. He is over 100 yards ahead of the next player and is number one all time. Reed holds the top two INT returns of all time, breaking his 106 yard return by two against San Diego in 2008. He is the only safety to lead the NFL in interceptions three times. One of the greatest ball hawks of all time, I would be shocked if he doesn't join his Ravens teammates Lewis and Jonathan Ogden in Canton.
Tony Gonzalez, Tight End
Arguably the greatest Tight End of all time, the former Chiefs and Falcons legend has over 15,000 yards. He only has 4 seasons over 1,000 yards, which makes 15,000 even more impressive. He is the all time receiving leader for a Tight End, Jason Witten is in second place and is still 3,000 yards behind him. He is sixth all time in yards regardless of position and seventh in touchdowns. He is one of ten players to catch 100 touchdowns. He is second in receptions only behind Jerry Rice. Evolutionizing the impact a Tight End can have on an offense, he should easily become a first ballot Hall of Fame inductee.
Champ Bailey, Cornerback
12 Pro Bowls and 3 First Team selections make the former Redskins and Broncos CB a serious candidate. Dominating the NFL between Deion Sanders and Darrelle Revis's primes, he finished with 699 tackles and 52 interceptions. He is only behind Deion Sanders in INT by one, who was a first ballot Hall Of Fame. 142 pass defensed proved his ability to find the ball better than most. John Elway had this to say about Bailey, "To me, the idea of a Hall of Famer is the consistency with which they play, and that's at the top level year in and year out. And when you look at Champ, he did that at the beginning of his career and throughout to the end … and was great every year.
"I always say this: Great players don't play great all the time, but they play very, very good all the time and they just make great plays. And that's what Champ did."
London Fletcher, Linebacker
1380 tackles and 19 forced fumbles, over his career with the Rams, Bills, and Redskins make him an interesting case. Every year there is usually a surprise first ballot inductee, Fletcher could be this year's version. He was as durable as anyone, since his second season he missed one game from 1999-2013. 5 interceptions as a Linebacker in 2012 is very impressive, he was known for going sideline to sideline to make plays all over the field. He is one of five players i to play more than 250 straight games. He has the record for most consecutive starts at LB. He is tied for 6th for most consecutive starts on defense. As a member of the Greatest Show on Turf, he won a Super Bowl with the Rams. He was voted as one of the 80 greatest Redskins, and deservingly so. As a undrafted free agent, this career is and should get him a Gold Jacket.
Don Coryell, Head Coach
To me, if you cannot tell the story of Pro Football without mentioning someone's name, they are a Hall of Famer. Don Coryell revolutionized the passing game, Air Coryell is one of the most famous systems in NFL History. The Greatest show on Turf produced Gold Jackets Kurt Warner, Marshall Faulk, and Orlando Pace, their coach Mike Martz supports him getting a bust. "Don is the father of the modern passing game. People talk about the 'West Coast' offense, but Don started the 'West Coast' decades ago and kept updating it. You look around the NFL now, and so many teams are running a version of the Coryell offense. Coaches have added their own touches, but it's still Coryell's offense. He has disciples all over the league. He changed the game, I'm not sure why that hasn't been acknowledged by the Hall of Fame." His offense set the stage for today's game, the Chargers were the team who passed heavily and allowed for the eventual creation of the West Coast Offense, which allowed Joe Montana, Jerry Rice, Bill Walsh and the 49ers to be considered legends. He may not have the wins like most coaches, but his impact on the game deserves to be recognized, since the NFL would not be what it is today without him.
Isaac Bruce, Torry Holt, Alan Faneca among others will receive attention, but these are the candidates I believe deserve to get in. Pat Bowlen and Gil Brandt will likely get in as contributors. Bowlen led Denver to 3 Super Bowls and seven appearances in the big game. This is more than the number of losing seasons the Broncos have had under him. That is one of the most impressive stats i've ever seen. Without Bowlen, Elway, Davis and the Broncos likely are nowhere near where they are today. Brandt was the GM during the Cowboys 90's era.
Aikman, Irvin, and Smith created a dynasty largely because of Brandt. He changed the draft process by using computers to scout players. He looked outside of traditional methods even going overseas. His techniques were revolutionary and are still used today. One of the most successful scouts of all time, he has a strong case as a contributor.
Johnny Robinson is the senior nominee, seven Pro Bowls as a member of the Chiefs defense. He was selected as a member of the AFL's all time team. Six straight All-League selections and a Super Bowl with Kansas City are just some of the accomplishments he had. A senior candidate has been inducted every year since 1976, I would be shocked if that streak ended this year.
Main Image: Embed from Getty Images