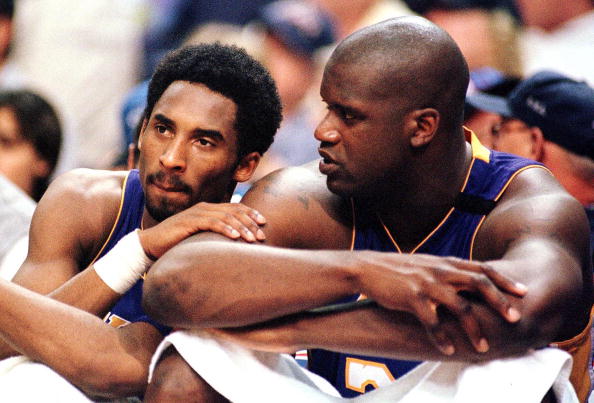 As the 2018-19 NBA season is coming around the corner, we will acknowledge the top five players for each team.
The Lakers are one of the most storied franchises in sports. The franchise started out as the Minneapolis Lakers when they were inaugurated in 1947. They spent 13 years in the Twin Cities while winning five titles in the process. Then, they moved to Los Angeles in 1960 for good. While in the City of Angels, they would win 11 championships, most of which came in the 1980's and 2000's. In total, they won 16 titles and been to a record 31 NBA Finals.
Additionally, they have produced a lot of superstars/Hall of Famers that have their names raised to the Staples Center rafters. Hopefully, they can return to their championship glory days since their last title in 2010.
These are the five greatest Lakers in franchise history.
Top Five Lakers of All Time
5. PG/SG Jerry West (1960-1974)
The guy who is on the NBA logo was an all-around scorer and defender. He was drafted by the Lakers in 1960 out of West Virginia where he would play for 14 years. West and Elgin Baylor would form a dynamic one-two with West's outside shooting and Baylor's inside scoring. As the team's leader, West was a legit 28-30 point scorer that was hard to stop.
He would put up big-time scoring numbers while leading the Lake Show to the Finals where they couldn't get past the rival Celtics. West was named the 1969 NBA Finals MVP having 42 points, 13 rebounds and 12 assists despite losing Game 7 at home to the C's. However, in 1972 he would win his only title with the help of Wilt Chamberlain and Gail Goodrich. Also, that was the year that LA won a record 33 straight games.
West made 14 All-Star teams, All-NBA First Team 10 times, has an All-Star Game MVP,  was All-Defensive First Team four times, and a scoring and assists champion. After retirement, he coached the team for three seasons and then became the general manager. That's where he would successfully build two different Laker dynasties in the 1980's and 2000's. In addition, he knows how to land big names.
West's Lakers stats
27.0 points, 5.8 rebounds, 6.7 assists, 2.6 steals and 0.7 blocks per game. West shot 47.4% from the field and 81.4% from the line
All-Time Team Ranks
Third in games played (932), third in minutes (36,571), second in points (25,192), 10th in total rebounds (5,366), third in assists (6,238), third in field goals made (9,016), third in field goal attempts (19,032), second in free throws made (7,160) and free throws attempted (8,801)
One of the big fishes that West landed as a GM was Shaquille O'Neal. He's one of the most dominant big men in the history of the game. His seven foot one, 330lbs frame made him a physical and power player. This guy put so much power on his dunks that he broke the rim a few times in his career. Teams feared that so they would do the Hack-a-Shaq because he was an awful free throw shooter. Shaq played his first four seasons with the Orlando Magic where he made four All-Star teams.
Then in 1996, he signed a seven-year(s)/$121,000,000 deal to join the Purple and Gold. There, he showed his greatness that made him a Hollywood Star. Shaq and Kobe Bryant developed a deadly duo with Shaq being a monster in the paint and Kobe with his scoring prowess. Shaq would win 3 titles, including the 16-1 postseason record in 2001 and three Finals MVP's. Unfortunately, he and Kobe had their feud that impacted their chances of winning more titles. As a result, Shaq got traded to the Miami Heat in 2004 ending his Laker career. He would eventually win a ring in 2006 with Dwyane Wade being the guy.
Shaq's Lakers stats
27.0 points, 11.8 rebounds, 3.1 assists, 0.6 steals and 2.5 blocks per game. Shaq shot 57.5% from the field and 53.3% from the line
All-Time Team Ranks
Second in field goal percentage (57.5), seventh in points (13,895), sixth in total rebounds (6,090), second in blocks (1,278), seventh in field goals made (5,462), ninth in field goal attempts (9,498), second in free throws made (2,971) and free throws attempted (5,572)
Kareem Abdul-Jabbar is another player that was acquired by the Lakers. It happened in 1975 when the Milwaukee Bucks traded him to a familiar place that he has known. He was a standout star when he was at UCLA where he was a three-time National Champion and College Player of the Year. That was when his name was Lew Alcindor but changed it to Kareem Abdul-Jabbar in 1971 in part of his Muslim faith.
With the Lakers, Kareem would add more accomplishments to his resume. As part of the Showtime Lakers, he would benefit from the fast break offence led by Magic Johnson because he can go up and down the court. As a result, LA would win five titles with him being the centrepiece. He would retire in 1989 at age 42 after playing 20 Hall of Fame seasons in the NBA. Abdul-Jabbar is one of the greatest centres ever to play this game. His trademark skyhook shot was his best weapon to get buckets with his seven foot two frame and long arms. With that, he is currently the league's all-time leading scorer with 38,387 points.
Abdul-Jabbar's Lakers stats
22.1 points, 9.4 rebounds, 3.3 assists, 0.9 steals and 2.5 blocks per game. Abdul-Jabbar shot 56.7%  from the field and 73.7% from the line
All-Time Team Ranks
Second in games played (1,093), second in minutes (37,492), second in field goal percentage, third in points (24,176), second in total rebounds (10,279), sixth in assists (3,652), second in blocks (2,694), second in field goals made (9,935), fourth in field goal attempts (17,520), fifth in free throws made (4,305) and free throws attempted (5,842)
Magic Johnson was drafted number one overall by Lakers in 1979 after leading Michigan State to a national title over Larry Bird's Indiana State. He's without question the greatest point guard and one of the greatest players in league history. This guy was a magician on the court with his playmaking abilities.
He was the originator of the Lakers Showtime offence predicated on the fast break. Magic brought his great passing skills like the no look, crosscourt, and the alley-oops that would result in easy points for his teammates. Him being 6'9″ gave him the height advantage to see over defenders with his ball handling and was a triple threat.
For his remarkable career, Magic won five titles including two vs Bird and the Celtics. He was a three-time Finals MVP, 12-time All-Star and the regular season MVP three times. Unfortunately, he retired abruptly in 1991 after being diagnosed with HIV but played in the 1992 All-Star game and was game's MVP.
Magic would coach the team in 1994 but returned to the court one last time in 1996 and called it a career. He would become a successful businessman, entrepreneur and is now the Lakers president of basketball operations. He is charged with the task of bringing LA back to championship glory.
Magic's Lakers stats
19.5 points, 11.2 assists, 7.2 rebounds, 1.9 steals and 0.4 blocks per game. Magic shot 52% from the field and 84.8% from the line
All-Time Team Ranks
Sixth in games played (906), fifth in minutes (33,245), second in points (25,192), 10th in total rebounds (5,366), first in assists (10,141), sixth in field goals made (6,211), sixth in field goal attempts (11,951), fourth in free throws made (4,960) and free throws attempted (5,850)
At last but certainly not the least is the greatest Laker of all time, Kobe Bryant. The Black Mamba came into the league straight from Lower Merion High School in 1996. The Charlotte Hornets selected him with the 13th pick but traded Bryant to the Lake Show for Vlade Divac. This trade turned out to be the greatest in the history of the franchise. Kobe wouldn't get his first shot at being a star until 1999.
When he got his opportunity, he made sure to make the most of it. The Mamba put on a show for Laker fans and NBA fans across the world. He was an all-around player that could from score anywhere on the court and defend his opponent's best player. Most importantly, he was a clutch player that would never shy away from the moment. He is compared to the great Michael Jordan because their games are very similar.
With him and Shaq, the Lakers would dominate the league with Bryant's outside scoring and the Diesel's low post dominance. They would win three titles together despite their dicey relationship. After Shaq left, Kobe had a goal to win one without Shaq. He did that as the man in 2009 and 2010 proving the doubters wrong.
Kobe would have some great performances like his 81 point game against the Raptors and his 60 point career finale. He was an iconic figure and there will never be another one like Kobe.
Kobe's Lakers stats
25.0 points, 5.2 rebounds, 4.7 assists, 1.4 steals and 0.5 blocks per game. Kobe shot 44.7% from the field, 32.9% from three and 83.7% from the line
All-Time Team Ranks
First in games played (1,346), first in minutes (48,637), first in points (33,643), third in total rebounds (5,366), second in assists (6,238), first in field goals made (11,719), first in field goal attempts (26,200), first in three-pointers (1,827) and attempted (5,546), first in free throws made (8,378) and free throws attempted (10,011)
Most notable in Laker lore: George Mikan, Elgin Baylor, Wilt Chamberlain, James Worthy, Gail Goodrich
Source: https://www.basketball-reference.com/
Image Credit:
Embed from Getty Images