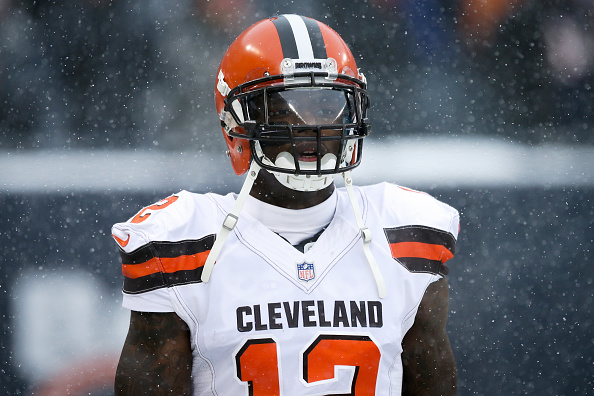 The big news of the day is that the Browns have traded Josh Gordon to the Patriots in exchange for a fifth round pick. Cleveland decided to move on from Gordon because they had lost trust in him. The final straw came when he hurt his hamstring during a promotional shoot on Friday and came late to practice the following day. Originally, the Browns wanted to release him but  wanted compensation for his services.
Gordon is such a rare talent but he has a history that isn't flawless. It began when he was suspended indefinitely for failing a drug test and doing marijuana while at Baylor. When he got to the NFL in the 2012 Supplemental Draft, his problems would continue.
In 2013, he violated the substance-abuse policy and had been suspended for the first two games of that season. Then in 2014, he was driving under the influence of alcohol and got arrested. The league suspended him for the entire season but eventually reduced to 10 games. In 2015, he was banned for an entire year for violating the substance abuse policy and drinking alcohol. As a result, he took matters in his own hands when he left the Browns to enter rehab in 2016 while on suspension to fix his problems. He missed all of this year's training camp to get himself right before the season started. But, the new Browns regime had about enough with him.
In total, Gordon missed 56 games of his career due to suspensions. His best season came in 2013 when he had 1,646 yards on 87 receptions and nine touchdowns. He will have a fresh start with the Patriots. It's a low risk, high reward scenario for the Pats who can part ways with him if it does not work out.
Why the Patriots are good for Gordon?
Winning Culture
New England is the model of consistency and have a winning culture. Also, they have a reputation of taking chances on players with questionable characters. They have the famous slogan called, "The Patriot Way." If they do their job, being professional and staying out of trouble, they will be successful. For example, they traded for Randy Moss when critics said he was done but he had an historic season with 23 TD's and made the First Team All-Pro team. Players have to have a team first mindset and check their ego out the door in order to be a Patriot.
The Belichick Effect
There is Bill Belichick who everybody knows is the greatest coach of all time. He is a worker that will demand his players to work hard and be accountable for their actions. They will break down film and work on techniques to improve as players. Belichick will expect from his team to pay attention to the details and doesn't tolerate tardiness. In addition, he coaches his players how to not say much to the media.
Adding to the Offense
Gordon is another great weapon for Tom Brady to throw to. Josh McDaniels will have another one to play call for. The guy that has the nickname Flash Gordon has the size and speed that makes him a matchup nightmare. He showed that in a 2013 contest versus the Pats while with the Browns. Gordon caught a simple slant route and ran 80 yards past Aqib Talib for the touchdown. As a result, he caught seven balls for 151 yards and a TD.
He'll add to a Patriots offense that hasn't gotten much from their wideouts without Julian Edelman. But when Edelman gets back with Gronk and Gordon, they'll be tough to stop. Not to mention the fact that James White, Rex Burkhead and Sony Michel running and catching the ball out of the backfield. Gordon can stretch the field like Moss that opens up Gronk over the middle and Edelman in the slot.
The Last Word 
So Gordon has to come in with the mindset of this being his last chance. He's been given many opportunities but he let the people in his corner down. So hopefully he doesn't take it for granted because he's playing on a great team that'll get the best out of him.
Main Photo: