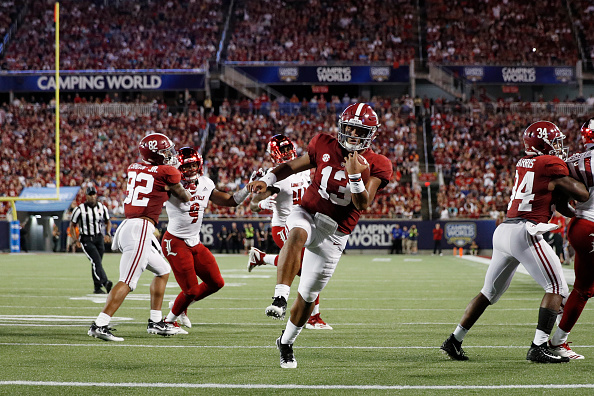 Now that we have had three weeks to assess the talent in college football and look for those outstanding performances, we now are beginning to see a clearer picture of the Heisman Trophy race. The annual race is always highly contested, as we look for those wow plays every week from these candidates. Give us a great statline, too, while you are at it, boy!
Each week, here on LWOSports, I will be giving you the top five candidates every week to keep you informed. At the bottom of the article will be a short list of potential breakout candidates who can sneak into the top five next week with a stellar performance. Without further ado, here are the top five Heisman candidates!
LWOSports Heisman Watch: 9/22/18
1. Tua Tagovailoa, QB, Alabama, So.
Through two games so far, Tua Tagovailoa has been on absolute fire. He's ignited the Alabama offense into a juggernaut unlike anything we have ever seen during the Nick Saban era. He's thrown for 646 yards and 8 touchdowns so far, while posting a ridiculous 233.3 efficiency rating. Add 93 yards on the ground and another touchdown, and that's 54 points alone that Tua is responsible for.
What makes this all the more impressive is that Tua has split time with both Jalen Hurts and Mac Jones, the backup quarterbacks. When he sees the field for a full game, you had better believe he is going to do nothing but impress with huge numbers.
Tua Tagovailoa statline vs Louisville: 12-16, 227 yards en 2 TD's. Voor deze TD-pass is maar één woord geschikt: ongelooflijk ??#RollTide #NCAAFootball #SportAm ???pic.twitter.com/LRBdQ3TlhV

— Lars (@LarsLeeftink) September 2, 2018
Even better, Tua has given us a Heisman moment of his own! Look at this ridiculous throw from Tua in the red zone. All I can say besides the fact of how reckless it was and dangerous is that he feels the game unlike anyone else. He knows where his receivers will be, and makes correct decisions.
2. Kyler Murray, QB, Oklahoma, Jr.
The Oklahoma offense hasn't felt the loss of Heisman winning quarterback and first overall pick Baker Mayfield because of Kyler Murray.
Murray was the 29th overall selection in the 2018 MLB Draft, and intends to join the Oakland Athletics organization at the end of the college football season. However, he still has a football season to play.
2018 Kyler Murray vs 2017 Baker Mayfield through the 1st 3 games: #Sooners pic.twitter.com/dWTOGZtI7N

— bearphoot (@bearphoot) September 15, 2018
Murray won the starting job in camp against sophomore Austin Kendall, and I will bet anything Lincoln Riley hasn't regretted it yet. When comparing Murray's stats to Baker's from last year, they are almost identical. Murray has thrown for 863 yards and 8 touchdowns. So far, he has turned the ball over only once. Murray also leads the team in rushing with 169 yards and two more scores.
So far, Murray has been dominant and doesn't show any signs of slowing down. He is close behind Tua for the lead in the Heisman race.
3. Dwayne Haskins, QB, Ohio State, Jr.
Dwayne Haskins has officially moved Ohio State on from the JT Barrett era, and Ohio State fans aren't looking back. Haskins has put 890 yards through the air in three games, and thrown 11 touchdowns to just a single interception. While he isn't as much of a dual threat as his backup, Tate Martell, is, Haskins has added another touchdown on the ground, being responsible for 72 points.
Dwayne Haskins Jr runs in a TD helping put the Ohio State Buckeyes up 40-28 against the TCU Horned Frogs. #Haskins4Heisman #TCUvsOSU #OSUvsTCU #CFBPlayoff #CollegeFootball #SEC #Big12 #Big10 pic.twitter.com/I7ILv1G0S9

— Swapty Sports (@SwaptySports) September 16, 2018
Haskins is quickly growing steam to being recognized as the best quarterback prospect in the 2019 NFL Draft. If he keeps performing at the level he is right now, Haskins might be looking at more then that.
4. Jonathan Taylor, RB, Wisconsin, So.
It's been a monster two games for Jonathan Taylor too. Hes gathered 515 rushing yards and 5 touchdowns, with Taylor pushing the envelope on more then one way. Week two, against New Mexico, he put the struggling offense on his back, and ran for 253 yards and 3 touchdowns.
? 253 yards (career high)
? 3 touchdowns

Jonathan Taylor (@JayT23) is Big Ten Offensive Player of the Week#JT23 pic.twitter.com/rCKawJsM34

— Wisconsin Football (@BadgerFootball) September 10, 2018
His toughness and talent is absolutely undeniable. He bangs ahead for extra yards but has the speed to get to the edge. Doesn't he remind you of another former Wisconsin great… dare I say it… Ron Dayne?
The loss to BYU will certainly hurt his chances to win the Heisman, as he seemed to disappear during the game. However, he still has an opportunity to post huge numbers as he currently sits at 2nd place in the nation in rushing yards.
5. Cole McDonald, QB, Hawaii, So.
Cole McDonald broke out as a huge contender in week zero when the low expectation Hawaii Rainbow Warriors destroyed the Colorado State Rams. He hasn't let up, and currently leads the nation in passing with his 1486 yards and 15 touchdowns through four games. McDonald is a threat with his legs as well, and has added 146 yards and 2 more scores on the ground.
.@andrewperloff I'm calling it semi-early: My @HawaiiFootball's QB Cole McDonald (6'4 210, ding) LEGIT NFL PROSPECT. I'll hang up and listen.pic.twitter.com/YZXJcnywco

— Ryan Rawlings (@ryanrawlings) September 15, 2018
As crazy as it may sound, McDonald actually may be a very good NFL prospect. While Hawaii took a loss to Army, it shouldn't hurt Hawaii very much in broad perspective of things as Hawaii was playing a 12 PM ET kickoff, which is actually 6 hour difference, and would have been a 6 AM kickoff local time.
The Best of the Rest
Justin Herbert, QB, Oregon, Jr.
Herbert has guided Oregon to a 3-0 start and is on fire. He's thrown for 840 yards and 12 scores, but has made some mistakes throwing 4 interceptions against cupcake opposition. Oregon opens conference play this Saturday hosting Stanford. A big game from Herbert could catapult him into the top five contenders.
Trace McSorely, QB, Penn State, Sr.
The first senior I've mentioned, McSorely had a lot to prove by coming back to school. He hasn't played too much the past couple of games as Penn State blew out rival Pittsburgh and Kent State, but McSorely is explosive and can pop into the top five with a couple of huge games.
Drew Lock, QB, Missouri, Sr.
Drew Lock is on fire so far this season. He's thrown for 1062 yards in three games and 11 scores to only one interception. Missouri hosts Georgia this week, and a big game from Lock would mean huge prizes would be in store for the senior NFL prospect.
AJ Dillon, RB, Boston College, So.
The true sophomore running back has been unstoppable since being named the Boston College starter in game eight last season. Dillon hasn't looked back, and so far this season has run for 432 yards and 4 scores, and added another touchdown catch to his totals. He's fun to watch, a physical downhill running back with surprising speed. Big numbers the next few weeks for Dillon could put his stock through the roof.
Jake Fromm, QB, Georgia, So.
Jake Fromm hasn't played much these past three blowouts from Georgia, splitting time with the young freshman Justin Fields. However, he leads the nation in completion percentage (80.4%) and is having himself a fine season nonetheless. Fromm could very well win the Heisman if Georgia goes undefeated and he puts up big numbers a couple of games.