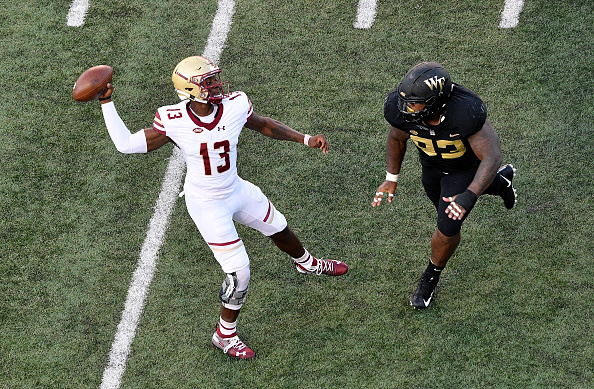 Thursday night, the Boston College Eagles throttled the Wake Forest Demon Deacons, 41-34, on the road as Hurricane Florence closed in upon the stadium. It was a complete performance from the Boston College offense, who pushed 524 total yards through the Demon Deacons, led by five touchdown passes from sophomore quarterback Anthony Brown.
Boston College Offense to Make Noise in Wide Open ACC
Boston College had some serious questions entering this season with their passing game. Brown had been a freshman starting quarterback last season, and hadn't been very efficient throwing the football. He threw for 11 touchdowns and 9 interceptions last season, completing 51.9% of his passes and posting a 103.5 efficiency rating.
There were no questions around the run game, as sophomore running back AJ Dillon has posted record-setting numbers and will surely set career school records in Boston College. Dillon ran for 185 yards and scored a touchdown on the ground Thursday night. Last season, he ran for 1589 yards an 14 scores in thirteen games and only eight starts.
The ACC is wide open in terms of competition. Syracuse, Boston College and Lousiville all will be fighting to get that second place spot in the division behind Clemson, who should undoubtedly win the Atlantic Division. With Florida State pretty much out of the picture, the window of opportunity has opened tremendously.
Boston College proved Thursday night that they can throw the football. Here's why they can make a lot of noise in the ACC this season.
Boston College has no lack of talent
The passing game won't be relying on Brown all season. He has plenty of weapons to strike up opposing defenses. Wide receivers Jeff Smith and Kobay White are threats on the perimeter, and down the field, White has 3 touchdowns on 5 receptions, while Smith has 2 scores.
AJ Dillon is quite arguably the best running back in the nation, the newest of college football's Derick Henry clones. Dillon is 6'0″ and 245 pounds but has the freakish speed that looks borderline 4.4 forty yard dash. He's built to carry the load and doesn't usually share carries.
Don't forget tight end, Tommy Sweeney. He is an NFL Draft prospect, and with a good 2018 campaign, Sweeney could find his name being called day one next season.
Main Image:Embed from Getty Images